Born in Staffordshire, Niall Keating had his first taste of a busy restaurant at age 15, working as a pot washer at The Fitzherbert Arms in Swynnerton. From there, his career in hospitality took him from Commis Chef at Michelin-starred Bath Priory Hotel and Chef de Partie at the acclaimed Sat Bains, to San Francisco's three-starred Benu restaurant, and later, Copenhagen's Michelin-starred Kong Hans Kælder.
Since late 2016, Keating has been at the helm of Whatley Manor in Wiltshire, overseeing The Dining Room, as well as Grey's Brasserie and The Green Room – a venue used for private events and cookery showcases. The chef has achieved numerous accolades for The Dining Room – including two Michelin stars in the Michelin UK & Ireland Guide 2020, having received a first star in 2017, and four Rosettes in The AA Restaurant Guide 2020. In January 2021 the hotel was also awarded Michelin's latest accolade – the green sustainability star.
In 2018, he was named Michelin Young European Chef of the Year and in spring 2020 took part in BBC's Great British Menu, where he represented the Central region of the UK. He subsequently went on to compete in the final, where his fish course "The Witches of the Northern Lights", inspired by the novels of Phillip Pullman, won him a place at the banquet in celebration of children's literature.
During the UK's first national lockdown, which resulted in the temporary closure of Whatley Manor, Niall operated a pop-up drive-thru concept in the form of a food truck named the 'Paradise Carriage', which was situated on the grounds of the hotel. The modern food truck served take-away dishes such as brioche buns stuffed with Cornish turbot, inspired by the hotel's casual restaurant Grey's Brasserie.
Supper recently caught up with the chef to discuss Michelin's green star, the sustainable practices being championed across Whatley Manor and his plans for the hotel's F&B venues once lockdown is lifted and normal service resumes.
---
Congratulations on receiving Michelin's new green star for The Dining Room, what does it mean to you and Whatley Manor to receive this award?
This was such a happy moment. We have been quietly working away at making inroads into reducing our carbon footprint and therefore impact on the plant, so to be recognized by Michelin means a great deal.
We are super excited to be amongst the first group of properties to receive this award and it will spur us on our journey to make further improvements throughout the year ahead.
Can you tell us a little more about the hotel's efforts to reduce waste and foster greater sustainability across its F&B venues? 
In truth, there are so many steps, both large and small, that make up the whole. With regards to the physical spaces, we converted our kitchen to all-electric with induction hobs. We then changed all our energy contracts to renewable energy sources. We have also segregated all our food waste and sent this to an energy-from-waste plant so that it generated methane. We now have 10% renewable gas from methane for the hotel.
We also sought suppliers who would work with us on reducing packaging and provenance of their produce. Our aim is to work super local where we can and to reduce food miles and packaging, which we have done by 70%. We changed some suppliers in some instances where we felt we were just not on the same page.
Food waste has been reduced by working with 'Too good to go' which in itself is a good carbon-reducing initiative. At the same time, we have worked on our beverage offering and how we can reduce carbon and waste. By simply moving to refillable water bottles has reduced the volume of waste glass tremendously. Our company mantra has become "Reduce, reuse, recycle". Our wine list now comprises 25%  organic and biodynamic wines, and many of our spirits are carbon neutral.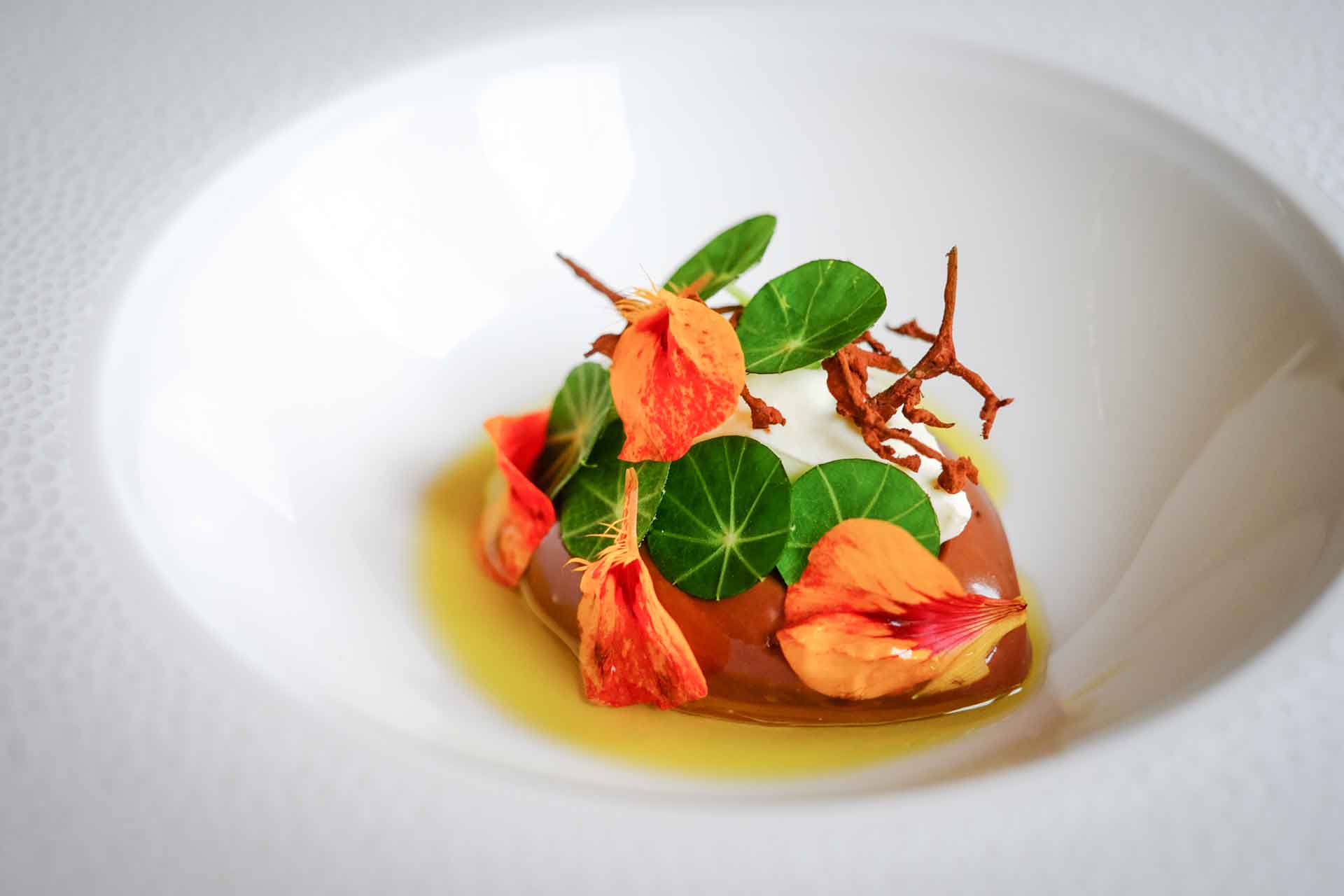 How does your role as Executive Chef fit into this sustainably minded approach?
It has to fit in – it's the whole ethos of the hotel so every member of the team has to be dedicated to it or it simply won't work. Sue Williams (General Manager) is so passionate about it and is the main driver, and I want to support her wherever I can. The main focus is that we're all on the same page. The biggest sustainability issues where a kitchen is concerned include waste and packaging. We've asked our suppliers to use reusable crates and recyclable bags. In terms of waste, we have all clear bin bags, so we can monitor waste segregation. Food waste is sent to an energy from waste centre and turned into Methane Gas, dry mixed recyclables get recycled back into the resource chain and general waste is sent to generate carbon neutral energy.
Are the menus reflective of this mission as well?
Grey's Brasserie reflects its 100%. For The Dining Room, we do as much as possible, the only exceptions being those few ingredients that can't be sourced as close to home as we'd like. The fact is, our guests are paying a premium price for the experience. I tend to build the dish around the provenance of the central ingredient. We can always have beef from the manor farm next door, so why wouldn't we use it?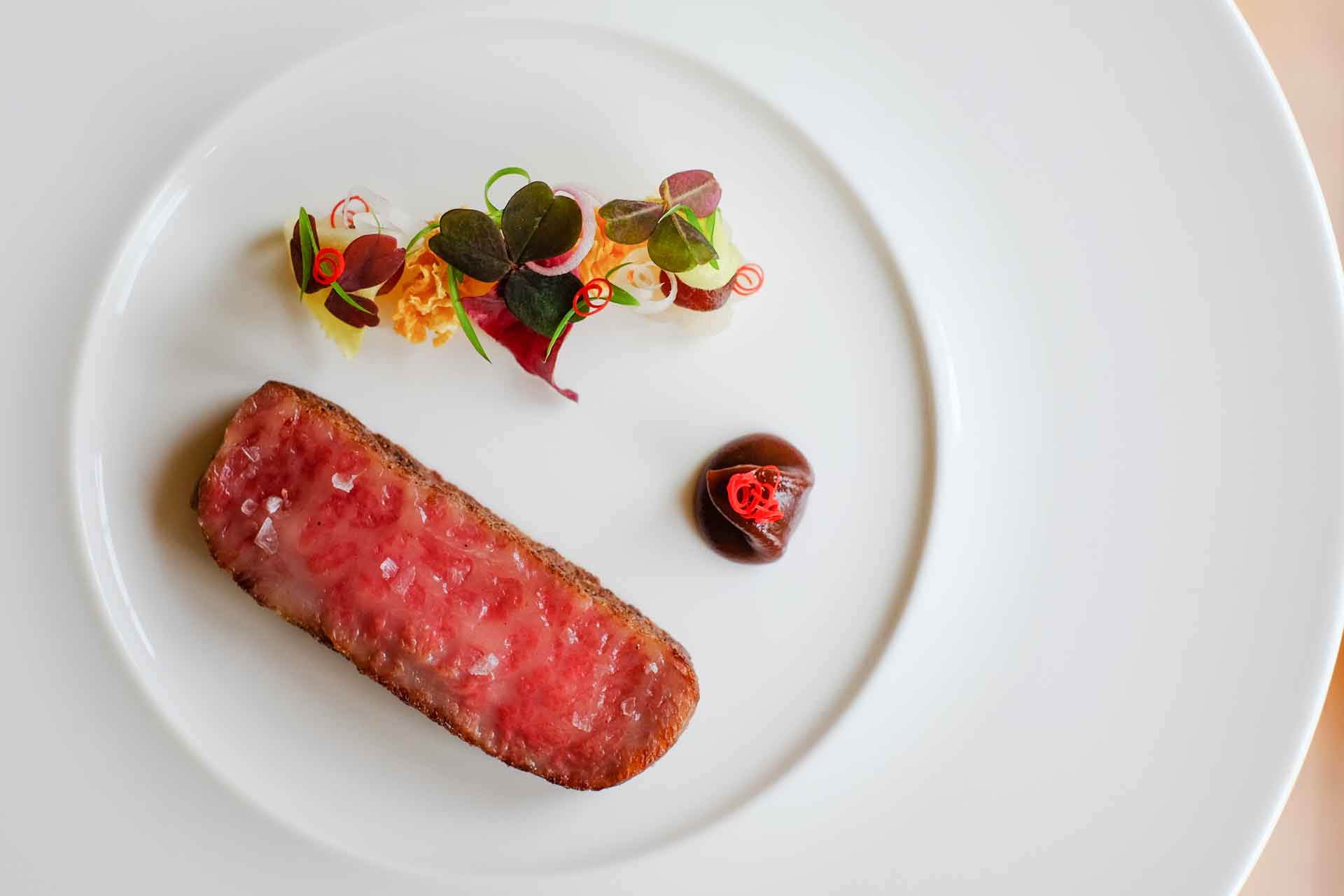 What have been some of your favourite signature dishes to create?
Tortellini Black – it's minced pork, spring onion and ginger, bound with its own jelly, rolled in a black squid ink pasta, then served in a rich pork broth. The parts of the pork belly we don't need for the dish are then used at Grey's Brasserie, so nothing goes to waste. The dish has been on the menu since day one. I was inspired by a soup bun dish at BENU in San Francisco – I wanted to do a slightly more European version, and it just stuck. It's nostalgic for me and reminds me of working there. The other dish is our Risotto with chorizo – Koshihikari rice (a polished riced grain usually used for sushi) is gently steamed until it's almost cooked, then we finish it as a normal risotto with the base flavour of chorizo vinaigrette, crème fraîche and Parmesan. Those two dishes really sum up my culinary style – classic European bases with Asian influences and flavours.
Working across the hotel's numerous F&B spaces, what is your overriding aim for dining at Whatley Manor?
I want people to be able to enjoy our cuisine and the hotel as a whole. My role has evolved, so I look at everything – the whole hospitality side, guests arriving, how I'd like people to feel in the restaurants, the atmosphere and ambience. I want everyone to leave happy, and to take a little bit of Whatley away with them. I want them to leave thinking I want to come back.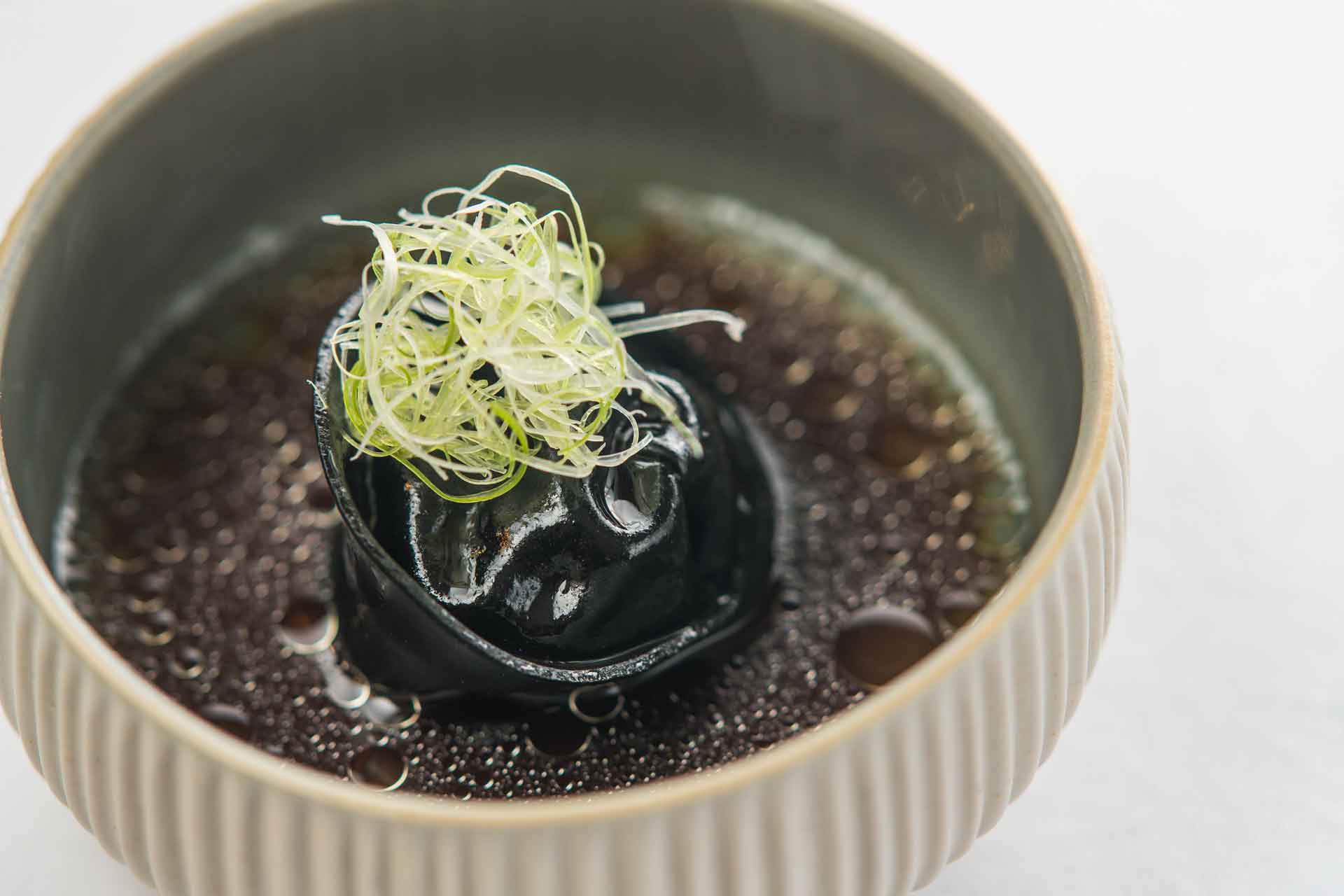 How would you describe your cooking style?
My background and skills are classic French, with Korean and Japanese influences.
The Dining Room has achieved many culinary accolades under your tenure, what do you think sets it apart from other restaurants?
It's been such a natural growth – when I arrived, I had a base of previous chefs that I had to work with, and ever since then I've been slowly breaking the Whatley mould. I took over at 25, and Sue Williams and I have collaborated closely on everything. Young chefs really want to push for a brand-new opening, with the focus on newness and their name, but I was coming onto someone else's turf. When I took the position, there were various well-known food critics on Twitter asking what on earth Whatley Manor was doing taking me on, but I think that slow growth has made it what it is now.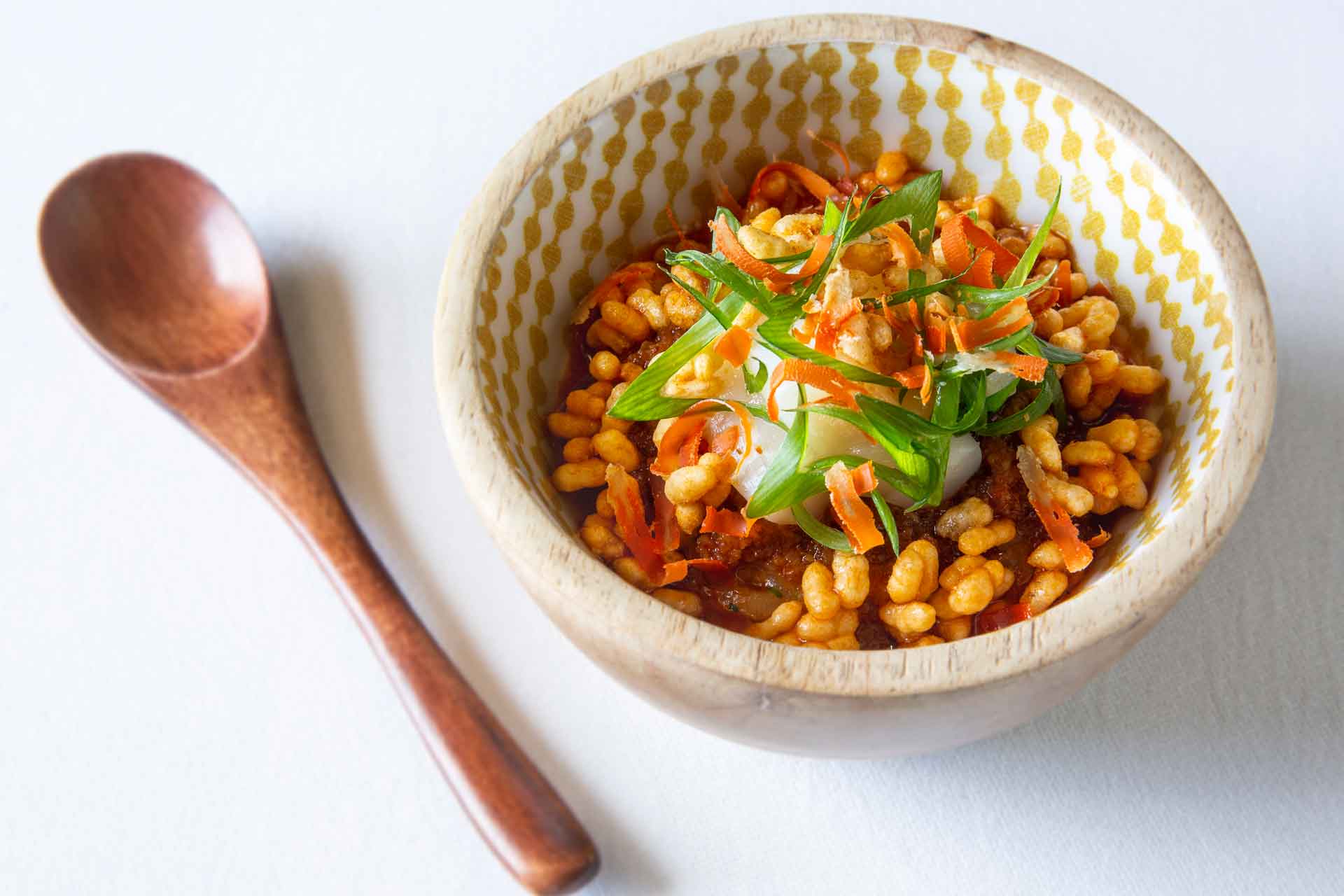 During lockdown you led on a number of pop-up dining experiences at the hotel, do you think you will repeat these initiatives going forward?
Yes – I am planning to bring Paradise Carriage back when the rules allow it. I can't sit still, so it allowed me to carry on, and to help the hotel keep going in a small way while it was closed. It brought a little sense of normality to the team and me. I also wanted to keep us relevant and make it clear we're still doing things. I also loved the contrast of this graffitied truck in front of a beautiful old manor house.
Have you always wanted to be a chef and how did you go about achieving this goal?
I didn't always want to be a chef. I wanted to play rugby – it happened completely by accident, when I was working as a pot washer in a pub. My dad said if you want to be a chef you have to be a really good one. He spoke to someone who had worked at Michelin-starred restaurants, and his advice was that I needed that experience, so I joined a friend working at Restaurant Martin Wishart in Edinburgh, aged 17, and then moved to the Bath Priory where I stayed for four years.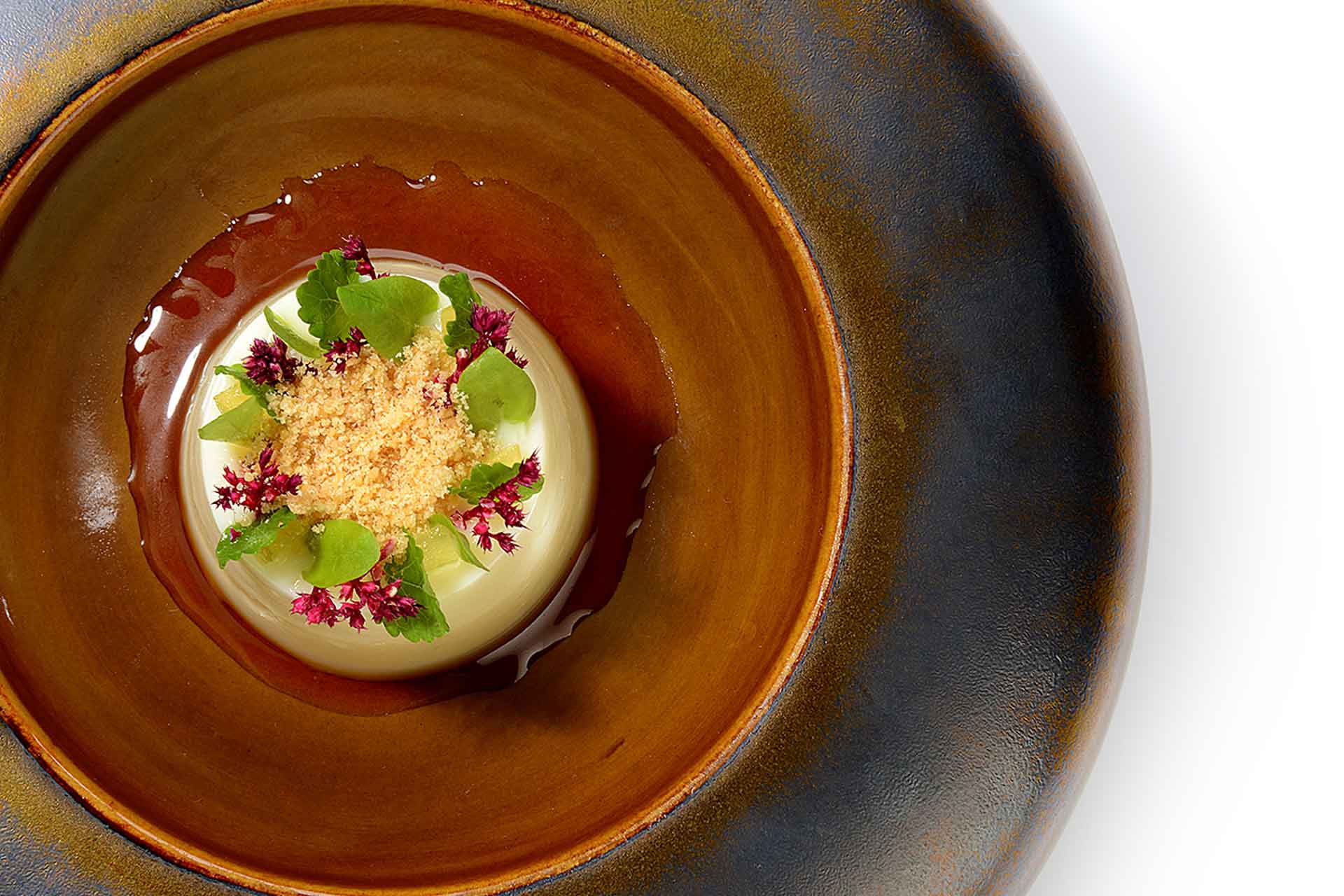 What did competing on BBC's Great British Menu teach you about yourself as a chef?
It reinforced the fact that I'm super competitive. My role is very different now, so I'm really glad my team got to see me that way – on TV, under pressure and then winning. It keeps my team on their toes.
Looking ahead and lockdown permitting, what can we expect from Whatley Manor over the next year?
If anything, we're going to come back stronger than ever. The owner has been amazing at looking after us and making sure we all still have a job. Even though we don't have an exact reopening date, we're already getting ready for it and constantly working towards being open again and continuing the success, as well as being able to provide the hospitality our guests expect.
For The Dining Room, the next year is going to be a real development phase. Before the pandemic, we were about to have a full refurbishment of the restaurant and were already looking to push our experience further there, but with that being halted, we have to re-evaluate. It's now my job to get us all back on track and help the hotel get back into the swing of things.
---
CREDITS
Words: Jenna Campbell
Food photography: Debs Porter and Adrian Franklin