The Upper House has launched Salisterra, a new layered and social Mediterranean dining concept designed by André Fu.
Drawing upon the spectrum of colours and flavours from the Mediterranean, Salisterra will deliver a social dining experience through its gastronomy, service and design. Formed by the Latin words 'salis' for salt and 'terra' for earth, the experience will capture the richness of the Mediterranean with the warmth and familiarity of a neighbourhood bistro.
André Fu has envisioned a bold evolution for the Level 49 space by introducing vivid colours to the design. Rich colours of terracotta orange, mud burgundy, mineral blue, dusty turquoise and golden caramel create five distinct spaces.
"The journey of Salisterra is rooted in the notion of modern authenticity," explains André Fu. "It is a curation of experiences that is highly layered, with moments of bold evolution to transport our guests into a world of earthy Mediterranean tones, intriguing textures and surprising geometries."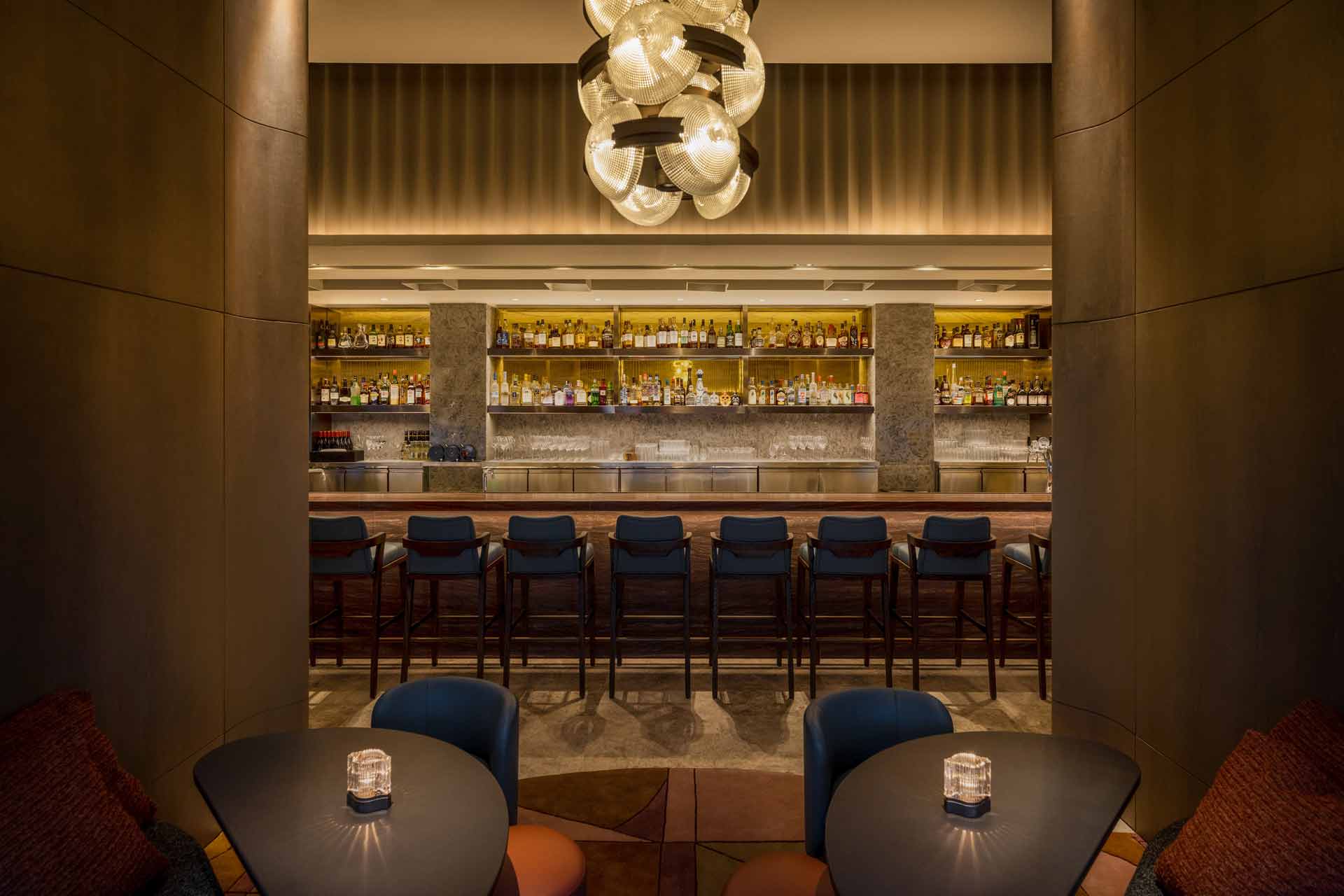 Upon entering from the iconic Sky Bridge, guests are greeted by a full-height bronze gate with bold forms that juxtapose Hong Kong's urban skyline with mid-century silhouettes. Incorporating a sense of geometry, the main dining room is adorned with a bespoke five-metre chandelier that is made up of over 80 glowing glass lanterns reminiscent of the harbour below.
Adjoining the main social dining room are three semi-private dining booths, each marked by an elevated counter table in Azul Montelli marble from Italy and a cut-glass globe pendant hung by an upside down copper cone base. Meanwhile, the private dining room at the rear is designed to present a chef's table experience. Garnished with handmade ceramic tiles in a bronze patina glaze and a display of copper pans, it evokes the impression of a warm and welcoming kitchen.
At the opposite side of the dining room sits the long bar in rustic Brazilian burgundy marble, with adjoining bar booths that are accented with unique pendants composed of a vine of glowing half-spheres. The bar lounge is conceived as an oasis inspired by a world of olive trees, pistachio, and vine trellises, and alludes to a backstage "green room" where actors unwind and entertain.  It is adorned by high gloss racing green lacquer and vivid Pevla stone much akin to the abstract landscape of Wes-Anderson's cinematic world.
Helmed by London-based, Michelin Starred Chef, Jun Tanaka, the menu takes an expressive and seasonal approach with fresh, vibrant flavours that draw inspiration from the coastal cuisines of France and Italy. Classically trained, Jun's dishes are founded on the principles of French cuisine with a focus on simple, sophisticated and sustainable creations.
In homage to Jun's favourite food, over seven types of pasta are hand-crafted including Ossobuco Tortellini, Langoustine Ravioli and Duck Agnolotti.  Viennoiserie are also made fresh daily in-house. Bold vegetable dishes take centre stage, including Pickled Carrots with Coconut Yoghurt and Grilled Hispi Cabbage with Tahini.
A unique grill oven delivers distinct smoky flavours and succulent meats including Grilled Lamb Cutlets with Purple Sprouting Broccoli, Anchovy and Apricot Vinaigrette, and Japanese Baby Red Snapper with Lemon Confit, Miso, Fennel and Radish.
"To be able to work with such an iconic brand as The Upper House in one of the most vibrant cities in the world for my first ever venture outside of the UK, is a real honour and privilege," says Jun Tanaka. "The idea that guests on the other side of the world will be able to experience the kind of food I love to cook and eat, in a beautifully designed space overlooking Hong Kong's skyline feels surreal and humbling"
The opening cocktail menu echoes the spring and summer seasons by blending herbs and spices from the region, whilst the thoughtfully curated wine menu explores smaller, sustainable producers and celebrates the historical significance of the Mediterranean vineyards.
Adding another layer to the Salisterra experience is the integrated service style which allows greater interaction with guests. Semi-private tables are elevated to connect with the open kitchen as guests are presented with a specially created sharing menu. The private dining room set for 10 is designed as a kitchen space, where different flavour activations can take place ­– from chef cooking to wine tastings and pastry making.