André Fu Studio has enhanced the 665°F restaurant at Andaz Singapore, with the addition of a new F&B concept. 
The Hong Kong-based designer has once again collaborated with the hotel on The Cellar,  a 1,300-square-foot space that was formerly an engineering plant-room that adjoined 665°F's principal dining room. Now, it offers a modern take on the classic cellar, holding 400 bottles of premium Old and New World wines and seating 20 diners, with room for another eight in an adjoining private room.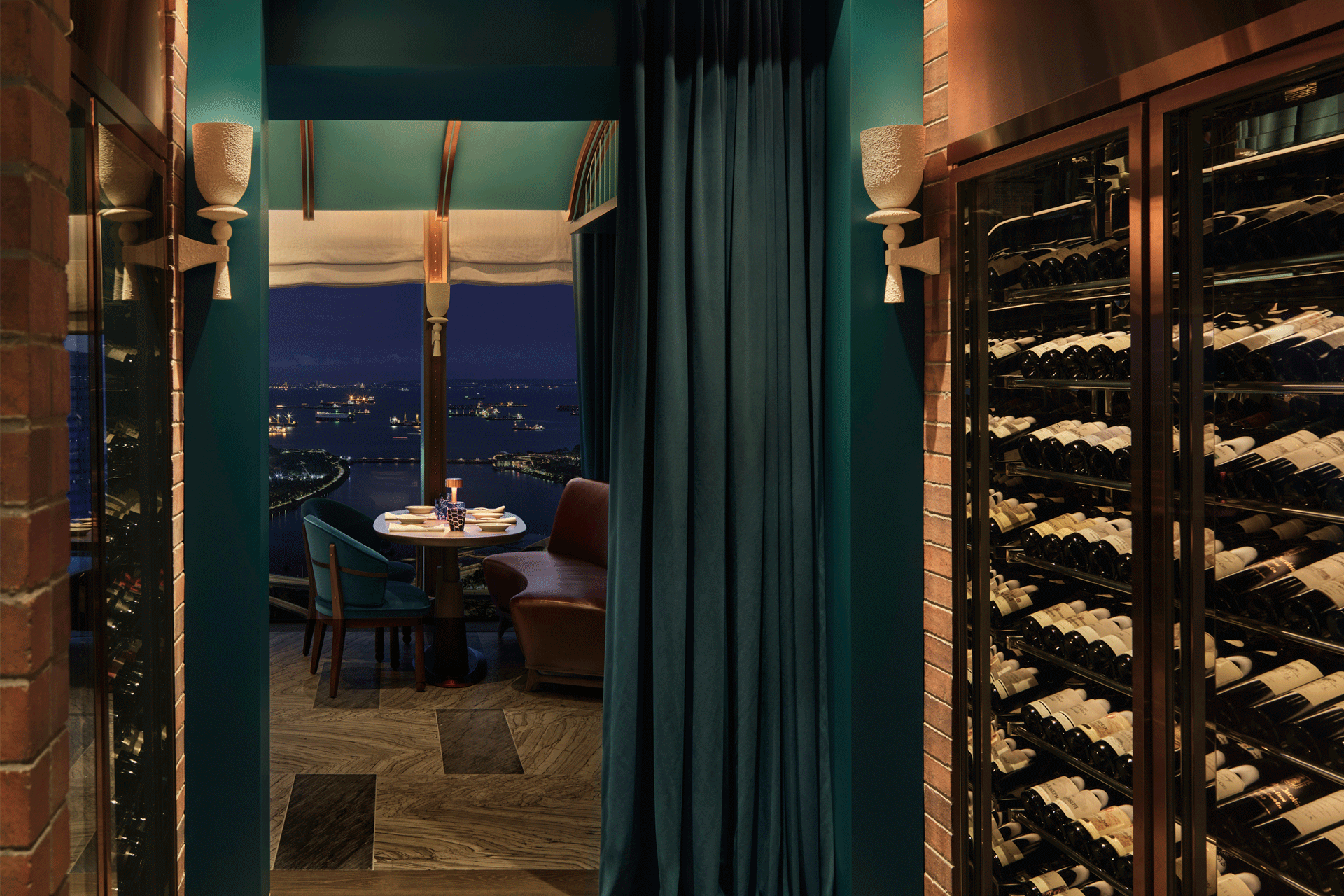 "Once all the machinery had been cleared out, our first impression was that its rectangular shape was reminiscent of a cellar," says the studio's founder and creative director, Fu. "But cellars are typically located below ground. So, the design proposition became this idea of bringing the cellar up 38 floors into the sky. What kind of cellar would this look and feel like?"
The result is a burgundy-hued, timber-lined foyer anchored by a vaulted ceiling over a smoky mirrored corridor, with a tufted Persian-inspired rug nodding to the carpet-shops of the hotel's Kampong Glam neighbourhood.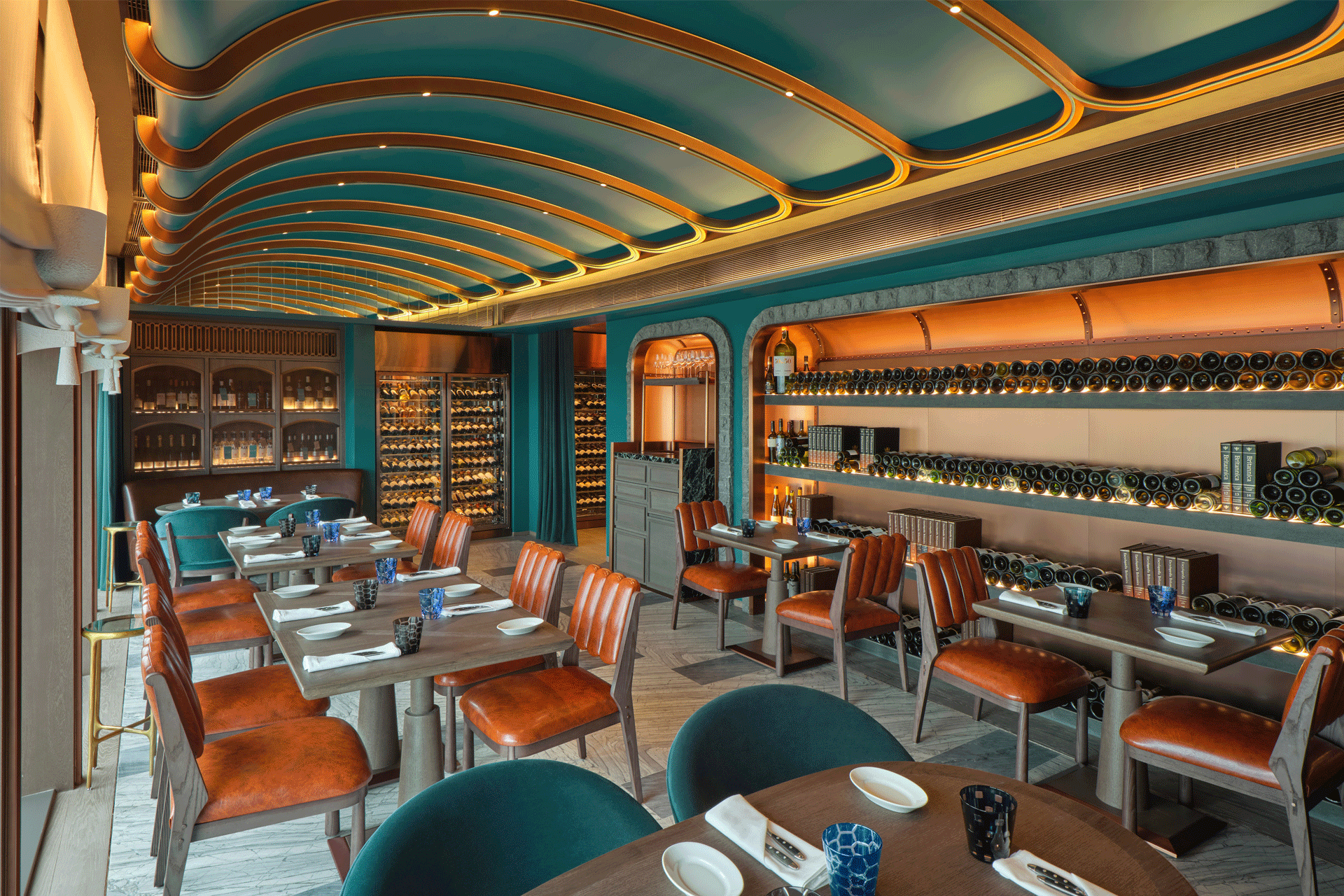 The space then opens up, via a triple-layered and curtained archway, to reveal an intimate dining room dotted with low-slung kidney-bean-shaped sofas and ribbed-back chairs. The arched, turquoise ceiling features a statement oak and copper rib, while copper shelves, industrial rivets and timber mouldings create the palimpsest of a cellar.
"We were careful to not be thematic, but rather to capture the spirit of the cellar, and which is why the ceilings, for example, are not literal interpretations of a vaulted ceiling," explains Fu. "Instead, we have the gentle curvilinear arch of the oak and copper ribs in the main dining room."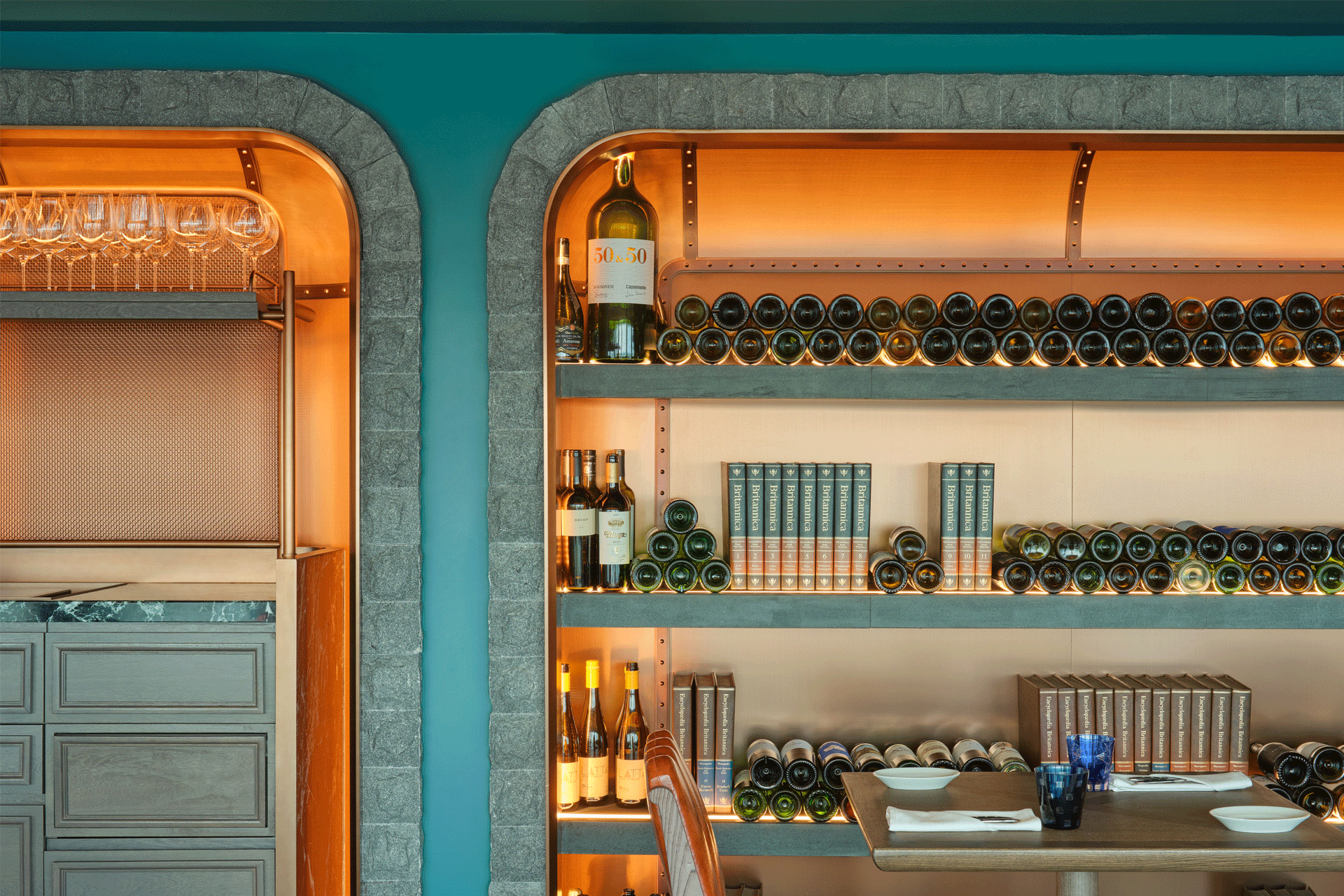 For Fu, The Cellar offered the opportunity to create more space for an existing restaurant while infusing it with a distinct personality. "With The Cellar, I tapped into my own experience and personal memory of real cellars, that feeling of going into an intimate space with a sense of solidity and tactility in the surfaces and materials," he says. "We didn't want to create something that might be regarded as 'just' an extension," He adds: "Rather, it would be more of an addition, an aspirational destination in its own right that, nevertheless, was definitely part of 665°F. I think with The Cellar, we've managed to carve out a hidden gem."