This September, Sheraton Phoenix Downtown will welcome Carcara, a restaurant offering locally sourced cuisine influenced by the rich traditions of the southwest.
Designed by Celano Design Studio, the space offers a refined atmosphere that draws inspiration from the Sonoran region with a focus on natural elements.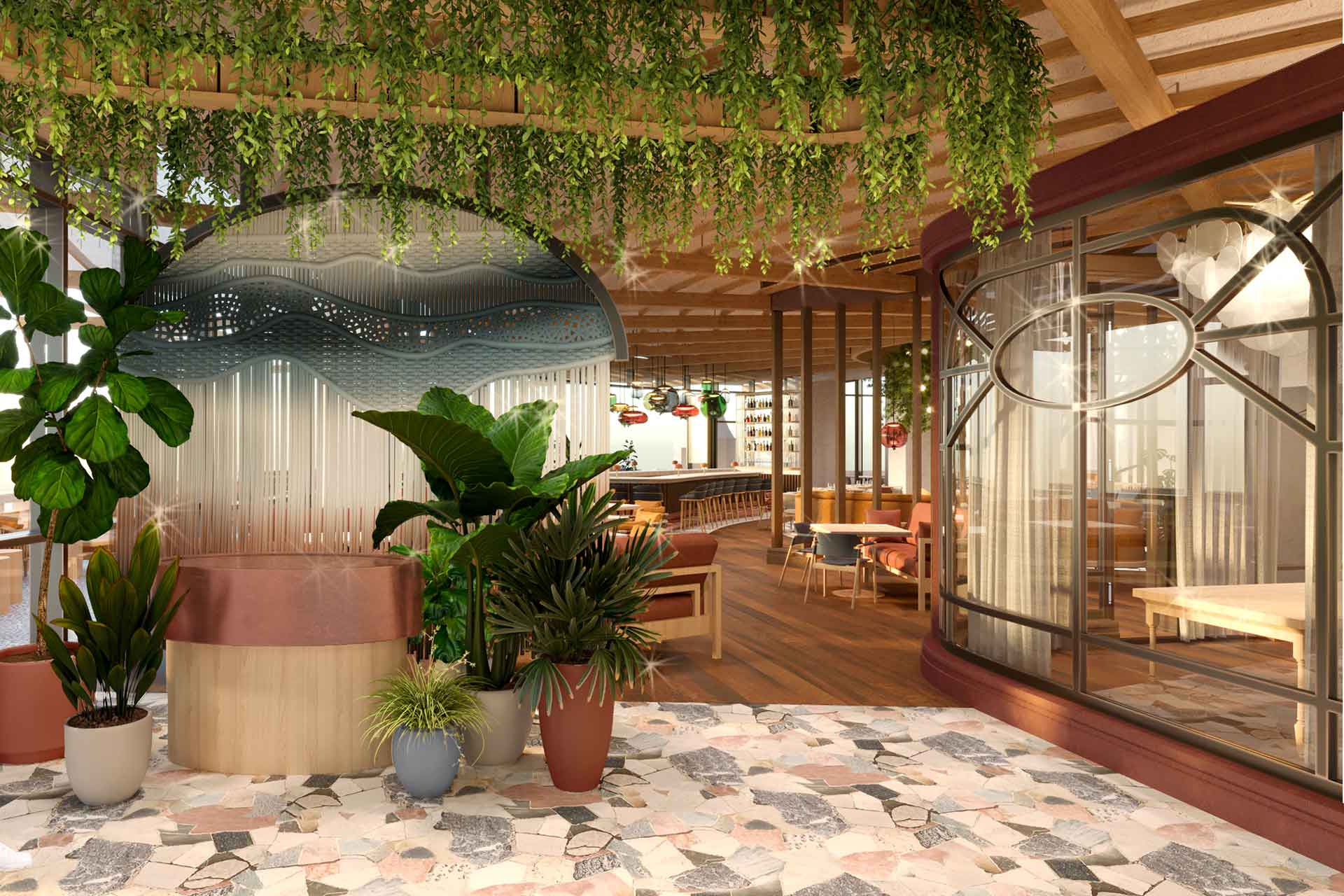 The 7,000ft² restaurant offers a centre bar, indoor lounge, main dining area, three private dining rooms and an outdoor lounge and dining space with a traditional fireplace and two firepits.
On entry, guests are greeted with lush greenery residing in a mix of clay pots and a large hanging wood planter suspending from the ceiling, while the focal point of the restaurant is a chestnut oak tree with a large canopy featuring a collection of glass and metal lanterns hanging within the branches to cast a soft glow. A modern park-style bench banquette wraps the trunk of the tree, allowing guests to dine under the foliage.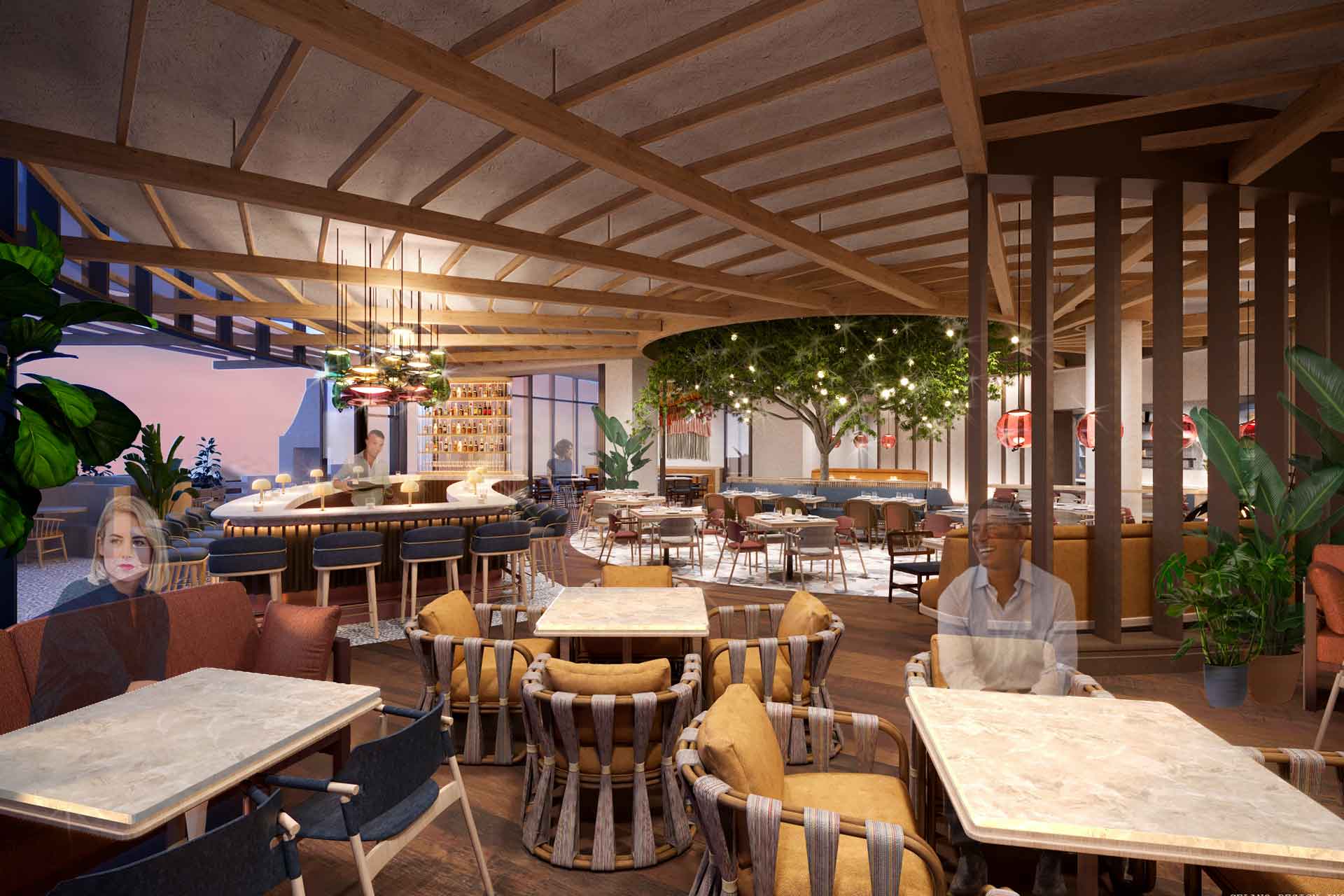 Small touches enhance the space and add to the outdoor feel, including marble pavers in a variety of colours and shapes, a mix of comfortable patio-style furniture with upholstery in ochre and sun-baked gold tones, as well as an impressive wood trellis that spans the entirety of the restaurant and continues out over the patio.
The lounge space is anchored by a centre bar that creates a transition from the dining room inside the restaurant to the outdoor patio. On one end of the bar resides a glowing metal, glass, and wood liquor bottle display cabinet that is balanced by a cluster of sparkling glass pendant lights that hang over the centre of the bar and add a pop of colour. Adjacent, is a sliding glass door system that can open to create a opening to the patio.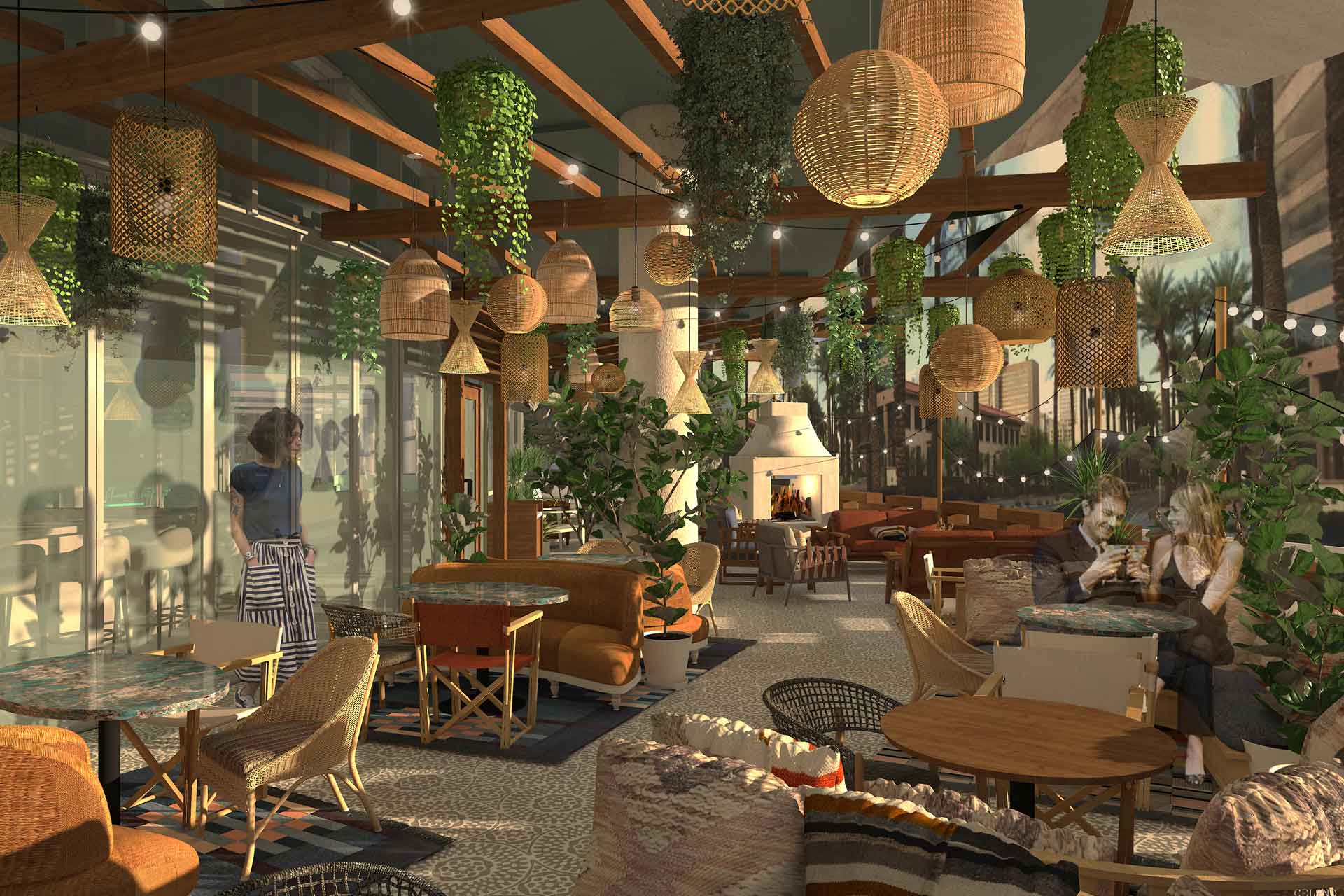 A large adobe fireplace at the back of the outdoor patio acts as a backdrop for the 2,000ft² space, which offers guests a mix of dining and lounge areas featuring two firepits and an eclectic mix of furniture. The perimeter of the patio is flanked with three Cara Cara orange trees, the inspiration and namesake of the restaurant. Hanging from the wood trellis above the patio are a collection of woven lanterns as well as branches and foliage from lemon trees.
"When designing Carcara, we wanted to create an environment that offers a sense of place that is distinctly Phoenix, so we honoured the rich agricultural history of the area by looking toward the cotton fields and citrus groves for inspiration," comments Vincent Celano, founder and CEO of Celano Design Studio. "We decided to blur the line between inside and outside to create a restaurant that is lush with greenery and utilizes honest materials like wood, woven installations, and cotton fabrics. The result is an approachable yet elegant space that feels as if you've been transported to a secret garden or patio."