As we move towards the warmer months and with barbecue season already underway, interior experts from Champalimaud Design and Piglet have revealed their tips for tablescaping – whether it be indoors or out.
---
Alexandra Champalimaud, founder of Champalimaud Design
"You can easily create a picnic-like atmosphere by having the right combination of wares that add colour and character to your al fresco experience. If you're currently sourcing a table – well-crafted iron outdoor furniture is timeless. Outdoor rugs under your table can help to create a sense of place, while tablecloths in white or blues topped with handcrafted ceramics can turn any backyard event into a pastoral escape.
I'm a stickler for a good place setting; everything needs to be beautiful yet functional. Don't be afraid to mix and match patterns. If you keep the colour story consistent, a playful collage of different plate patterns can add charm and character to your place settings. Beautiful glassware is essential – they're part of the ceremony. I wholeheartedly believe that not only are they an important detail in your presentation, but also a good glass makes the drink more enjoyable. Try to get your hands on the more exquisite ones you can find. Consider using a weighty Czech glass for water and a thinner set of wine glasses appropriate for the wine that you're serving."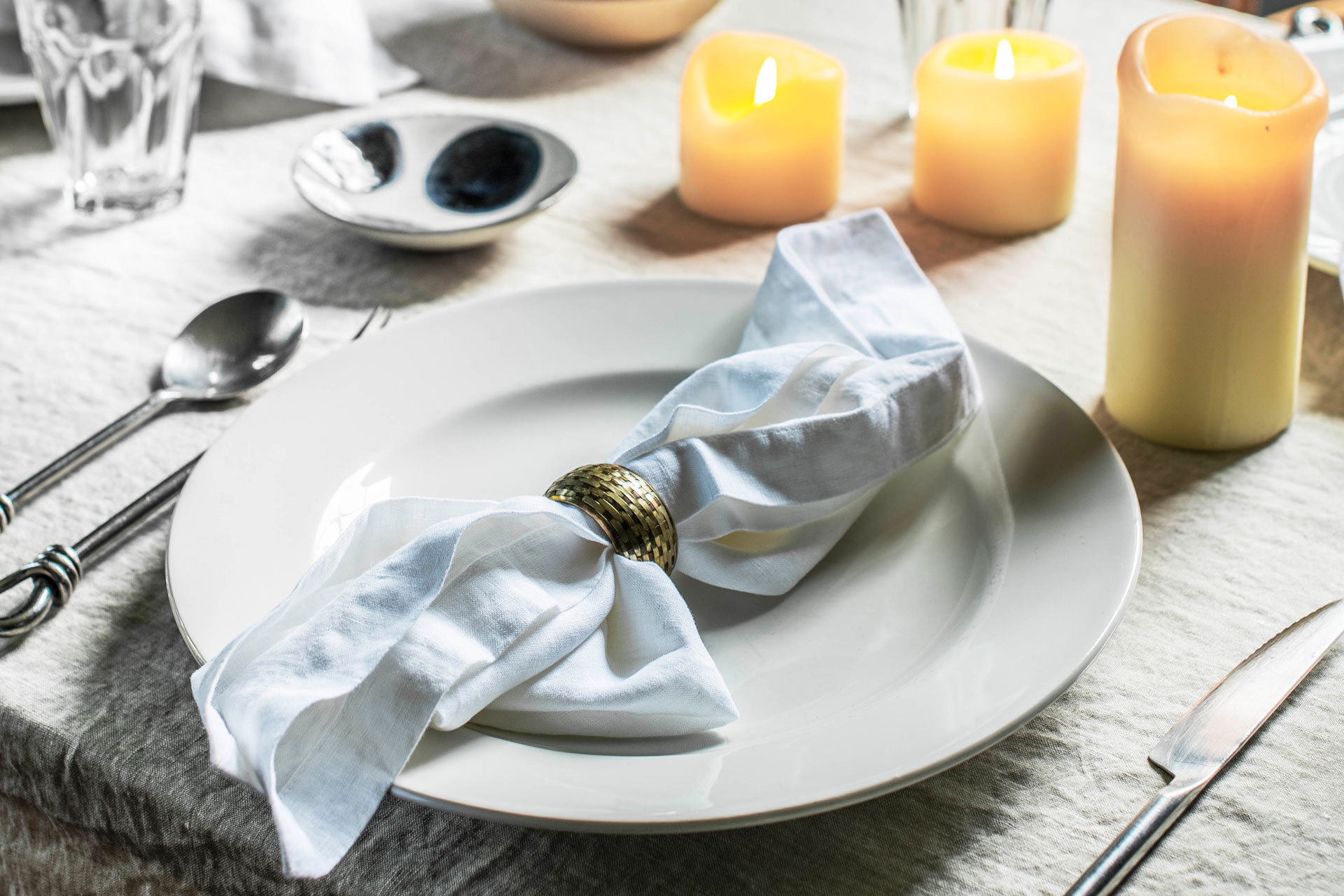 ---
Jessica Mason, founder of Piglet.
"I think that a relaxed, natural style is increasingly popular. Linen in particular resonates really well with a generation who have grown tired of being told that beauty needs to be polished and perfect, its natural creases create a table that is both elegant and effortless. Your setting should be relaxed yet still luxurious, I often opt for a linen tablecloth and napkins in neutral colours, either grey or oatmeal, it instantly provides that relaxed and modern look and then build from that.
Moody lighting is important too! There should be enough light so that you can see your food, friends and family (even if it is just over video!), but dimmed enough to create a bit of intimacy. If it is a special occasion, I often opt for candles in the centre to create a more festive feeling."
---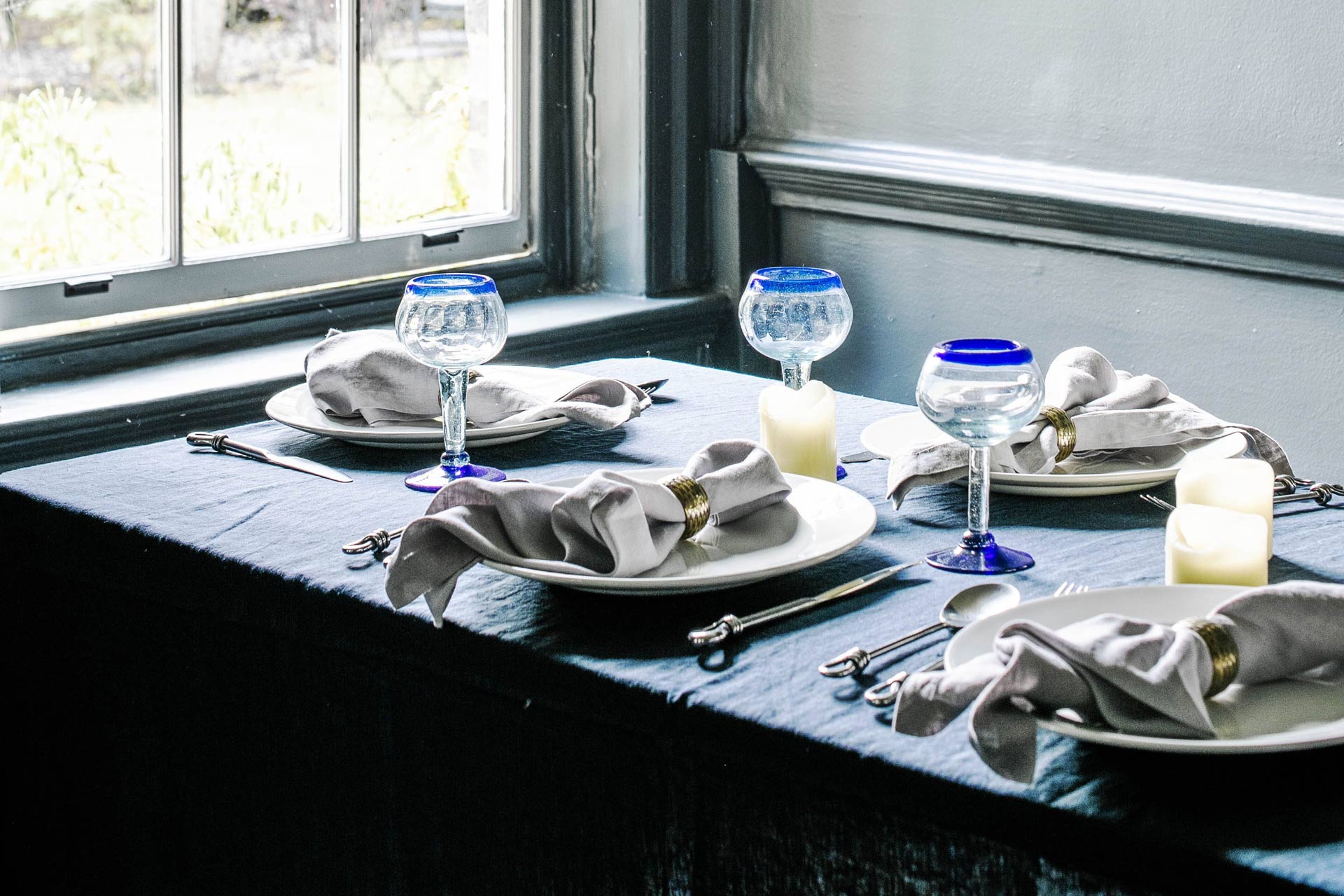 Matoula Karagiannis, Principle at Champalimaud Design
"Have fun, mix things up. Be exotic, adventurous and spirited in your choices. Try mixing ornate classical patterned tableware with minimalist decor. Pair your antiques with modern Scandinavian-inspired touches. Mix your glassware! The options are endless and there are no limits.
Try dressing your table with small accessories or tablewares that you've collected from your travels or heirlooms from your family. Each piece holds a story and will make for great conversation starters with guests.
Now's the time to bring out your best porcelain, why not? If this time has taught us anything it's that every life moment is precious. Our intimate celebrations will be more sacred because of this. Be resourceful with your florals. If you have a garden, use what you have there to create a simple and beautiful arrangement. If you don't, have one try foraging for blooming or leafy branches.
You can never have too many candles. Scatter them throughout the room for a nice glow and memorable mood lighting, and put many as you feel like on the table. Your table should be a reflection of you, make it personal."