El Palace Barcelona has teamed up with the former El Bulli Head Chef Rafa Zafra on the launch of a new restaurant, Amar Barcelona.

The eatery, which opens its doors today, specialises in the freshest seafood ingredients, embodying the love and passion that both the chef and the hotel have for Barcelona, the Mediterranean Sea, Catalan culture and gastronomy.
The menu pays tribute to Mediterranean culture, spotlighting oysters, caviar and other seafood alongside classic Catalan dishes and signature Mediterranean plates. Highlights include langoustine carpaccio, spider crab salad with romesco sauce and tarragon jelly, and a signature seafood platter comprising fresh oysters, clams, prawns, scallops, mussels, sea urchin, crawfish, and king crab.
A separate menu dedicated to Marenne-Oléron oysters pays homage to the legendary El Bulli chef Albert Adrià. It features oysters prepared 11different ways, including fresh oysters, oysters in a tarragon mignonette, grilled oysters, tiger oysters, and Bloody Mary oysters. The restaurant will also serve a caviar menu that sees Zafra use the ingredient as a means of enhancing the flavour of his dishes, rather than as the traditional central element of a recipe.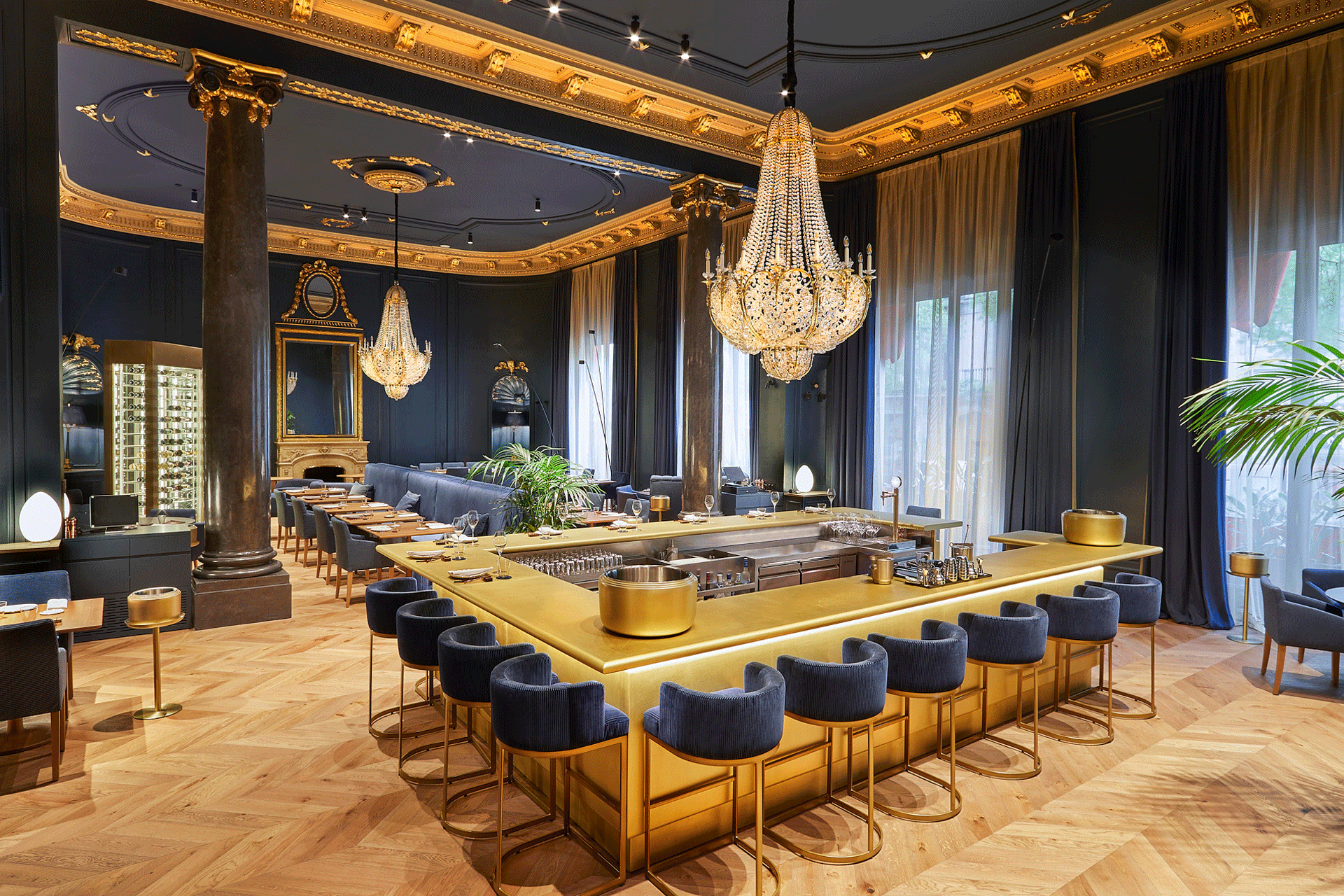 Catalan dishes that combine produce from the Mediterranean Sea to the lofty Pyrenees are also a main feature, with examples including spider crab cannelloni, chicken broth, sea urchin and tributes to the Ritz, with French flavours such as classic sole meunière and lobster cardinale. 
Pastry Chef Cristina Ramon is in charge of desserts, offering a modern take on classic Catalan sweet treats with a menu that includes a profiterole tower with cream and toffee sauce, chocolate nougat soufflé with churros, and a mango and vanilla roulade. Sommelier Diana D'Urso has curated an extensive wine list of more than 400 different wines and champagnes.
"The opening of Amar Barcelona marks a special day in El Palace Barcelona's modern history," said Friedrich Von Schönburg, Managing Director, El Palace Barcelona. "When I joined El Palace Barcelona back in 2020, I already knew I wanted to bring a new, modern dining experience to the hotel and was looking for the right chef and partner to make this dream a reality. As soon as I met Rafa and his team (Ricardo Acquista and Anna Gotanegra), I knew they were the perfect fit to create a new dining destination here at El Palace Barcelona that is modern and fresh, while also respectful to the hotel's rich heritage." 
In addition to Zafra – who also heads up the kitchen at the buzzy clubbing and dining venue Heart Ibiza, for the Adrià brothers – the restaurant's culinary team includes Head Chef Gonzalo Hernández and Sous Chef Victor Garcia, as well as the esteemed Pol Perello, who was the Maître at El Bulli for more than 10 years.
El Palace Barcelona celebrates its 103rd birthday this year, after first opening its doors in 1919 and going on to become Barcelona's inaugural five-star hotel.