Restauranteur Mario Iaccarino has announced the opening of Casa Don Alfonso at The Ritz-Carlton, St. Louis.
Opening in March, the restaurant is inspired by his childhood in Southern Italy and represents a love letter to the Sorrento Coast.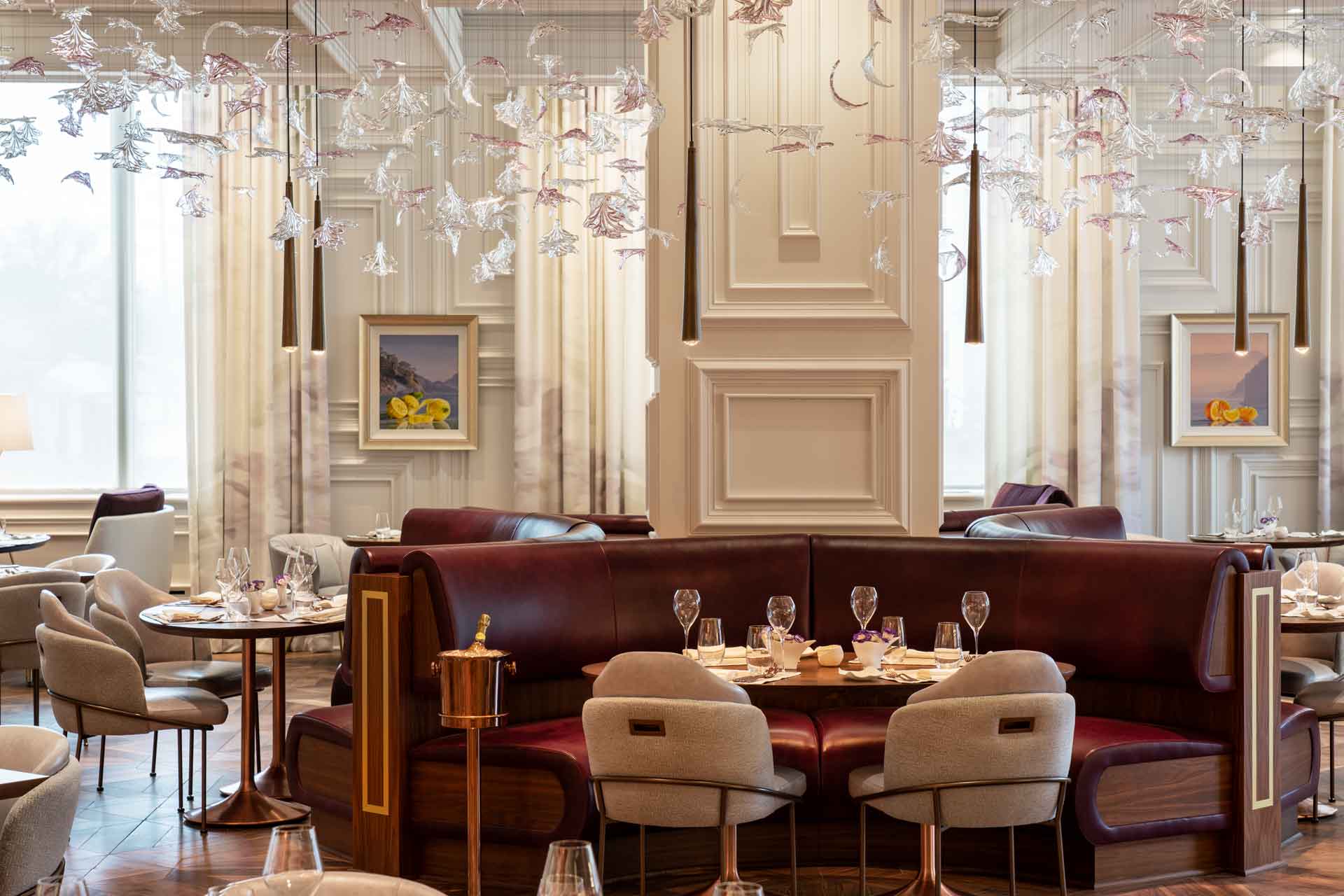 Chef de cuisine Sergio Chierego will honour the culinary traditions of Italy's Campania region with carefully selected ingredients that closely resemble the produce harvested at the Iaccarino family's farm.
"It has always been a dream to open in the U.S., and this project has truly come to life and blossomed in St. Louis," says Mario Iaccarino. "We can't wait to share our passion with the community."
For his first venture in the United States, Iaccarino looked to create an approachable setting for which The Ritz-Carlton, St. Louis enlisted Atlanta-based architecture and interior design firm The Johnson Studio to bring to life.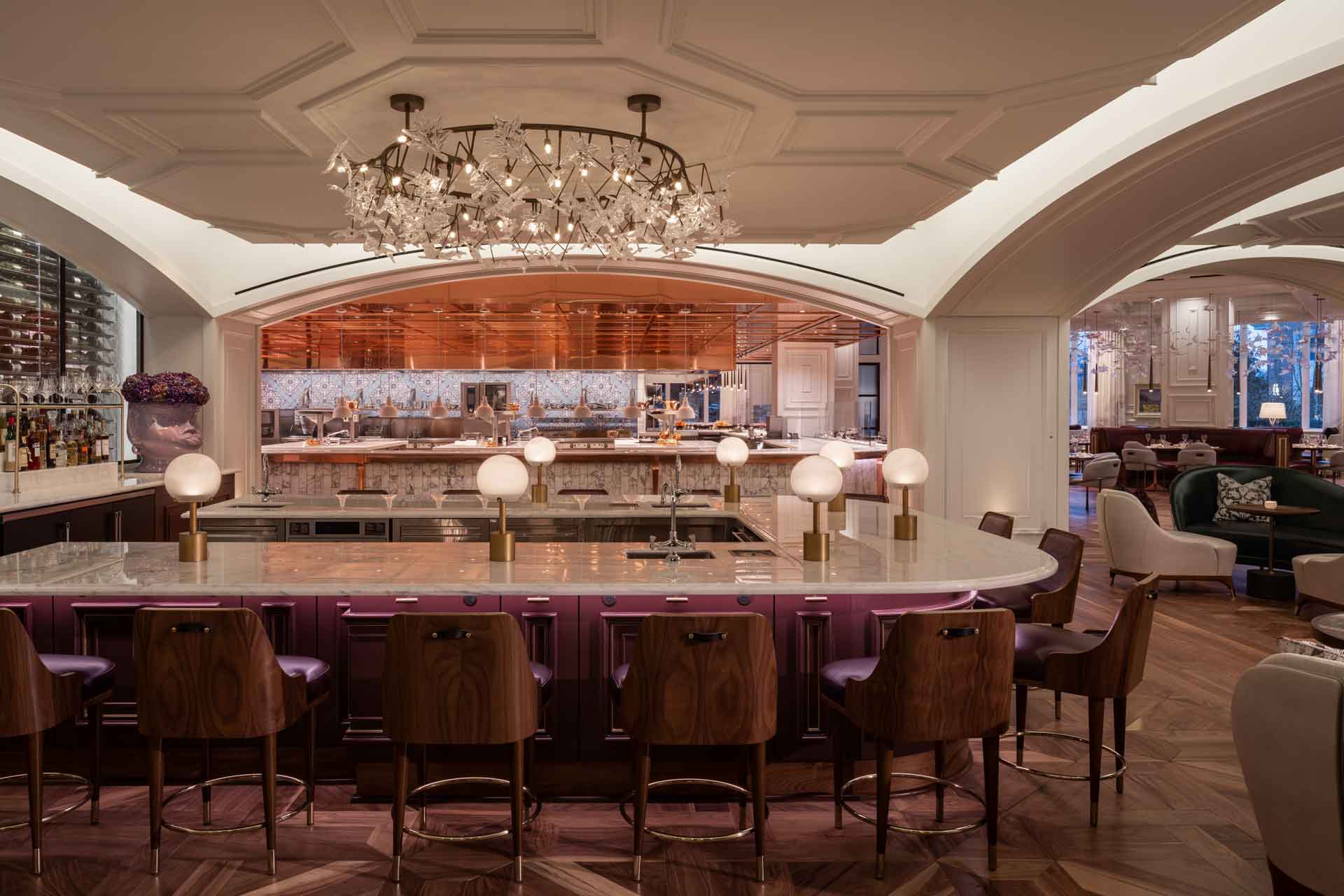 The restaurant and bar features a romantic, light purple colour palette inspired by the lavender fields near Don Alfonso 1890. Bringing together Sant' Agata and St. Louis, and as a nod to the city's converging rivers, The Johnson Studio intertwined architectural elements like arches and curves, inviting the diner's eyes to dance through the interior.
Guests can expect relaxed seating at the lounge and bar area, with the backdrop of the restaurant's expansive wine collection anchored by two eye-catching violet busts by Italian ceramicist Giovanni de Maio on either side.
Counter-style seating surrounds the copper accented open kitchen, where guests can watch Casa Don Alfonso's very own pizzaiolo crafting authentic Neapolitan pizzas. For tableside service, guests can dine under a hand-blown glass wisteria chandelier, surrounded by original artwork by Italian artist Anna Russo.
Don Alfonso 1890's culinarian and chef Ernesto Iaccarino has developed the Mediterranean menu, which features recipes passed down in the Iaccarino family, in addition to beloved regional dishes.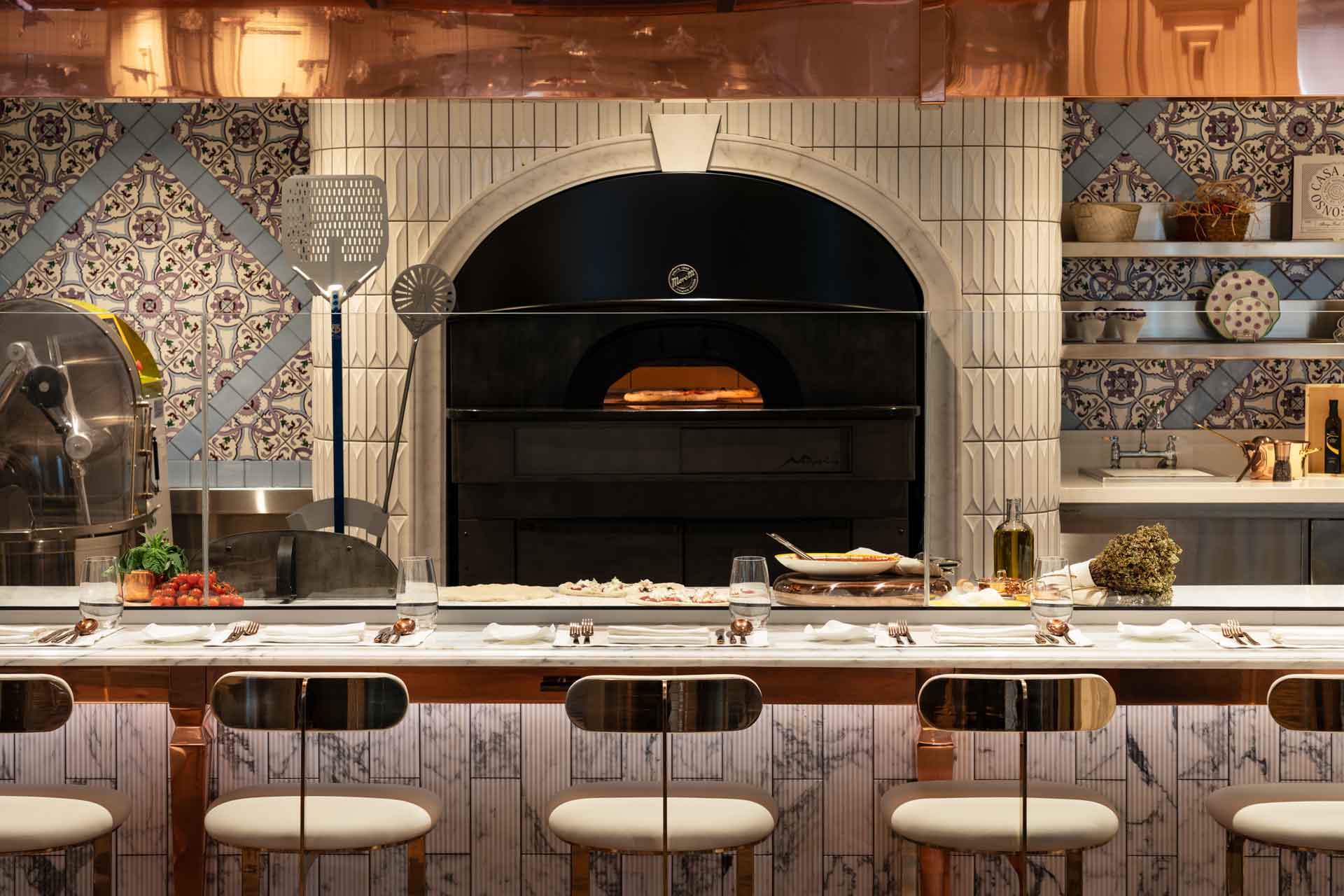 The menu starts with antipasti such as Neapolitan-style Fritto Misto with an assortment of arancino, lightly-fried vegetables, and potato croquettes, as well as Tuna Tartare, and Classic Eggplant Parmigiana. Inspired by the pillars of the Mediterranean diet, guests can enjoy soups like Tomato & Basil and Castellucio Lentil that are filled with vegetables and legumes, complemented by aromatics served tableside.
Casa Don Alfonso's very own Pizzaiolo will offer guests eight different Neapolitan pizza varieties including  Cherry Tomatoes & Burrata and Calabrian 'Nduja, all made on an organic sourdough crust, gently proofed for 48 hours.
Meanwhile the restaurant's handmade pastas create an edible narrative of the Iaccarino family legacy with Grandmother's Ziti, Sorrento Coast-Style Baked Tiny Gnocchi, Lasagna Napoletana, Fresh Tagliatelle, and Maccheroni Gratin.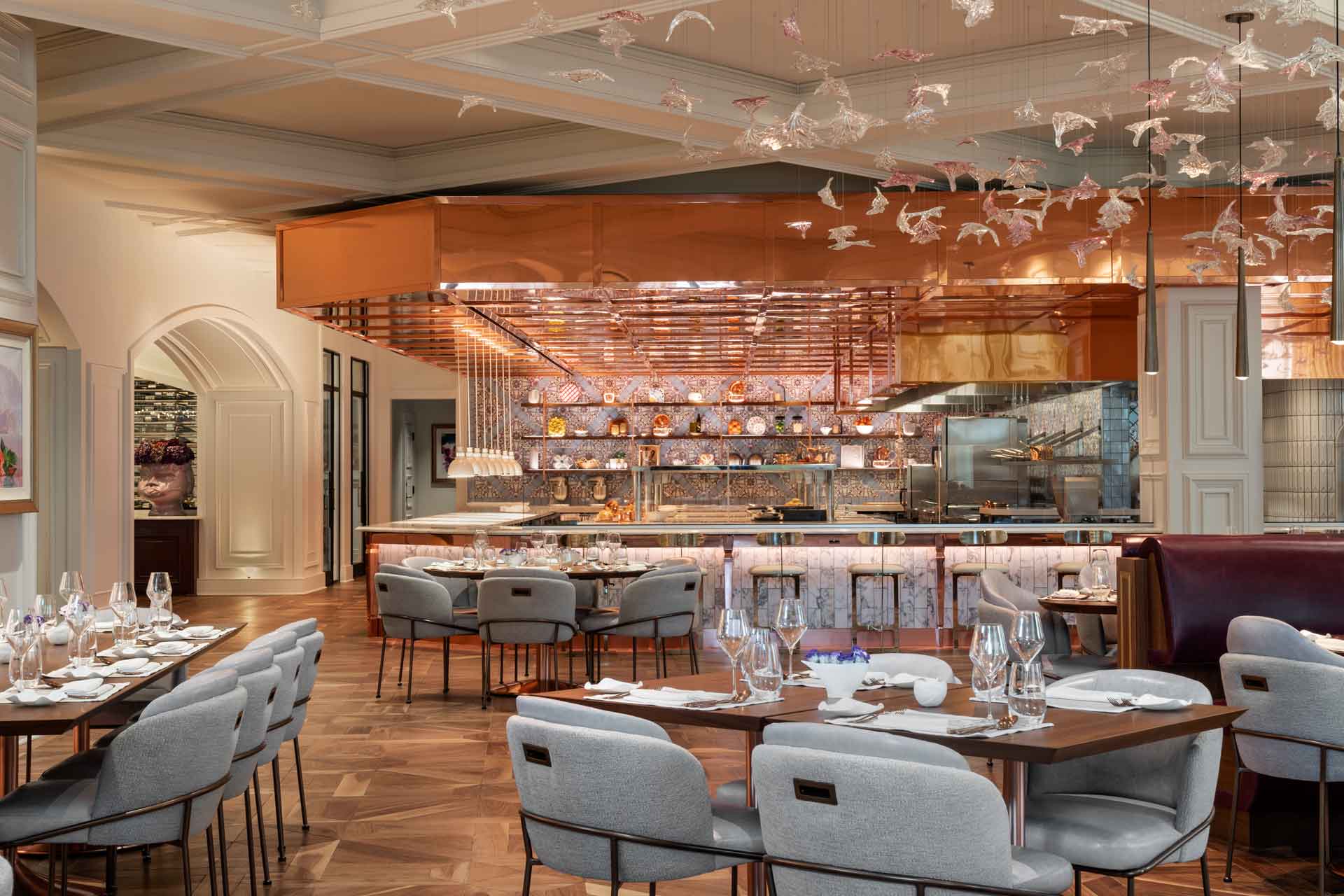 Secondi options include Rack of Colorado Lamb, The Rediscovery of the Chicken Cacciatora, and Pork Braciola. Sorrento's close proximity to the coast allows seafood dishes to take centre stage, and guests can choose from the Catch of the Day served acqua-pazza style, Classical Cod & Potatoes, or Grilled Maine Lobster.
Desserts transport guests to Naples's traditional bakeries with creations like Sorrento Coast Lemon Delizia and Sfogliatella Santa Rosa.
Inspired by the many bright flavours of the Sorrento Coast, the cocktail program highlights traditional Italian cocktails with playful twists. General Manager Alen Tanovic has crafted signature cocktails like Amalfitana made with Reposado Tequila, Campari, Fresh Grapefruit and Lime Juice, Aranciata Juice and Agave Nectar; and Wisteria Skies – a mix of Malfy Gin, Cocchi Americano, Blood Orange Syrup, Butterfly Pea and Lemon Juice – in addition to a rotating list of seasonal cocktails.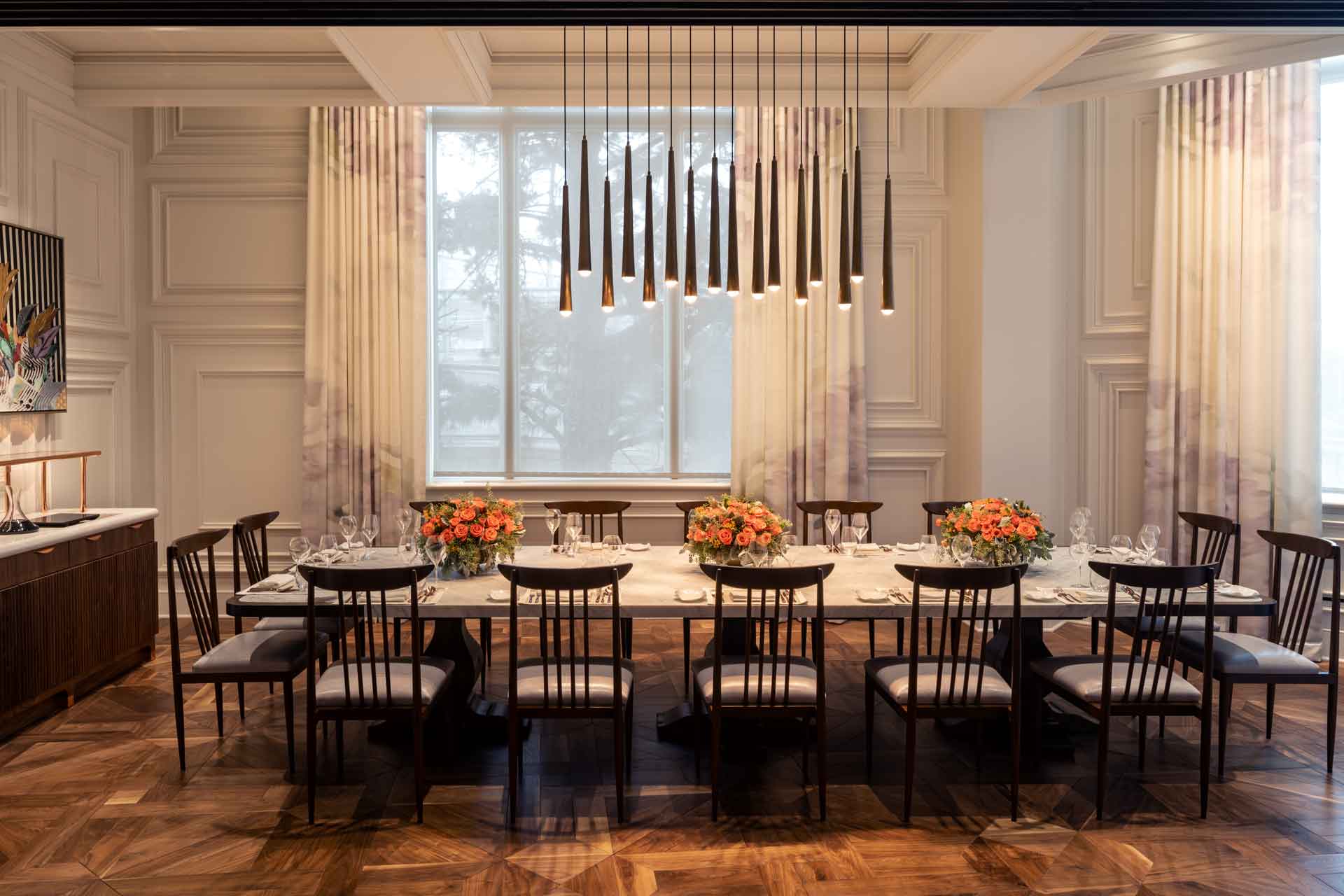 The beverage programme also includes two bottled cocktail options, The Filipo Bianco, an Italian spritz named for the renowned Italian playwright, as well as the Amalfitana.
Guests can also opt for non-alcoholic beverages and rejuvenating Don Alfonso Elixir. The tonic includes antioxidants from Lapchaung tea, notes of ginger and citrus. Featured wines by the glass are exclusively Italian, with beverage experts available to guide guests through the extensive 3000-bottle list.
At the end of the meal, diners are invited to partake in the Italian tradition of espresso, with imported grounds made exclusively for Casa Don Alfonso's espresso bar. The blend is slowly smoked using oak, olive and orange woods from the Sorrentine Peninsula and is the basis for coffee classics and seasonal drinks.
In addition, beverages such as the Iced Coffee Shakerato, Sorrento and Lavender Honey Mocha grace the menu as well as non-caffeinated Italian cream sodas with flavoured syrups. Guests are also welcomed to the espresso bar for a specialty drink on-the-go with pastries and fresh-pressed juices also available.