Interior design and architecture studio Rosendale Design has announced its latest project, Mykonos Social by Michelin-starred chef and restaurateur Jason Atherton.
Launching May 2021, Mykonos Social restaurant is nestled within Santa Marina Resort & Villas, a Luxury Collection Resort, on a secluded peninsula overlooking the Aegean Sea.
The leading resort boasts 101 guest rooms and suites, along with 13 villas, the only private sand beach on Mykonos, infinity pools, a Ginkgo Spa and four options for dining and drinks, which will soon be highlighted by Atherton's Mykonos Social.
The design concept of Mykonos Social timelessly celebrates Hellenic culture and the design trio overseeing the project – Dale Atkinson, Jake Raslan and Lorenzo Buscaroli – have a close relationship with Jason Atherton, having worked on several restaurant projects together in the past.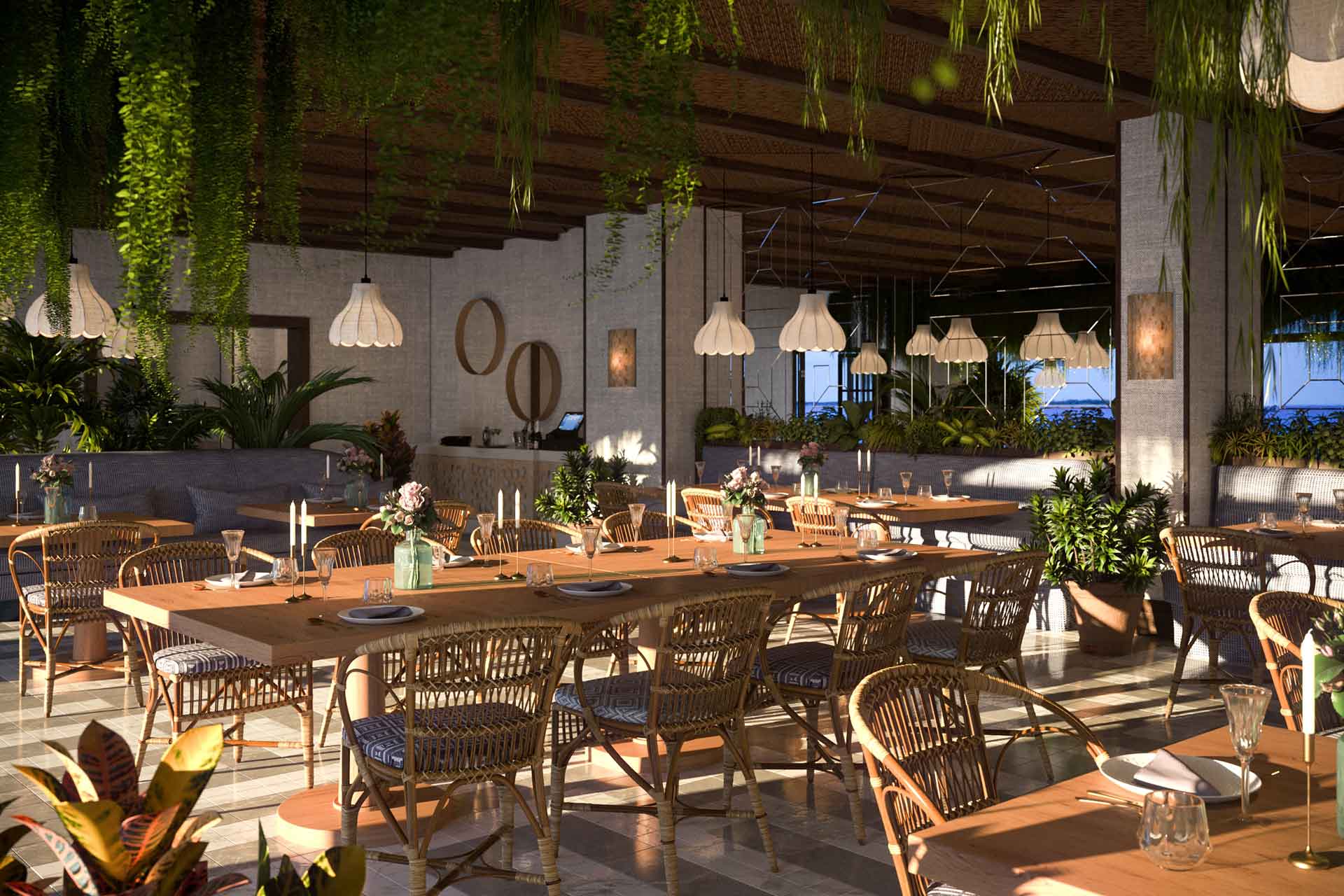 Mykonos Social promises to be a chic, all-day dining destination offering tranquil views of the Aegean and is situated beside the stunning pool. Delivering a selection of Mediterranean dishes and Tiki-style cocktails, Mykonos Social is ideal for long summer days by the beach, as well as drinks in the evening.
Upon entering the restaurant, guests will be welcomed to a cool and airy indoor-outdoor space lined with sheer curtains to diffuse the natural light and allow for privacy. A variety of stools, chairs and booths are crafted from locally sourced rattan, each complemented by fabrics of all shades of blue reflecting the nearby Aegean – from chevron striped seat pads to bold floral cushions. Outdoor seating lines the swimming pool, ocean and private beach, with tables encircled by local citrus trees, all below chic shadow stripe parasols.
Mykonos Social's bar will be atmospheric and moody, a contrast to the bright restaurant floor. The signature wooden bar front has been laser-cut with soft circular shapes, allowing the backlight to peep through.
Inside the restaurant, walls are lined with hanging green botanicals, and fresh pink flowers add a pop of colour. Potted plants are tastefully styled throughout, further merging the indoor-outdoor space. Meanwhile, a statement marble floor in neutral shades, seamlessly blends the outdoor and indoor spaces together, to further elevate the light, depth and glow of the restaurant.
"Rosendale Design is delighted to be working with Jason Atherton on what is our sixth project together. Mykonos Social has given us an opportunity to explore and depict beautiful touch points of Hellenic culture through design, in addition to tying in direct links to flora and fauna in an eclectic and playful manner, complimenting the tranquil setting," commented Dale Atkinson, Founder of Rosendale Design.
Adding: "With a colour palette of green, orange and cream, and handmade rattan pieces alongside lush foliage, the design of Mykonos Social aims to encourage guests to relax and luxuriate in the comfort of their surroundings and to enjoy Jason's outstanding culinary feasts against a stunning ocean backdrop."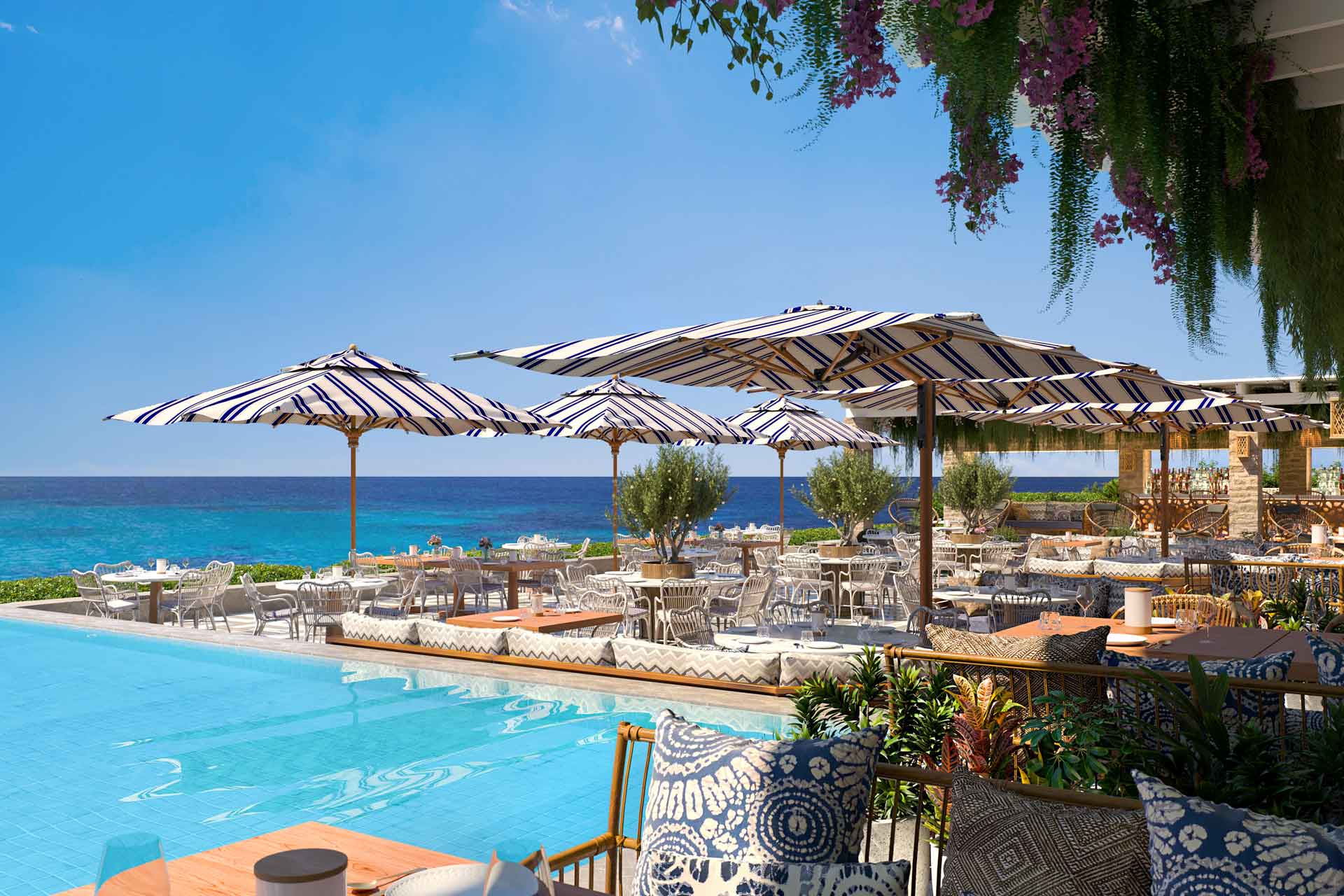 Mykonos Social adds another string to the bow for Atherton's 'The Social Company', which has grown into a globally renowned restaurant group, including the Michelin-starred Social Eating House and City Social, as well as 5 Social, The Betterment and Berners Tavern.
Alongside his London restaurants, Atherton has also opened critically acclaimed restaurants in Shanghai, Dubai, St. Moritz and his Michelin-starred restaurant, The Clocktower, in New York.
The latest addition to Rosendale Design's portfolio enompasses The Stafford, Ben Tish's Italian-inspired restaurant Norma, and Burgundy-focused restaurant Cabotte, all in London. Elsewhere, the interior and architecture firm has worked on prestigious projects in Mumbai, Doha, St. Moritz and Saudi Arabia.
2021 will also see Rosendale Design launch hotly anticipated Japanese Steak House, ARAGAWA in Mayfair, alongside Mathura by chef Atul Kochhar at the Grade II listed Westminster Fire Station.