October will mark the opening of Booking Office 1869, a new all-day drinking and dining concept at St. Pancras Renaissance Hotel London.
A reimagining of the original, 19th century St. Pancras ticket hall, the launch marks the tenth anniversary of the hotel and will replace the previous Booking Office bar & restaurant.
The redesign has been overseen by Parisian architect and designer Hugo Toro, who has worked alongside owner and property developer Harry Handelsman to create a design that brings the room to life by blending old and new influences.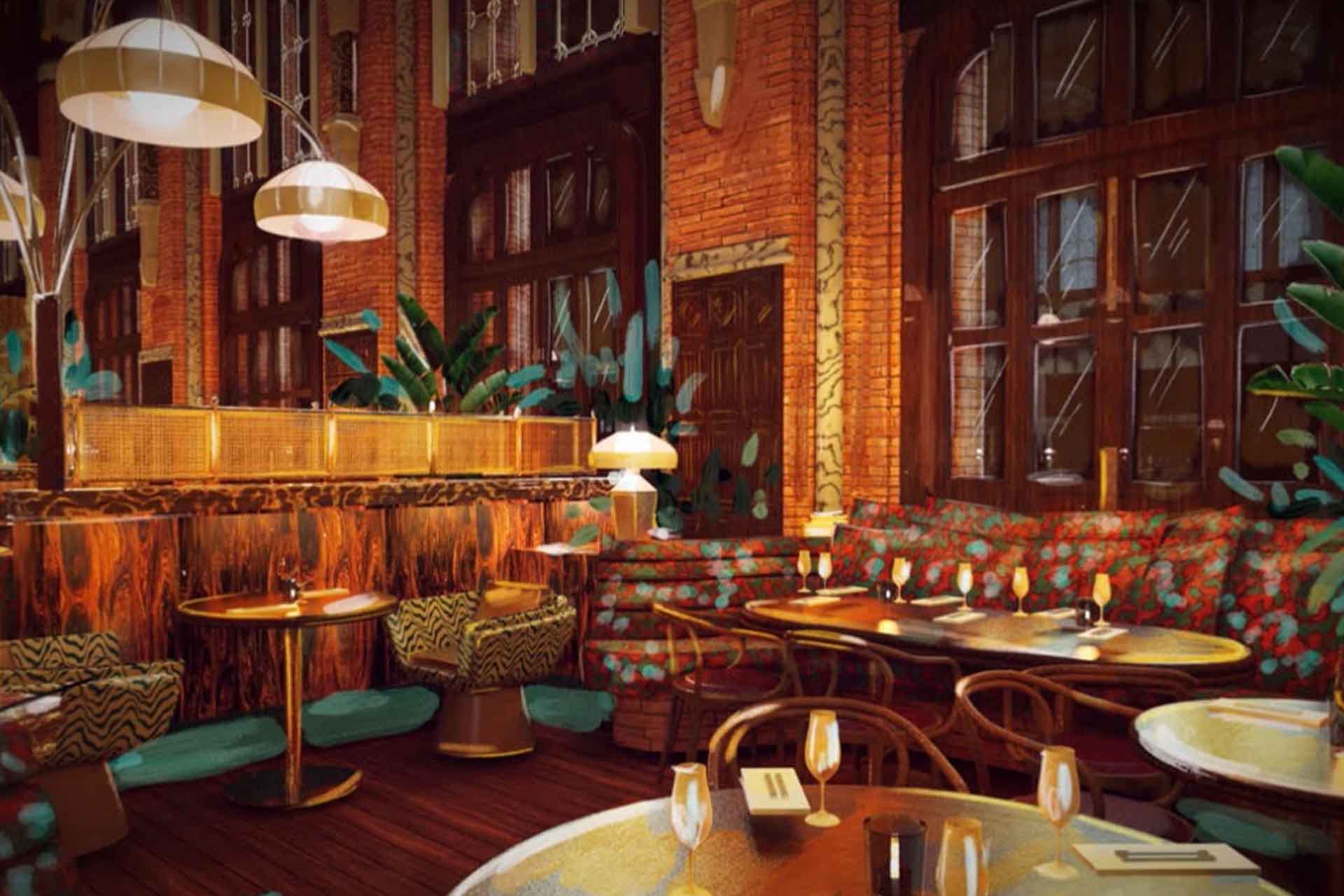 Booking Office 1869 is the first UK-commission for Toro, who has previously led the design for restaurants in France including La Scène, Perruche and GiGi de Ramatuelle.
Working collaboratively with Handelsman, Toro was influenced by the patterns and colours of the hotel's Grand Staircase, which in turn inspired him to create a Victorian-style Winter Garden, serving as a gateway to Europe through the use of eccentric patterns, fabrics and features.
The room, which seats 120, will be dominated by features including eight-metre-tall palm trees and three pendant lights made up of 267 brass leaves each, along with a 22-metre long bar, which surrounds the original ticket office, all serving as key focal points. Seating and complementary fabrics and patterns will be used to divide the room and ensure an atmosphere where drinkers do not feel alienated by diners and diners feel comfortable to eat around guests enjoying a drink.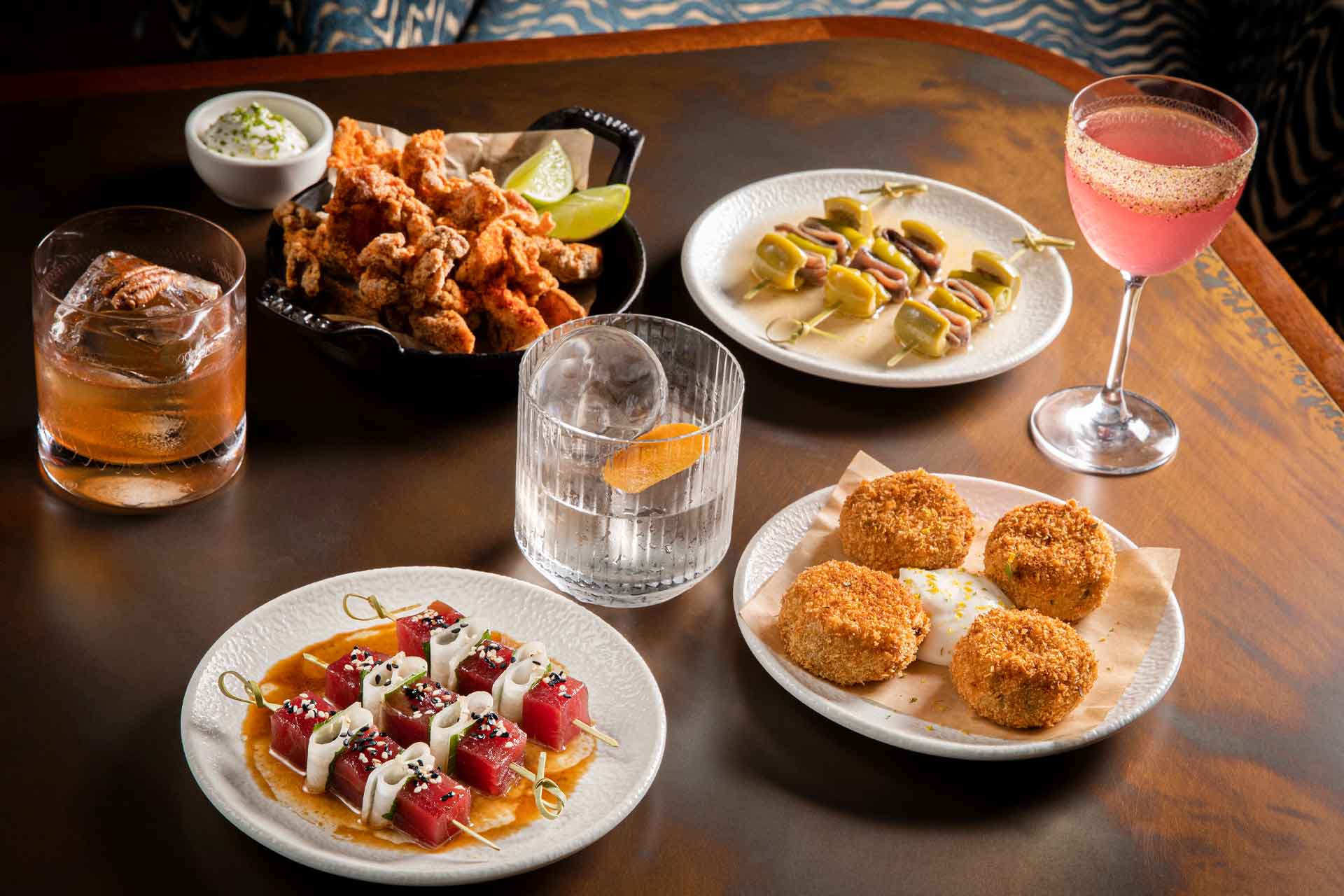 Commenting on the design, Hugo Toro says: "My overarching ambition was the introduction of a contemporary voice, but one still connected to a past time; a visual dialogue with the space's extraordinary heritage."
Menus will be overseen by Patrick Powell – Allegra, Chiltern Firehouse, Wild Honey – who has curated an all-day style menu running through snacks, salads and starters, mains, sides and desserts, designed to highlight classic dishes finished with a modern twist. Accompanying the menu will be a live Raw Bar serving both market oysters and sashimi-style tuna skewers.
Signature snacks and starters will include fried chicken with yoghurt and lime, and barbecued carrots, braised grains, yoghurt, pistachio and dukkah. For mains there will be choices will range from fried fish sandwich with spicy tartar sauce and slow roasted lamb shoulder cooked in chermoula spices, to monkfish and potato curry with spinach, spring onion and lime. Desserts will comprise a brioche donut with caramelised apple and burnt cinnamon cream as well as a blackberry trifle.
Elsewhere, the drinks offering will be equally considered, with Bar Manager Jack Porter – The Mezzanine at The Stratford, Library Bar at The Ned – designing a menu that draws heavily on the architecture of the building, taking inspiration from materials widely used during the Victorian era, and throughout the original room, such as glass, steel, copper and wood.
The cocktail list emphasises the idea of combining the old with the new and is divided into two parts; Refined Classics see modern techniques used to accelerate the ageing processes, whilst still maintaining the complexity and depth of flavours and include a House and a Clear Margarita. The second part is made up of Signature Serves, a selection of cocktails incorporating Victorian materials, served in a modern yet pared back style, with drinks such as Victoria Sour, comprising Barsol Pisco, Long Pepper Spice, Plum Syrup, and Ol' Signalman featuring Pecan Nut Infused Bourbon, Cocchi Rosa, Coconut Bitters. A tea-inspired non-alcoholic range will also be available, alongside a selection of champagnes, wines and spirits.
Following the launch of Booking Office 1869 will be the opening of the Roof Garden. The embodiment of a hidden al fresco garden, the Booking Office 1869 Roof Garden will serve a snacking menu from its indoor counterpart with seasonal activations with like-minded drinks partners, ensuring its relevance throughout the year.