Taking up residence at the former Curtain hotel, Mondrian makes its London return with interiors by Goddard Littlefair and a Dani García-fronted restaurant, writes Jenna Campbell.
East London's fun-loving Shoreditch neighbourhood has a new resident. Occupying the former Curtain hotel and members' club, the 120-key Mondrian Shoreditch – the sixth property in the brand's global portfolio – seeks to distinguish itself with a locally inspired design aesthetic and an exciting multi-venue culinary programme that includes BiBo – the first UK restaurant from Michelin-starred chef Dani García.
The opening represents Mondrian's much anticipated return to the capital following the de-flagging of Sea Containers London and will act as a new flagship for the Accor and SBE venture. With help from interior design studio Goddard Littlefair – also behind The Mayfair Townhouse and Villa Copenhagen – the property has undergone a redesign to reflect the upbeat and individual spirit of the Mondrian brand, which seeks to give guests an authentic flavour of locale. Part of the Reuben Brothers' investment portfolio, the building – an industrial corner lot originally designed by Dexter Moren Associates on the site of a former 1970s office block – reflects the neighbourhood's heritage with its red brick façade and large framed Crittall-style windows.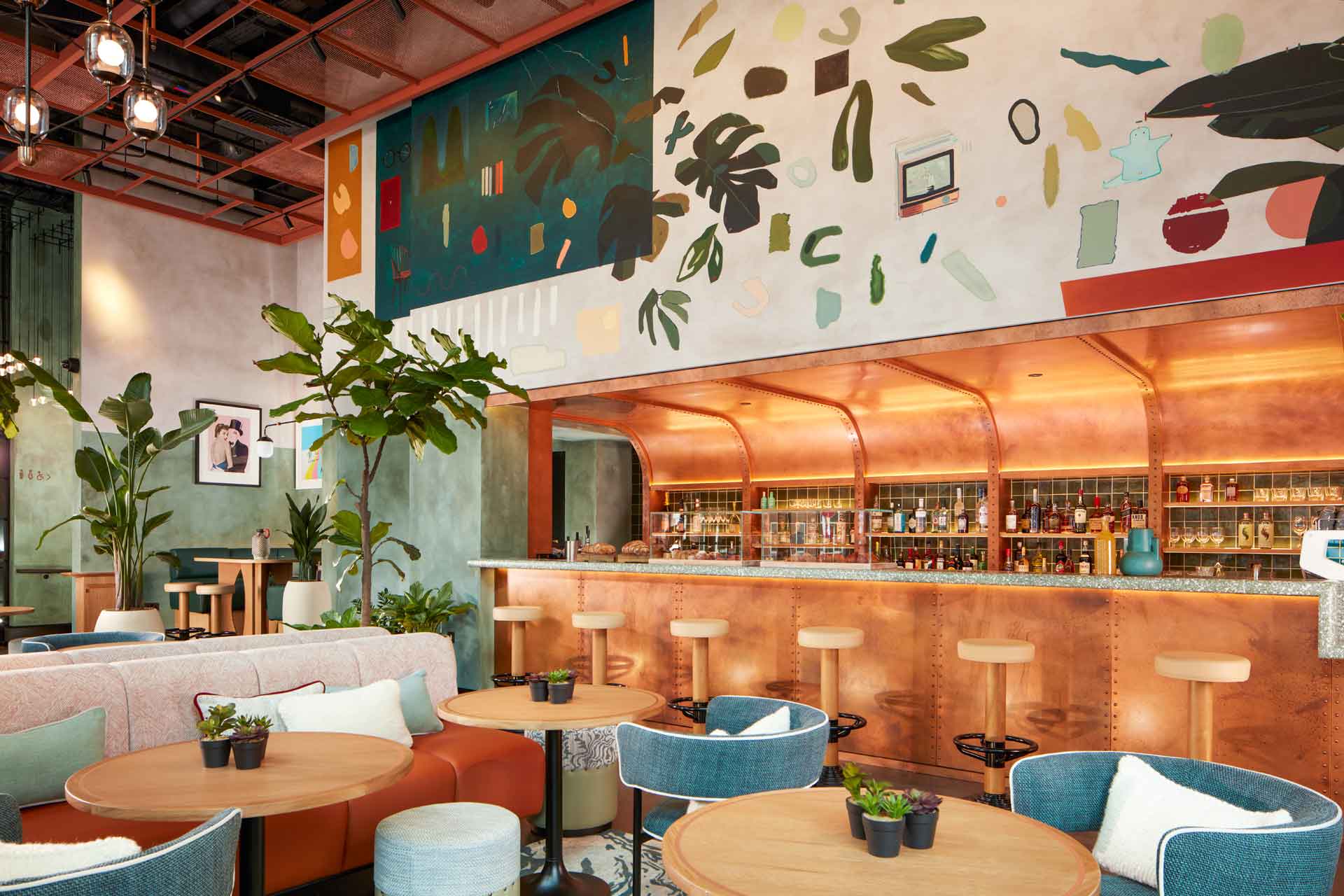 Inside, Goddard Littlefair have been guided by the history of the area and the colourful social fabric of Shoreditch. "We have taken inspiration from art and literature, including the traditional nursery rhyme 'Oranges and Lemons' – due to the hotel's close proximity to churches that feature in the historical rhyme," explains Lucy Robinson, Associate at Goddard Littlefair who led the design. "To bring this inspiration to life, upon entering the hotel, guests are met with spherical forms, hints of fruity colours and a youthful energy to provide a playful framework.
The double-height lobby, complete with installation artwork including a light-filled mirror room – a homage to well-known artist Yayoi Kusama – builds on Mondrian's playful spirit, while the juxtaposition of the hotel's original patterned floor against the concrete desk, patina walls and reflective surfaces creates a strong identity. Across the ground floor to Christina's, the hotel's all-day dining and drinking destination, pendant light fittings – a contemporary interpretation of the gas lanterns formerly used as streetlights – a curved copper bar and a large-scale mural by British artist Fred Coppin handpainted onto the exposed concrete walls adds a bohemian quality.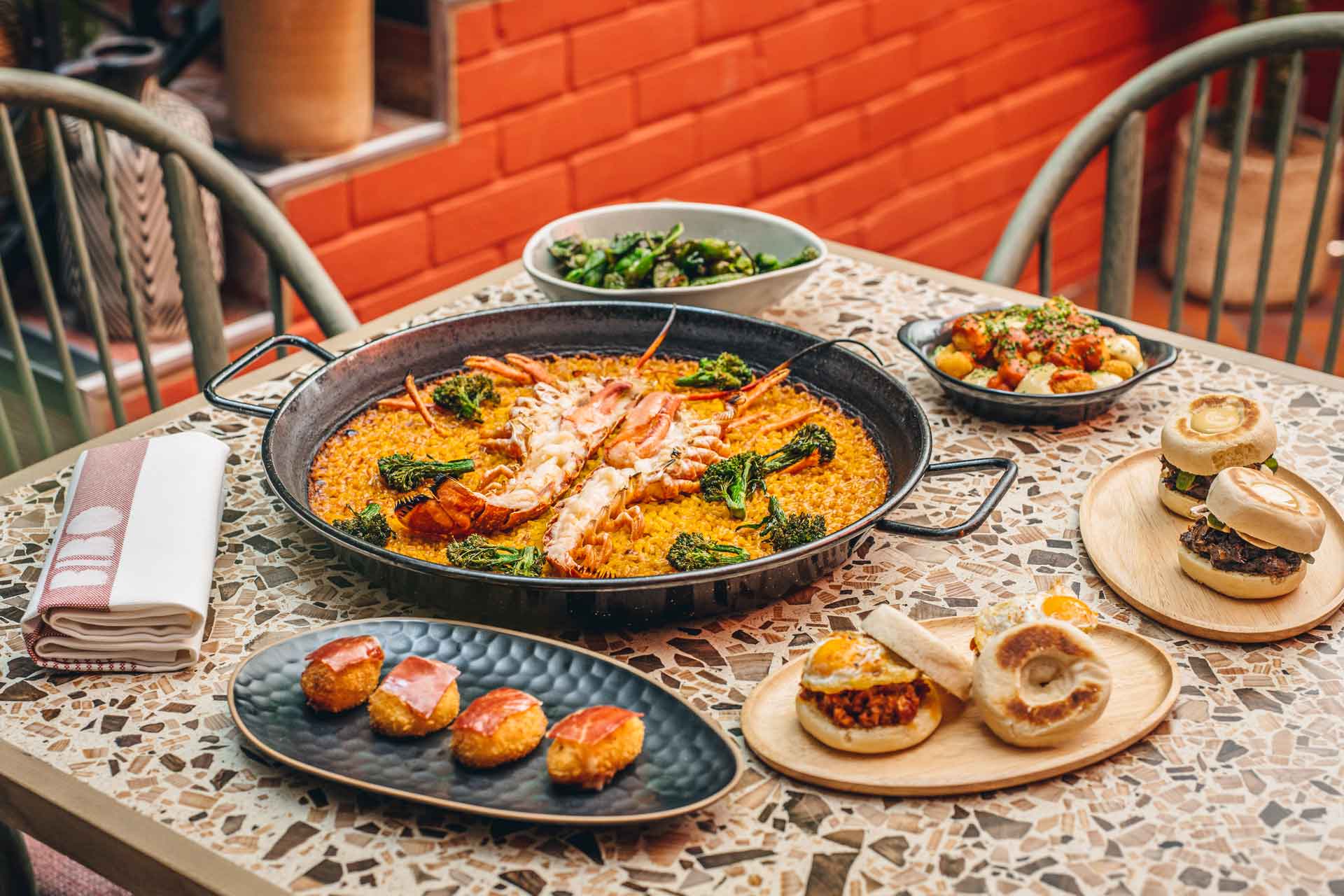 Thoughtful and conscious partnerships are at the heart of Christina's menu, which features coffee from Redemption Roasters and pastries such as the miso salted caramel chocolate ganache from Belgravia's Chestnut Bakery. Meanwhile, the café's staple Sando, a twist on the Japanese sandwich made using 72-hour slow fermented Tokyo milk bread and incorporating Italian flavours and ingredients with a British eccentricity, includes options such as deep-fried mortadella katsu and aubergine parmigiana.
The drinks menu has been curated by Beverage Consultant Marcis Dzelzainis and is influenced by the Italian aperitivo drinks culture; cocktails – served in glassware from the likes of LSA International – are notable for their inclusion of ingredients from UK-based brands. "There has been an explosion of small-scale distilleries in the UK of late, meaning there are plenty of British amaros and vermouths to take advantage of," says Dzelzainis. "I'm really proud of the collaboration with Victory Distillery in Walthamstow. They've made a couple of bespoke products for Christina's, the first being an oyster shell vodka, which we use in one of our martinis, and a pine vermouth that we use in our Pine Americano."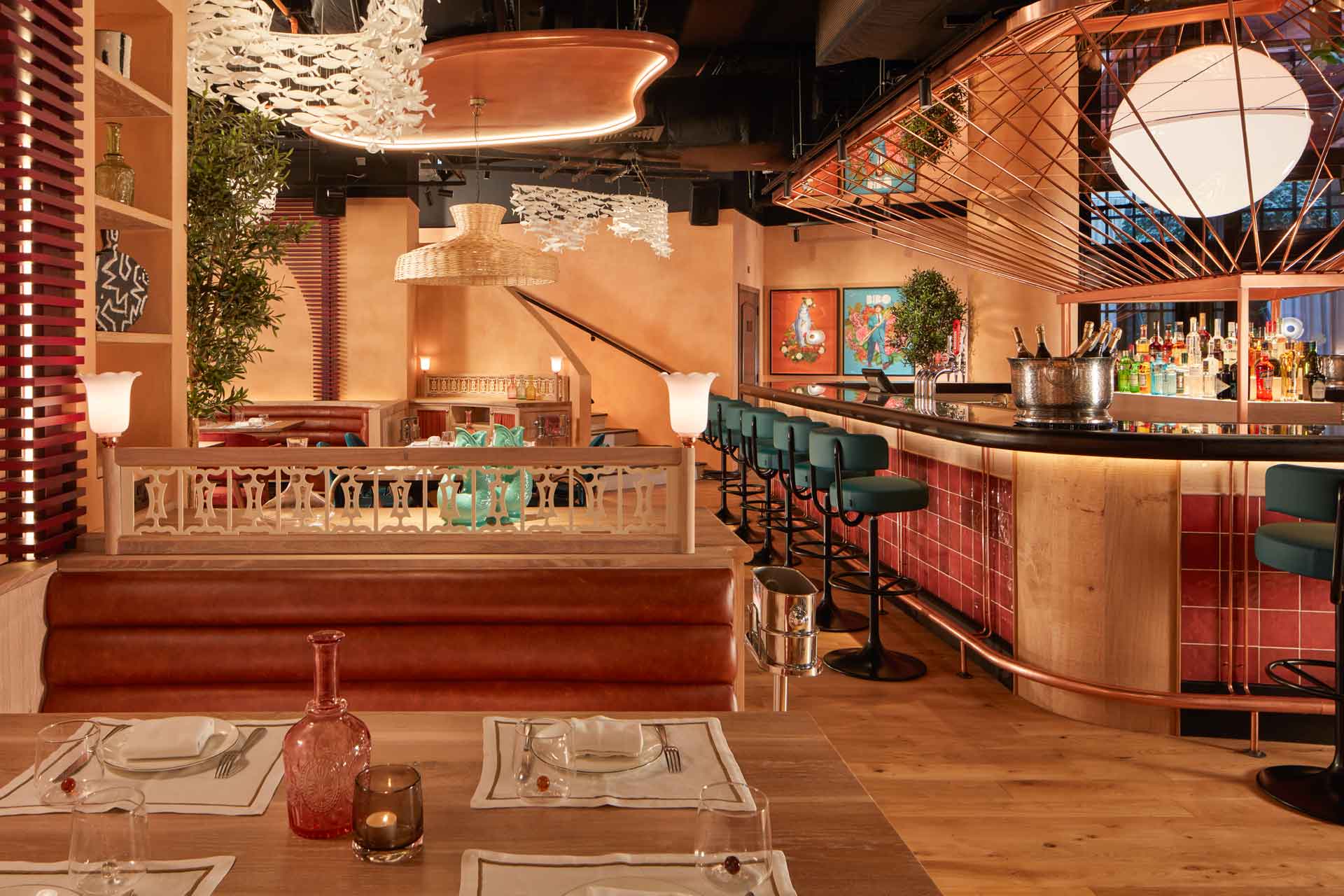 Destined for another big name following the exit of Red Rooster when The Curtain closed its doors, the signature restaurant spot is filled by BiBo, which is situated on the hotel's lower ground level. Founded by three-Michelin-starred chef Dani García, the launch marks the first UK restaurant and British culinary concept for the Spanish star. "As a chef in Andalusia, you dream of opening restaurants around the world and London has always been top of my list; the capital has a special place in my heart," reflects García.
Goddard Littlefair's specialist food and beverage division Epicurean took the lead on design, drawing influence from García's work, ethos and cuisine. "BiBo, as a brand, has very similar spirit to Mondrian; both are energetic, cool and sociable. Both also aspired to have an essence of cosmopolitan Shoreditch in their interiors," notes Robinson.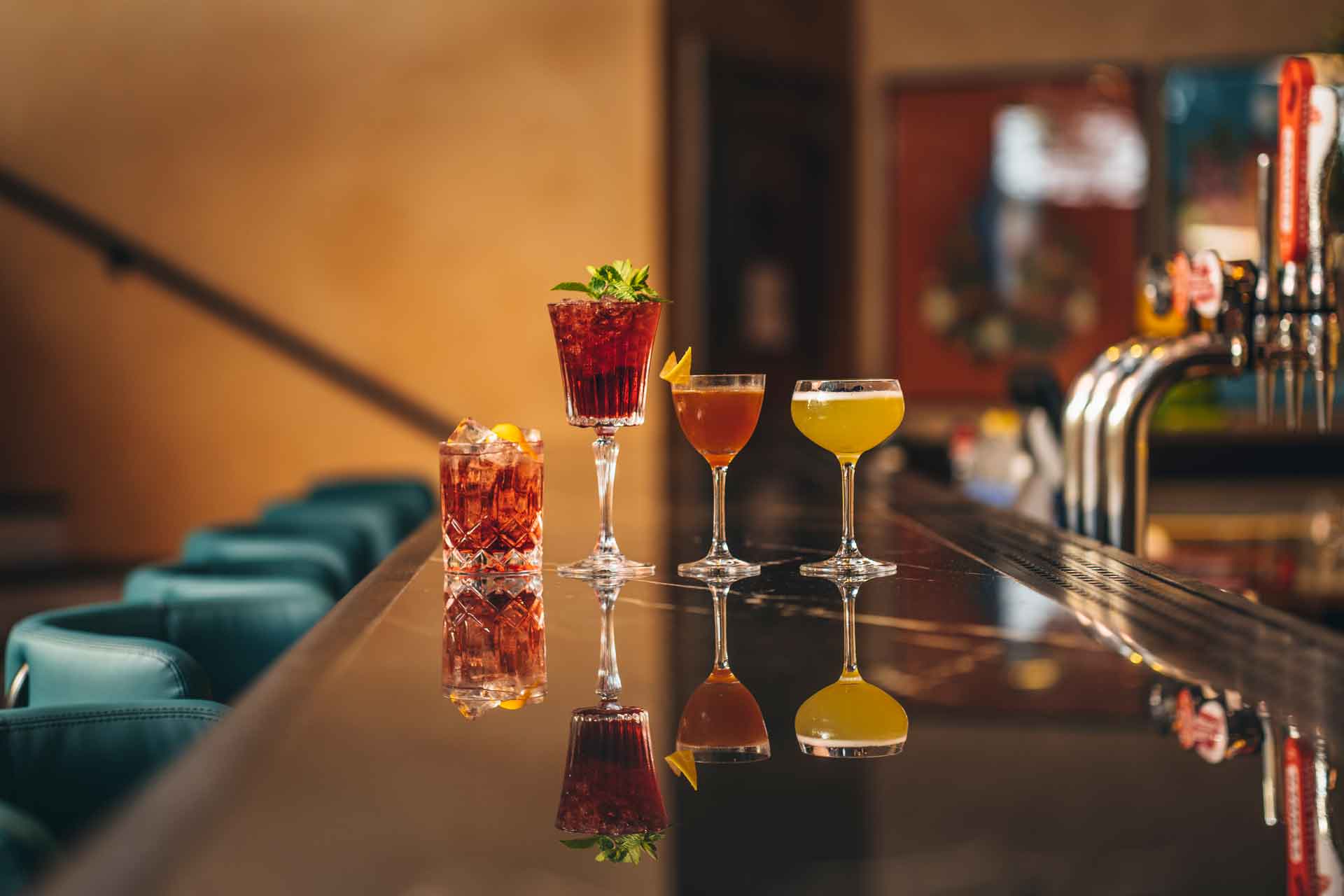 The theatrical space, with a lively energy for casual lunches and spirted dinners, encompasses casual high tables, restaurant dining, a bar for tapas and a hidden Spanish courtyard, and brings García's heritage to the interiors. "The red arched wall features nod to Moorish styling found in the architecture of Southern Spain," explains Robinson. "Orange copper, blush-coloured tiles and clay walls bring a layer of warmth, typically found in terracotta whilst the large bar gantry with glowing sphere is representative of the hot air balloon found in other European BiBo sites."
Suspended ceramic fish shoals by Scabetti swim across the room, playing on the chef's love of travel and exploration and serving as a reference point for García, who grew up in Marbella surrounded by sea. "I have always had the wish to democratise fine dining allowing for more guests to experience fine dining touch points but at accessible price points," explains the chef, who closed his eponymous dining house in Marbella less than a year after it was awarded three Michelin stars in 2019. "With BiBo, we employ the same techniques and concept that I have perfected in fine-dining restaurants using fresh local ingredients, but we have adapted the offering to cater for the masses as opposed to a select elite."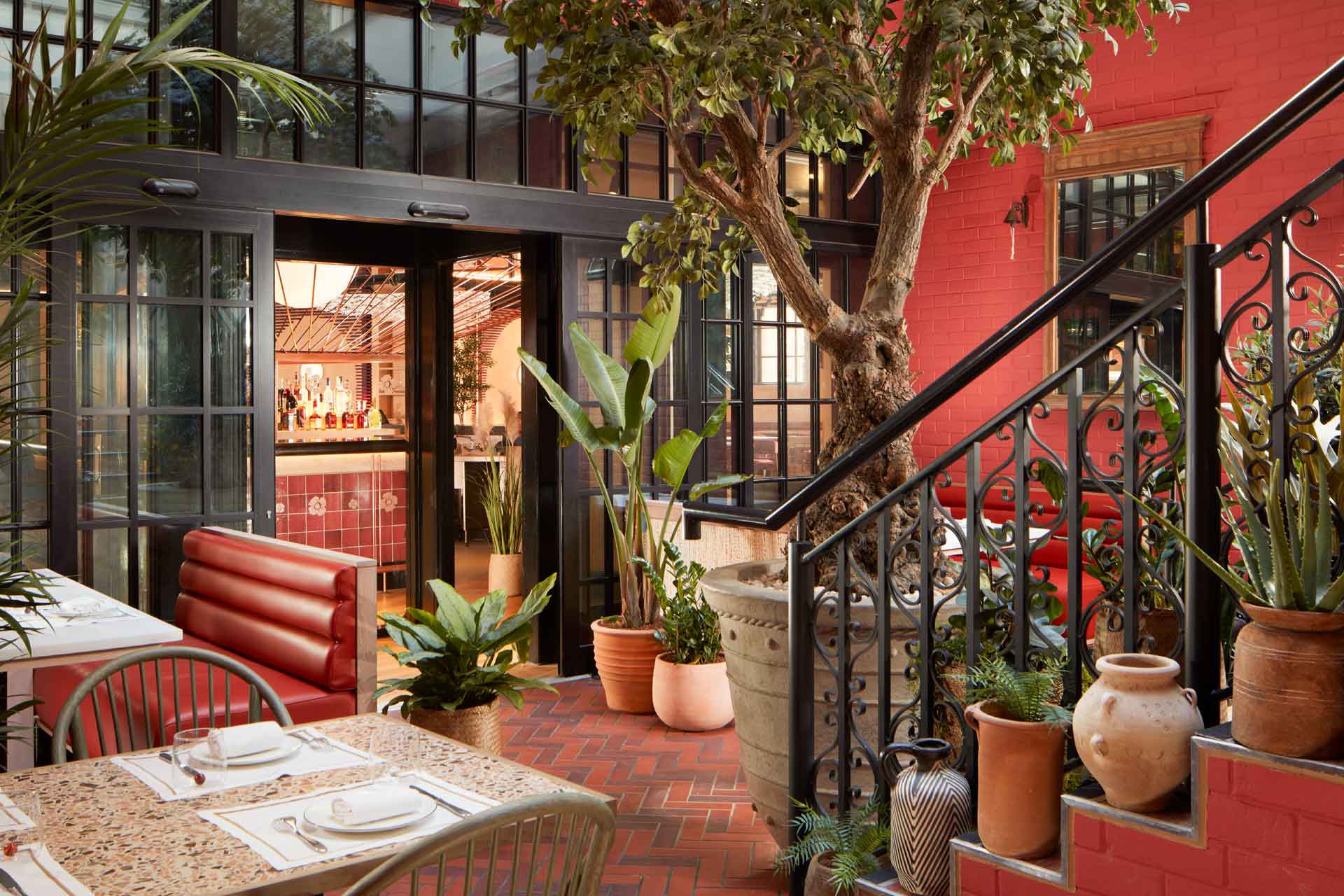 García's menu showcases a series of tapas classics from pan con tomate and patatas bravas to croquetas topped with Jamón Ibérico, as well as more unusual delicacies such as oxtail sandwiched between a soft brioche bun. "For London, we worked to ensure that there are more tapas dishes on the menu as I believe that Brits have a real appreciation for tasting dishes and the Spanish tradition," reflects García. "Our menu highlights flavours from the north and south of Spain and while BiBo wouldn't be the same without our signatures, many of the small plates such as the chistorra and the green peppers are exclusive to Shoreditch."
For those staying overnight, breakfast is served at rooftop restaurant Altitude at The Curtain, a space otherwise reserved for members, which replaces the hotel's former lounge, Rumpus Room. Bright and refreshing during the day, the area, which is dressed with a striped and festooned shade structure, transforms to an ambient destination serving Californian cuisine in the evening. The influence of biophilia runs throughout the space with planting taking a centre stage, and the form of foliage is translated onto fabrics and onto walls on a mural handpainted by Robinson herself. A fireplace anchors a central seating group in the space, while a banquette lines the glazing to allow some privacy for guests in the pool.
Tapping into East London's creative scene, The Curtain's members' club – the only part that remains flagged as The Curtain – relaunched its membership at the start of September and brings with it a co-working space, two bars and a series of members-only events. An ideal situ for both digital nomads and Shoreditch regulars, many will surely be flocking to Mondrian, whether that's for a look inside the new-look flagship, to sample from its exciting culinary line-up or even for a selfie in the holographic mirror room.
IN A BITE
Owner: Reuben Brothers
Operators: Accor, SBE
Interior Design: Goddard Littlefair, Epicurean
F&B Consultant: Ennismore (BiBo)
Culinary Director: Wayne Brown (Christina's)
Head Chef: Dani García
F&B Manager: John Keane
Beverage Consultant: Marcis Dzelzanis
Glassware: LSA International
www.sbe.com 
CREDITS:
Words: Jenna Campbell
Photography:
© 

Mel Yates, Niall Clutton, Lateef Okunnu
Issue: Supper 25