Shaun Rankin returns to his motherland to cook-up a Taste of Home as a showcase for local produce, writes Catherine Martin.
Yorkshire has its fair share of fine-dining establishments, from classic country pubs to contemporary city bistros, yet few boast as grand a setting as Grantley Hall. The sprawling estate on the outskirts of Ripon was established at the end of the 17th century, its Palladian-style mansion boasting a rich history having been home to Lords and Ladies and hosted countless society dinner dances. Queen Mary visited for high tea in 1937, while Dame Vera Lynn came to entertain the troops when it was temporarily converted to a convalescent care home during World War II.
In later years, the estate was used as a residential training facility, before local woman Valeria Sykes stepped in with a vision of creating a luxury hotel. Four years of refurbishment followed, with painstaking restoration of the original structure along with a sensitively integrated newbuild extension completing in 2019. No expense has been spared, from the fit-out of the 47 luxuriously appointed guestrooms – designed by JMDA – to the planting of the beautifully landscaped gardens. Significant investment has gone into the dining facilities too, with a star chef at the helm and no less than four restaurants and three bars for guests to choose from.
Shaun Rankin was brought on board in the early days of the project to consult on all F&B spaces as well as room service, breakfast and back-of-house. He created the concepts for Valeria's, a sophisticated champagne and cocktail bar channelling old-world glamour; Fletchers Restaurant, serving British and European cuisine in a traditional oak-panelled dining room; and Norton Bar & Courtyard, where diners spill out onto the terrace by day, and retire to the sumptuously decorated bar come nightfall. He also worked with Richard Sykes, the hotel's Managing Director and son of Valeria on EightyEight, a pan-Asian eatery that combines classic Eastern dishes with the finest local produce.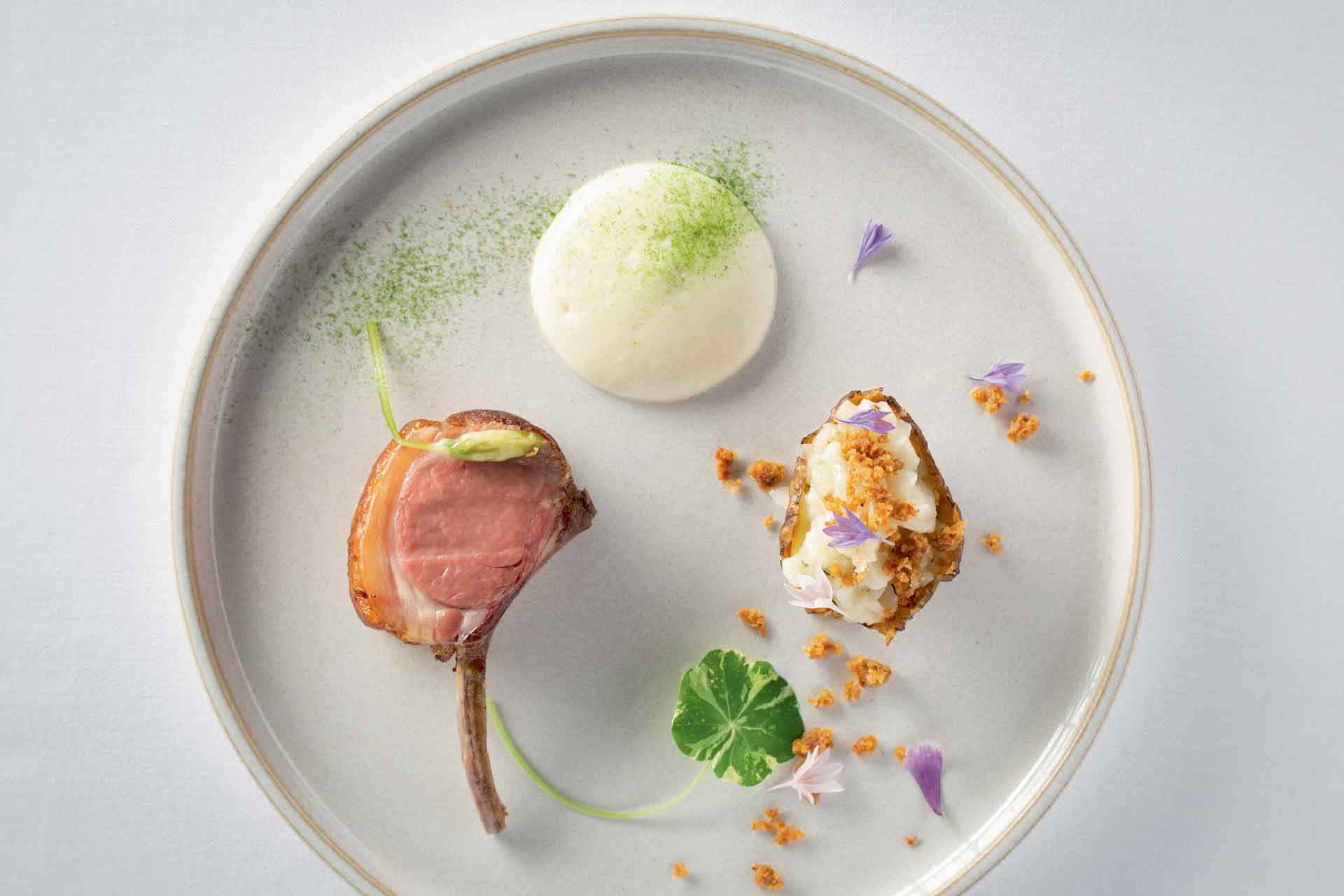 Having been born and raised in Yorkshire, the venture was a homecoming of sorts for Rankin, so when he was asked to head-up the final element – a fine-dining restaurant – it was a no-brainer. "It was really nice to be back up in Yorkshire," explains Rankin. "I hadn't been back for a long time and fell in love with the property and what the Sykes family were aiming to achieve, so when they asked me if I would like to take over the fine dining, of course I said yes."
The chef now dedicates his time to Shaun Rankin at Grantley Hall, with a full F&B team taking care of the other venues on site. Along with the restaurants, there's a new spa, and meetings and events facilities on site. But for Valeria, the venture was about much more than creating a hotel for visiting guests; she wanted to create a legacy for the building, provide employment and career opportunities within the area, and support the local economy in the procurement of supplies and services. This aligned perfectly with Rankin's philosophy, with the chef sourcing 95% of the ingredients he uses from within a 30-mile radius.
It's a philosophy that Rankin has championed in all his restaurants – including Ormer Mayfair at London's Fleming's hotel – and one that he sees as increasingly important. "Plenty of chefs forage and buy local and it's a great thing; we should all support local farmers and traders," he explains, adding that with Brexit looming, prices on the continent are set to rise. "We don't buy anything from Europe, everything is either locally grown or locally sourced, right down to the flowers that garnish a dish."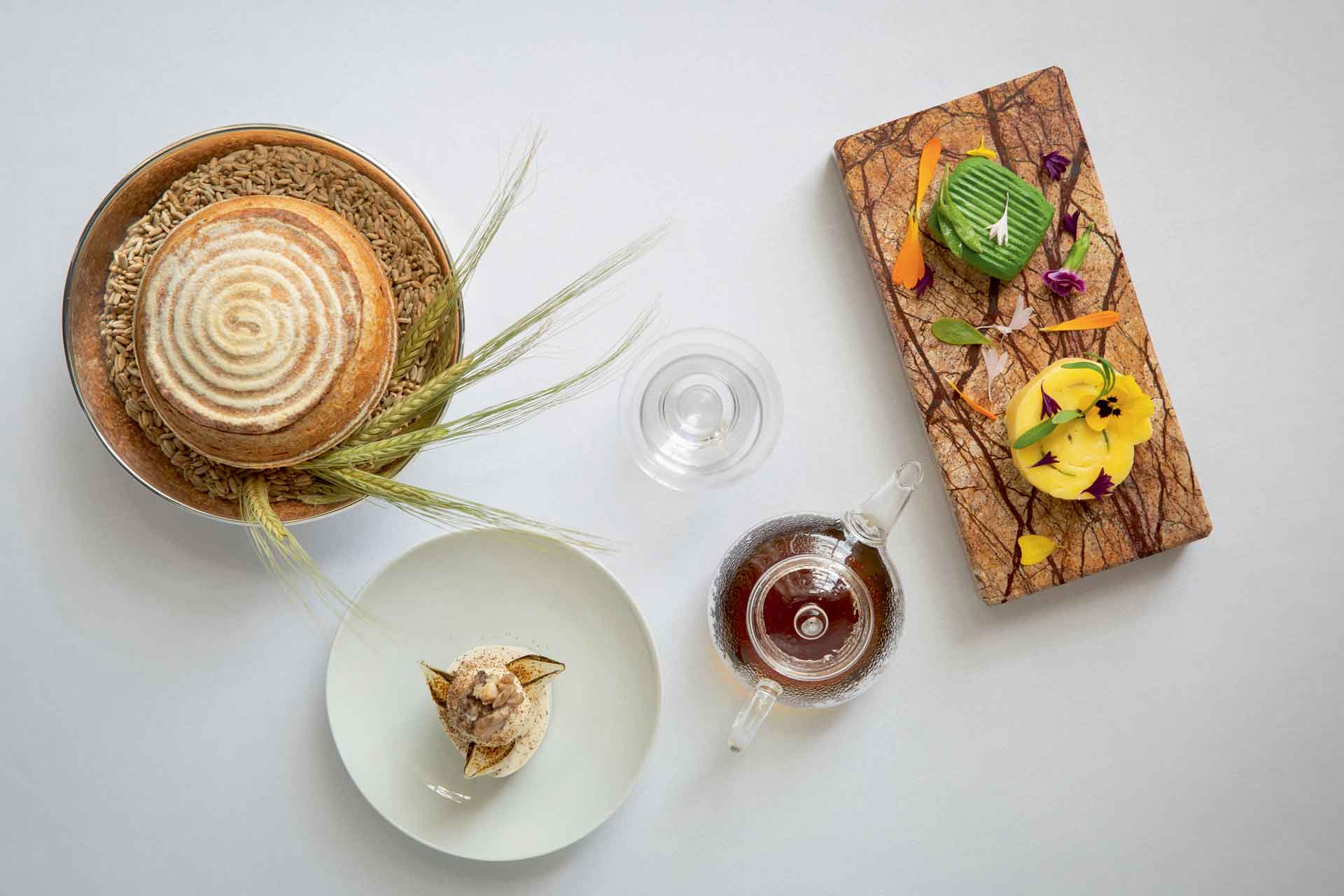 While Rankin occasionally looks further afield – the scallops served with sea buckthorn and lovage for example, come from Scotland – he stands firm on his values. Even olive oil has no place in Rankin's kitchen, with the chef opting instead for rapeseed oil from Yorkshire – the fields of yellow flowers are a frequent sight in these parts.
In creating the menu, a 10-course dining experience called Taste of Home, Rankin has made use of ingredients from the kitchen garden, as well as those that have been foraged from the surrounding land. "We've got everything on our doorstep," he explains. "We tap the spruce trees to get syrup and make honey, chickweed, pineappleweed, orange root; it's all there."
The dish that perhaps best showcases Rankin's creativity and the quality of produce grown on-site, is Kitchen Garden, a new take on the crudités appetiser. Here, edible flowers and fresh vegetables such as carrots, radishes and beetroot – all with greens intact – are served in a plantpot-style dish of creamy mousse, topped with charcoal and dehydrated broccoli to represent the soil.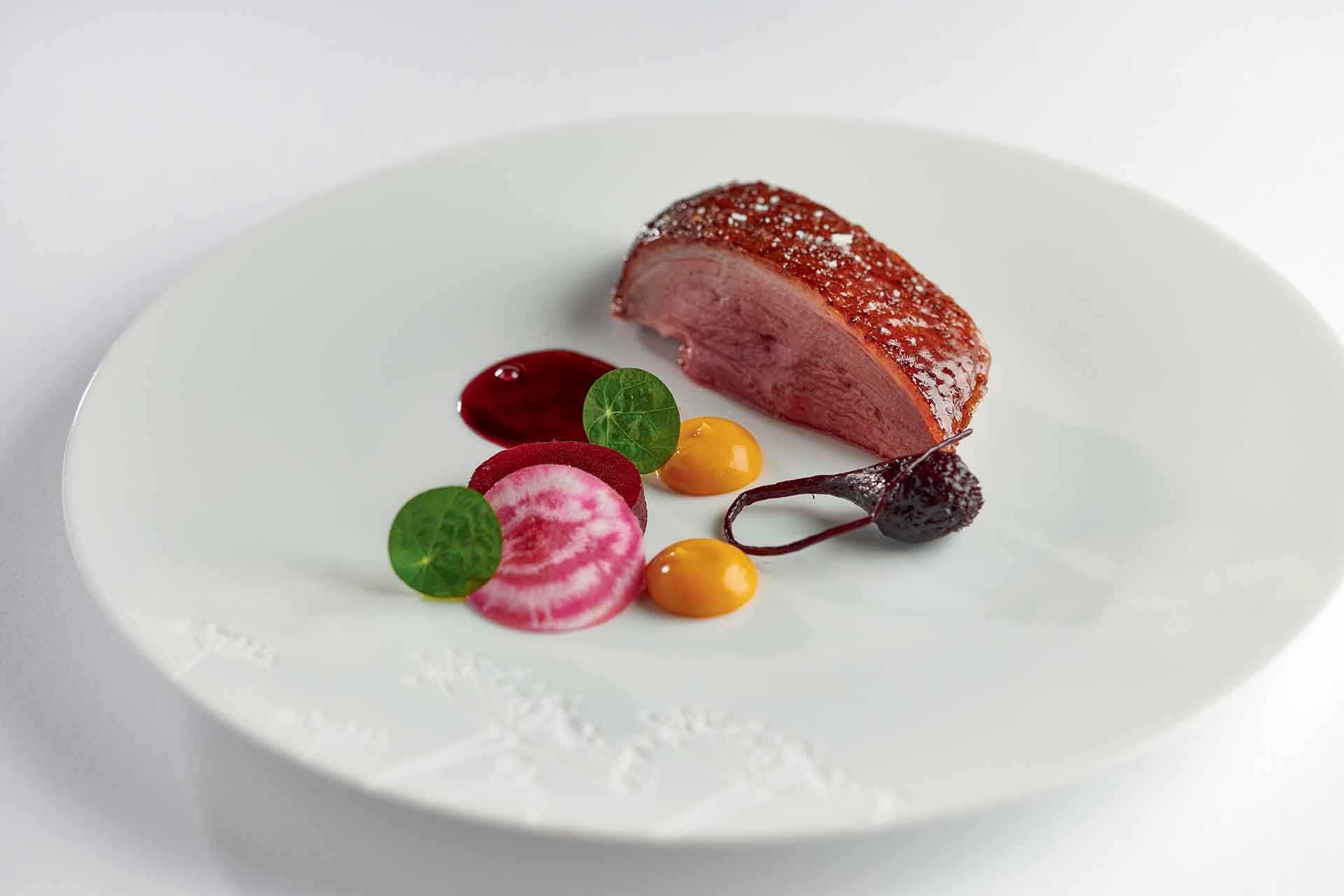 The garden and its seasonal produce play an important role in all of Rankin's dishes, while childhood memories have inspired another of the menu's permanent fixtures. Not afraid of playing with Northern stereotypes, the bread course is an update of beef dripping – back when bread was dipped into the leftover fats from a roast. Here, the 'dripping' has been purified for a healthier, though no less flavoursome, option and served in a petite glass teapot – this is fine dining after all.
Other courses on the menu change seasonally, with locally-grown ingredients, organic meat from nearby farms and speciality cheeses from across the county the mainstay. "At the moment, venison is one of our signature dishes," notes Rankin. "It's served with blackcurrants and celeriac from the garden, and is basically three components but styled completely differently. It's a great combination of texture and flavour and everything's very local to us."
Naturally, presentation is of the utmost importance, with many of the dishes garnished with green leaves, delicate flowers and a perfectly formed dollop of coulis. For the tableware, Rankin has selected finely engraved porcelain from Bernardaud and J.L Coquet, and glassware from Zalto – all supplied by Goodfellows. "We're in a luxury environment so everything needs to have an elegance," notes Rankin. "The best crockery, the best china, the best glassware; that's what's needed for a room like this."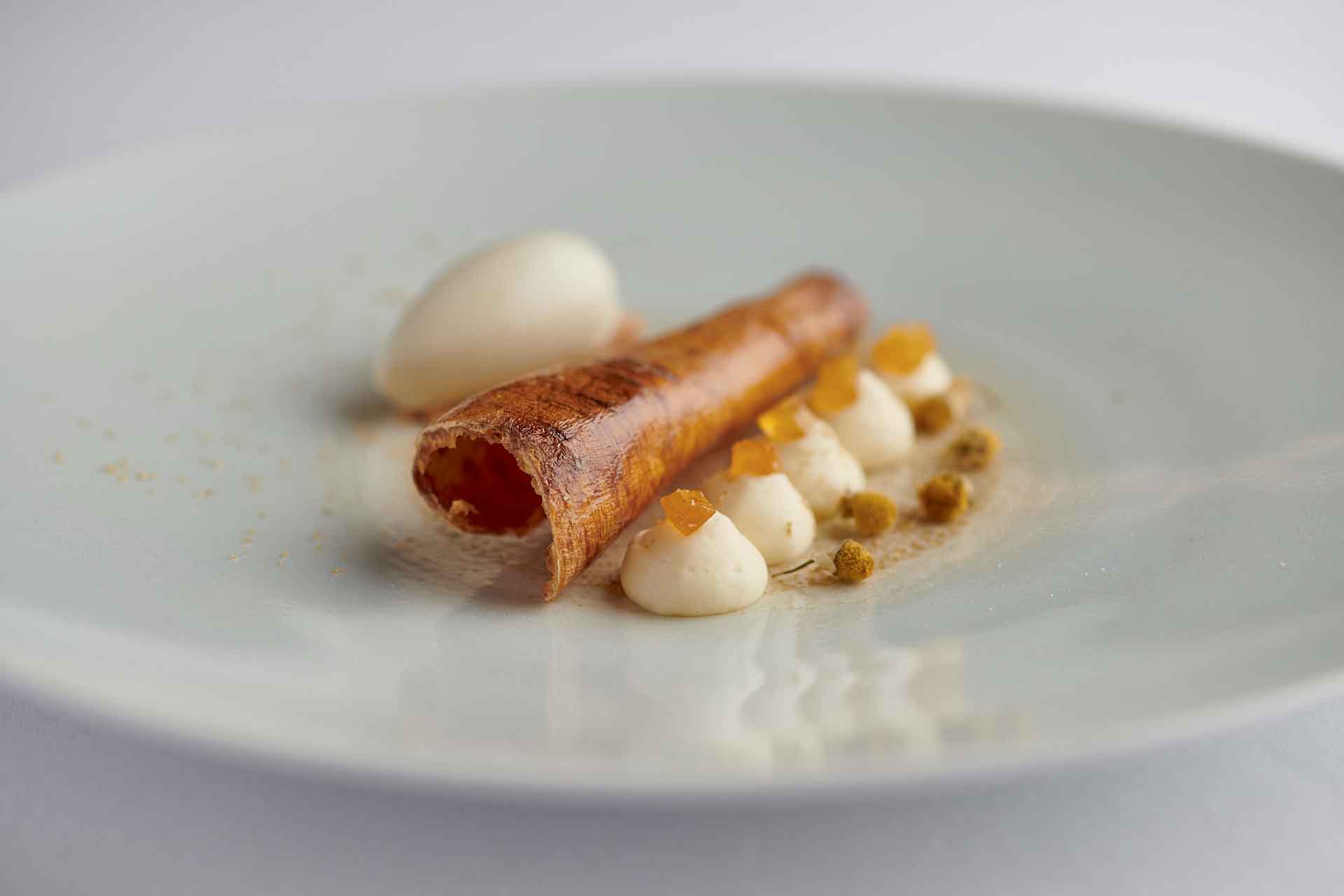 The dining room itself is a grand affair, having previously been a ballroom back in the estate's early days. Coffered ceilings, ornate plasterwork and fluted columns set the scene, accompanied by stately chandeliers, oversized mirrors and artwork by Simon Casson. Special pieces have been designed bespoke, such as the handmade champagne trolley and credenzas with soft-closing drawers – the latter ensuring cutlery changes between courses are done with minimum fuss. The table is dressed with crisp white linen, a porcelain lamp from Bernardaud and a single Yorkshire rose – another nod to the location – while chairs are notable for their high-backs and plush upholstery – "you're here for three hours so you should sit somewhere comfortable," Rankin points out.
Recent months have seen the introduction of new menus for Sunday lunch and the private dining room, and there's plans for an apiary to aid pollination in the garden. And while the restaurant has been performing well since reopening – thanks in part to a new private dining room for those wishing to stay in their own bubble – the effects of Covid-19 have taken their toll. "We've only been operational 12 months and for the majority of that time we've been closed," says Rankin, adding that lockdown has impacted the team's ability to preserve, pickle and cure. "When produce is in season we serve it fresh on the menu, but we also preserve it for later months when there's less available," he continues. "Because we don't use things like mango or pineapple or anything that's imported, we tend to dip into what we've sourced in the summer to help us through the winter months."
The temporary closure and interruption to the preserving schedule may well present difficulties for the remainder of the year, but the ever-resourceful chef will no doubt rise to the challenge of making the best of the produce he has. And with quality of produce a key criteria for Michelin stardom, is the accolade on chef's radar? "Yes, very much so," Rankin confirms. "I think the restaurant deserves it and the team deserve it; they work really hard. It would be a great achievement for us all so fingers crossed."
IN A BITE
Owner: Valeria Sykes
Operator: Grantley Hall
Architecture: Bowman Riley
Interior Design: JMDA
Branding: Natural Selection Design
F&B Consultant: Shaun Rankin
Chef: Shaun Rankin
F&B Manager: Monika Czop
Head Sommelier: Jordan Sutton
Dinnerware: Surrey Ceramics, Bernardaud and J.L Coquet by Goodfellows
Glassware: Zalto
Lighting Design: Gravity Design Associates, Chelsom
www.grantleyhall.co.uk 
CREDITS
Words: Catherine Martin
Feature Image: © Jack Hardy
Food Imagery: Courtesy of Grantley Hall
Magazine: Supper 21