Mandarin Oriental Hong Kong reinvents its F&B offer with an eccentric Japanese izakaya developed in partnership with Maximal Concepts, writes Chris Dwyer.
In a city known for its world-class dining scene, few restaurant and bar openings have been as anticipated as The Aubrey at Mandarin Oriental Hong Kong. Since first opening its doors back in 1963, the storied five-star hotel has remained a fulcrum of the city's commercial and social scene, with its collection of bars and restaurants drawing the city's elite.
When it was announced then that Pierre, a two Michelin-starred restaurant by French culinary legend Pierre Gagnaire was to be replaced by an 'eccentric Japanese izakaya', it's fair to say that a number of eyebrows were raised.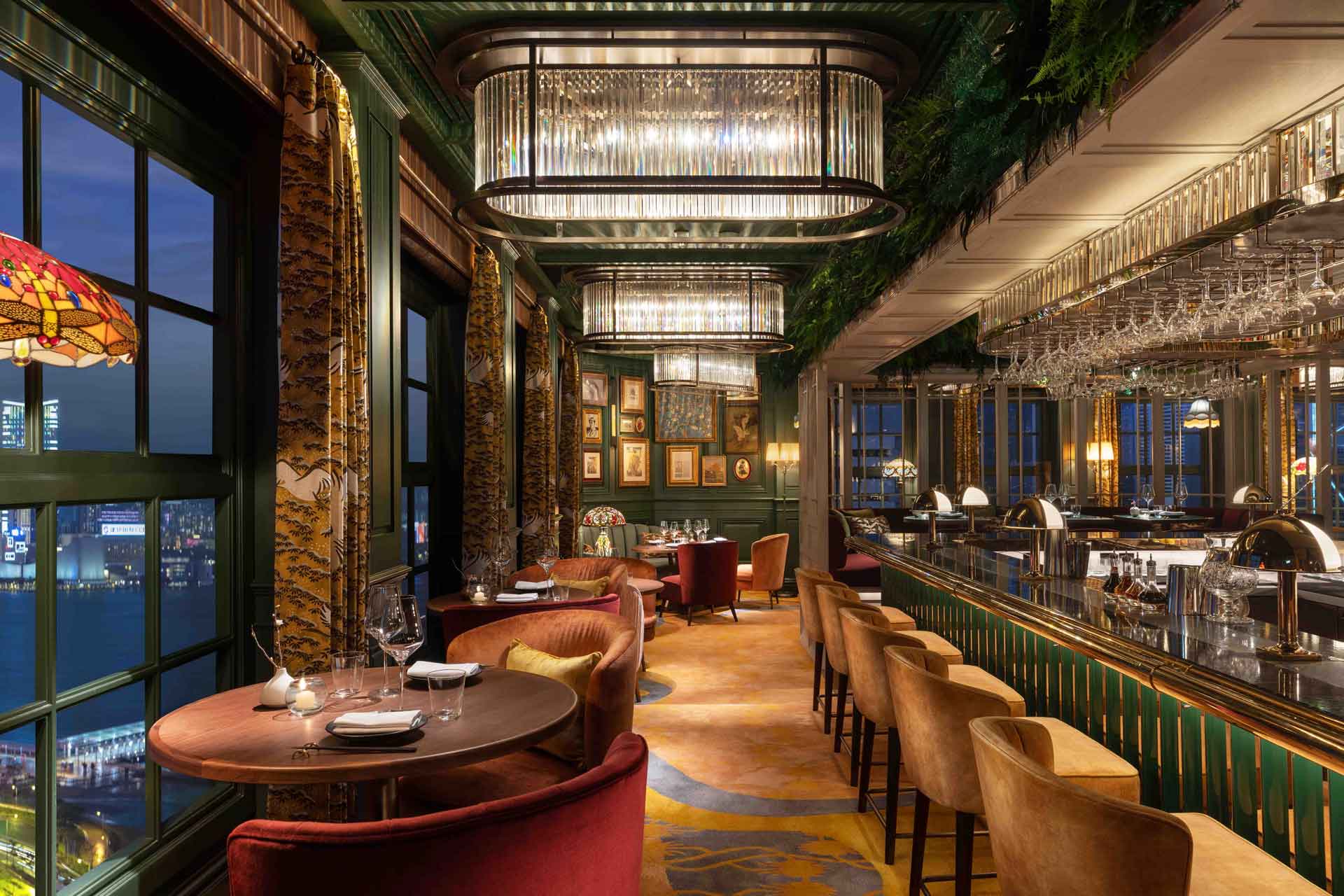 One thing that the Mandarin Oriental's flagship home property has never been afraid of however, is adapting to changing times and tastes, so The Aubrey's three distinctive bar experiences, drawing room and curio lounge – all serving Japanese cuisine throughout the day – certainly prove their point.
The venture is a partnership between the hotel and Maximal Concepts, an international restaurant group based in Hong Kong, helmed by Malcolm Wood, Xuan Mu and Matt Reid. Together they have set out to develop 'the city's most creative hospitality destination' and the backstory behind the 25th floor spot is undoubtedly intriguing.
Interiors channel Japanisme, an artistic and aesthetic movement of the late 19th century where Western artists were drawn to traditional Japanese artistic expression, in particular its love of motifs from the natural world. Indeed, The Aubrey is named after the eccentric British illustrator and author Aubrey Beardsley, who undoubtedly had a penchant for the decadent and erotic.
"We're celebrating the idea that travel – and Hong Kong's reputation as a cultural crossroads – brings creativity and ideas," Matt Reid, Founding Director of Maximal Concepts explains. "The Aubrey doesn't look Japanese so we needed something to anchor it back to an izakaya, hence the place is pretty eccentric. When you see the interior design, it definitely has that feeling of when you go to a kooky location in Ginza, in Tokyo."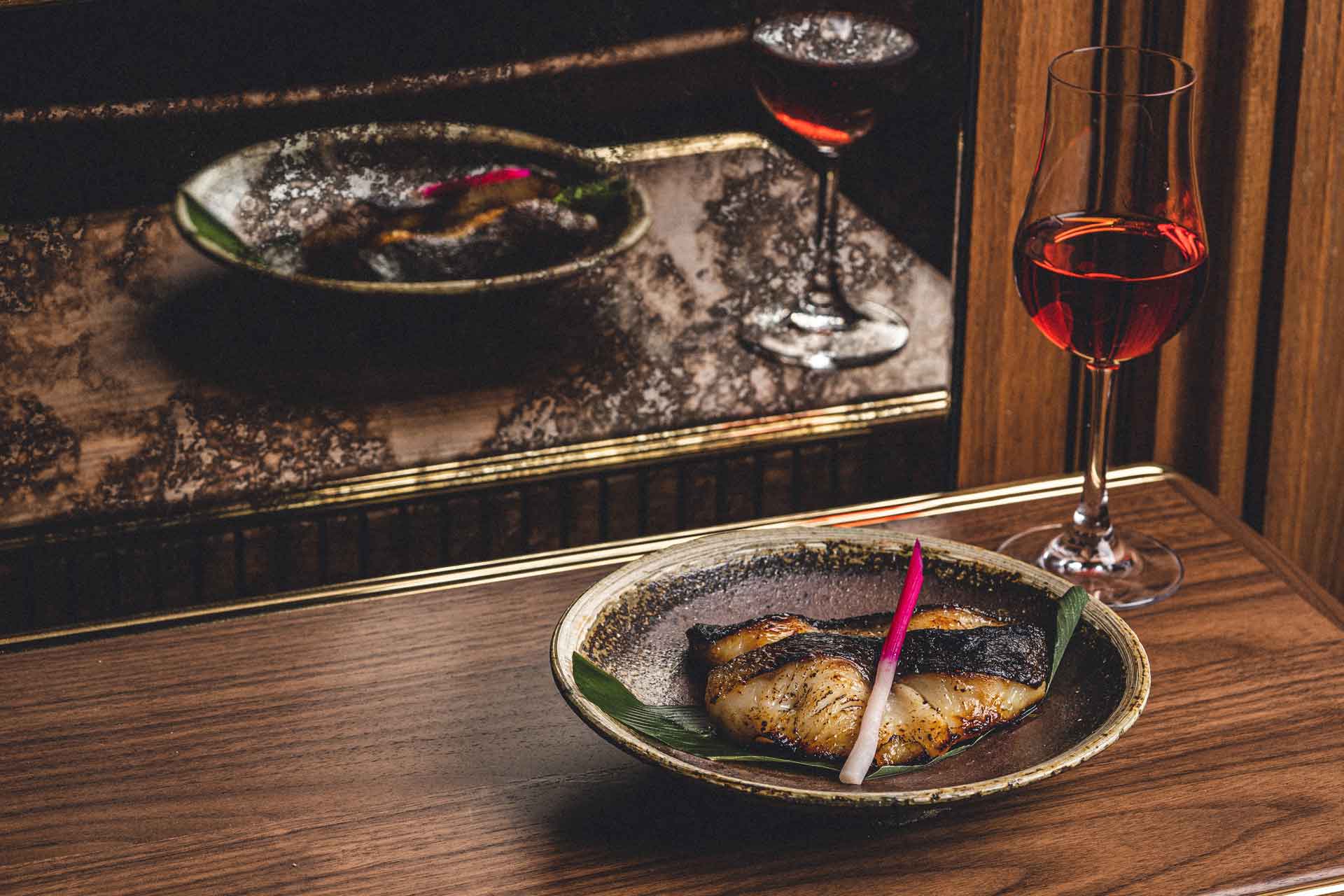 To bring this ambitious vision to life, Maximal Concepts worked in tandem with Singapore-based design firm Silverfox Studios, a previous Mandarin Oriental creative partner. However, following an initial visit even before the former restaurant Pierre had shuttered, Silverfox Studios never saw the project in person again. That was, of course, due to Covid, a situation which raised some unique challenges, as Reid explains: "In essence, we took on part of the role, sourcing a lot of the materiality – we even made the carpets! My art director Amy Walsh, a wonderful creative, did a lot of the curatorial work, the buying of the Japanese art collection, curios and antiques from flea markets in Hong Kong and auctions around the world."
With this is mind, The Aubrey's final look and feel is all the more remarkable. Guests enter down a corridor lined with original Japanisme-inspired artworks, then through traditional noren curtains. Thereafter, Japanese design  elements are more discreet.
The Main Bar is the first of three in the space, an elegant spot helmed by Devender Sehgal, who oversees the beverage programme across The Aubrey. Formerly drinks maestro at Hong Kong's three Michelin-starred restaurant Otto e Mezzo, his first menu includes a nod to the Netflix chess smash Queen's Gambit with creations featuring Japanese ingredients such as Roku gin in The Queen's Gimlet, shochu and shiso in The First Move and wasabi in Endgame. The bar's creative concoctions are further enhanced by premium glassware from the likes of Toyo-Sasaki and Zafferano, as well as Stölzle Lausitz's Quatrophil and Classic glass ranges.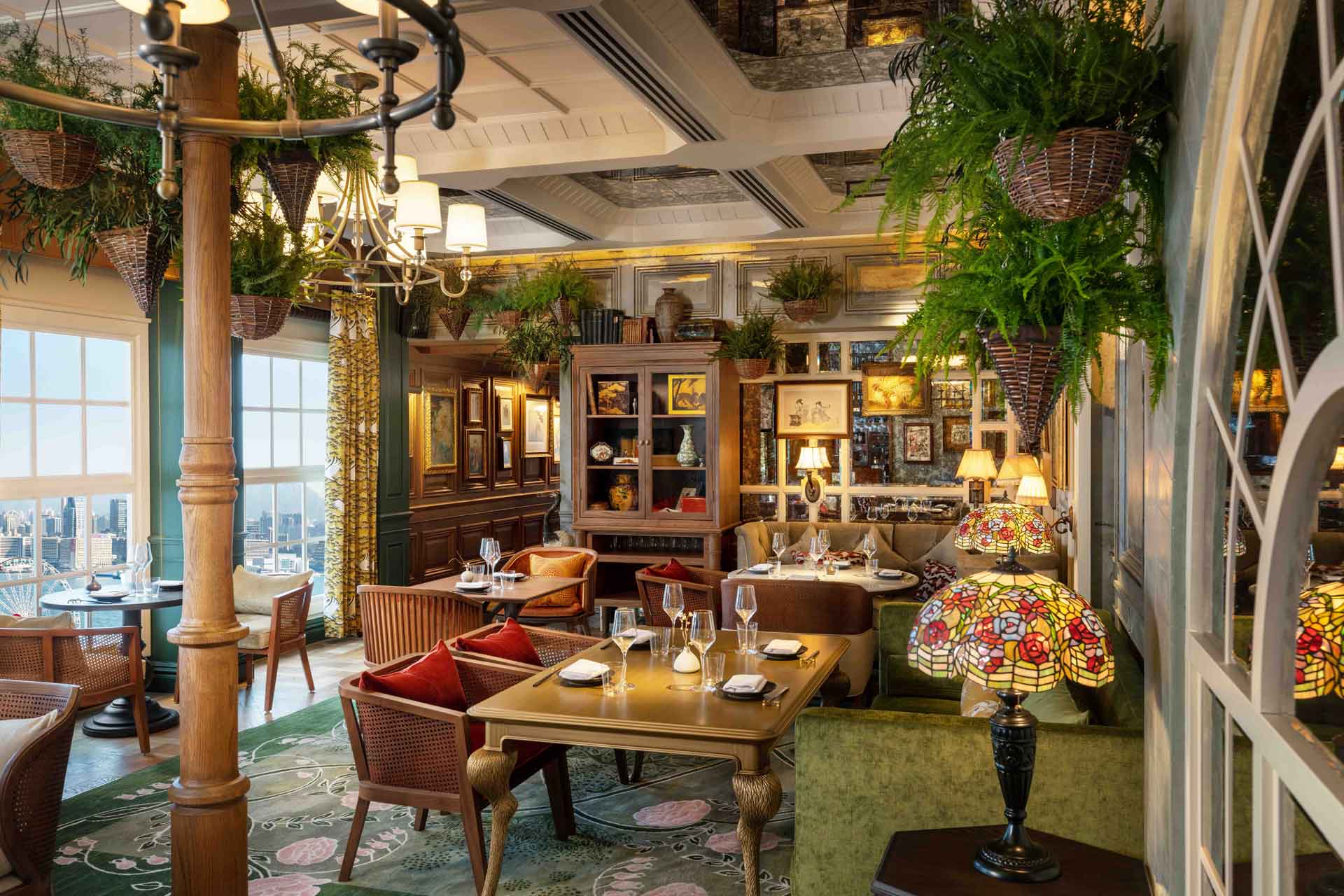 Off to the left is the second spot for drinks, a compact four-seat Omakase Cocktail Bar with a fabulous and envy-inducing range of Japanese whiskies and spirits. The schtick is that the barman takes you on a Japanese journey of bespoke drinks, crafted in front of you with seasonal produce, all depending on your preferences.
Amidst the sleek and tactile collection of marble, brass, velvet, crystal and wood surfaces, one surprise is that the famed million-dollar views of Hong Kong's Victoria Harbour have taken something of a back seat. Reid explains: "Most designs design for a view – with large windows and chairs facing outwards. Here, we wanted to try and create more atmosphere internally, letting the view interact with the design rather than being the solo hero element of the experience."
The Aubrey's flow continues seamlessly into a conservatory-style room decked with hanging plants, a cabinet of antiques and curios, deep sofas, Tiffany-style lights and a mural of a crane by Elsa Jeandedieu Studio. It takes a champagne and sparkling sake bar at one end and a pair of DJ decks to remind you that you're not in the home of an eccentric, well-travelled friend.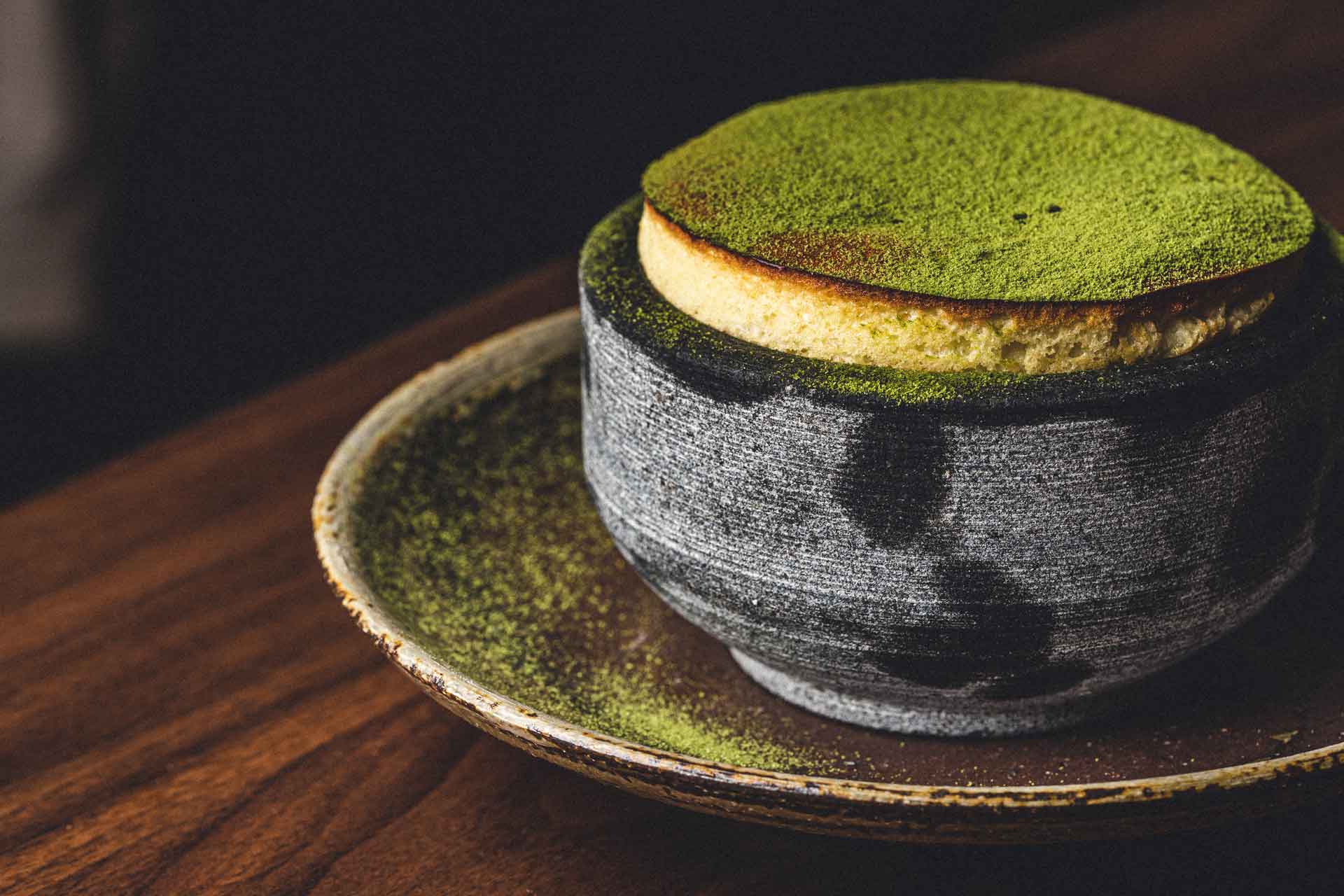 The kitchen is helmed by Japanese Chef Yukihito Tomiyama, an alum of one Michelin-starred Shinji by Kanaseka in nearby Macau, with the approach being that guests can dine in any of the spaces. The menu encompasses Japan's most renowned culinary techniques, be they sushi and sashimi, a robata grill with binchotan charcoal or delicate tempura. One already popular option has been traditional bento box meals – but this being Mandarin Oriental, they're served in elegant, hand-carved wooden boxes.
From the à la carte menu, standouts are a decadent fried rice with wagyu oxtail and bone marrow, a bowl of baby eggplant and shiitake mushrooms in a delicious creamy tahini-like sauce and a fabulous Saikyo Miso Sablefish. While this is normally served with black cod or sablefish, both Mandarin Oriental and Maximal Concepts have sustainability as a core tenet, meaning that this endangered species is replaced with sablefish, sustainably farmed within Arctic waters. Indeed, even their tuna is sourced responsibly and comes from a farm near Adelaide, South Australia.
The desserts are worth a mention too, particularly the lighter-than-air White Miso Soufflé, which – like all dishes – is served on plateware customised by Japanese artists.
Ultimately The Aubrey delivers impressively on its promise to provoke 'a sense of wonder, curiosity and discovery of food and travel'. It's brave new culinary and creative direction looks set to ensure that Mandarin Oriental Hong Kong, remains an iconic cultural meeting point for a whole new generation.
IN A BITE
Operator: Mandarin Oriental, Maximal Concepts
Architecture: Wilkinson & Cilley
Interior Design: Silverfox Studios, Maximal Concepts
Branding: Maximal Concepts
Chef: Yukihito Tomiyama
Glassware: Stölzle Lausitz,
Toyo-Sasaki, Zafferano
www.mandarinoriental.com
CREDITS
Words: Chris Dwyer
Photography: Courtesy of Mandarin Oriental (unless otherwise stated)