In partnership with Banyan Tree, green-fingered chef 
James Noble
 is championing gastronomic sustainability and plant-to-plate dining through an organic farm in Thailand.  
As we speak, double-Michelin-starred chef-turned-sustainable farmer James Noble is in the process of cooking for his farm-to-table restaurant in what he describes as the green lung of Thailand. "I'd say at least 80% of farmed produce comes from northern Thailand," he says. "I've placed myself in the middle of it, in Chiang Mai, and I'm now trying to stir the pot somewhat."
In July, The Banyan Tree Group – a brand already known for its environmental awareness – announced a food sustainability partnership with Noble that has since broken ground on the 350-acre gourmet organic farm, ORI9IN.
As well as growing fresh ingredients for Banyan Tree properties across Thailand, Noble uses this farm to supply as many as 15 Michelin-starred chefs across Bangkok with fresh produce, and in October he led the opening of ORI9IN's farm-to-table restaurant, Waiting for May. He is now working on a range of organic, plant-based menus, set to be rolled out at Banyan Tree resorts across the world, starting at Banyan Tree Phuket.
Anticipating that guests will be looking for healthier dining options in the 'new normal', Banyan Tree has embarked on several partnerships covering different areas of the food chain in its endeavour to champion local procurement and drive a sustainable future through food. By partnering with a network of hotels and restaurants, ORI9IN places a greater focus on the importance of import substitution and ultimately reducing hospitality's carbon footprint.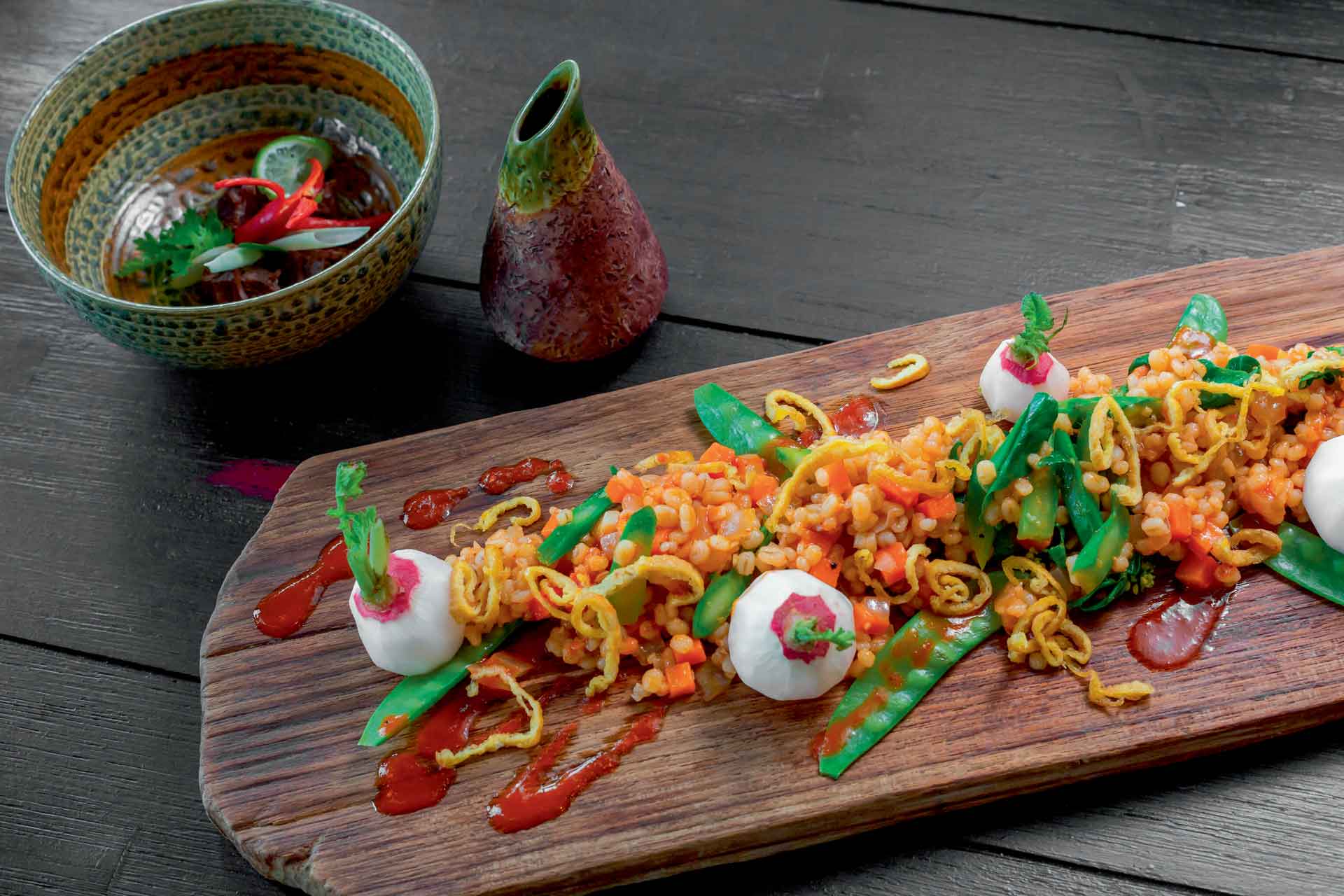 For Noble, who strikes a balance between farming and leading the restaurant's kitchen, ORI9IN is an opportunity to pair his drive for sustainability and culinary expertise with a passion for connecting people to the land through agrotourism.
He groans, in jest, when asked how it's gone so far: "As well as what's been going on with Covid-19, we've had the most horrendous rainy season. You'll never find a happy farmer," he jokes. "Too hot, too cold, too windy, too dry – we've always got something to complain about. But in all honesty, it hasn't gone badly at all. We have different growing times and traditional cultivation methods with controlled environments, so we can keep growing through every season."
ORI9IN marks a significant milestone in the London-born chef's career and is the natural next step in his culinary journey. Following his early career in Cambridgeshire and a stint as chef-proprietor of The Jolly Abbot, Noble reached a turning point that changed his perspective regarding food while working at Cotton House in Mustique. It was here, while cooking for stars like Mick Jagger, that he was struck by how much of the produce being served was exported, often to just end up as waste.
When he embarked on the next phase of his career in Thailand – working as Executive Chef for Dining in the Rocks at Six Senses Samui, Food & Beverage Director for Koh Samui's Imperial Resort and Spa, then, taking a hiatus from the kitchen, General Manager of Aleenta Hua Hin Resort & Spa – the chef began to build on his passion for locally grown ingredients.
"I didn't want to damage the planet for our children's future, so I said enough is enough, there must be an alternative way to source ingredients for hospitality food. I was on a mission from that moment, and I'm still holding up that placard."
"As General Manager of Aleenta Hua Hin in particular, I was able to create a sustainable culinary experience, sourcing locally and showing people where their food had been grown," he says. "It was here that I really got to practice my product, and realised how popular it could be and just how many people were interested in it."
He continues: "I believe that just because we can afford something doesn't mean we can destroy the environment to have it," he notes passionately. "We need to take seasonality and sustainability into account. I didn't want to damage the planet for our children's future, so I said enough is enough, there must be an alternative way to source ingredients for hospitality food. I was on a mission from that moment, and I'm still holding up that placard."
Before partnering up with Banyan Tree, Noble had already created a similar project in the south of Thailand named Boutique Farmers. Just like ORI9IN, this agricultural set-up provided Michelin-starred restaurants of Bangkok with ingredients he had cultivated on the land, and in 2017 he opened a restaurant next to the farm to offer plant-to-plate dining. Seeing the work Noble did fit so well with its own sustainability ethos, Banyan Tree asked the chef if he could do something similar in Northern Thailand, albeit on a larger scale supplying several of its resorts.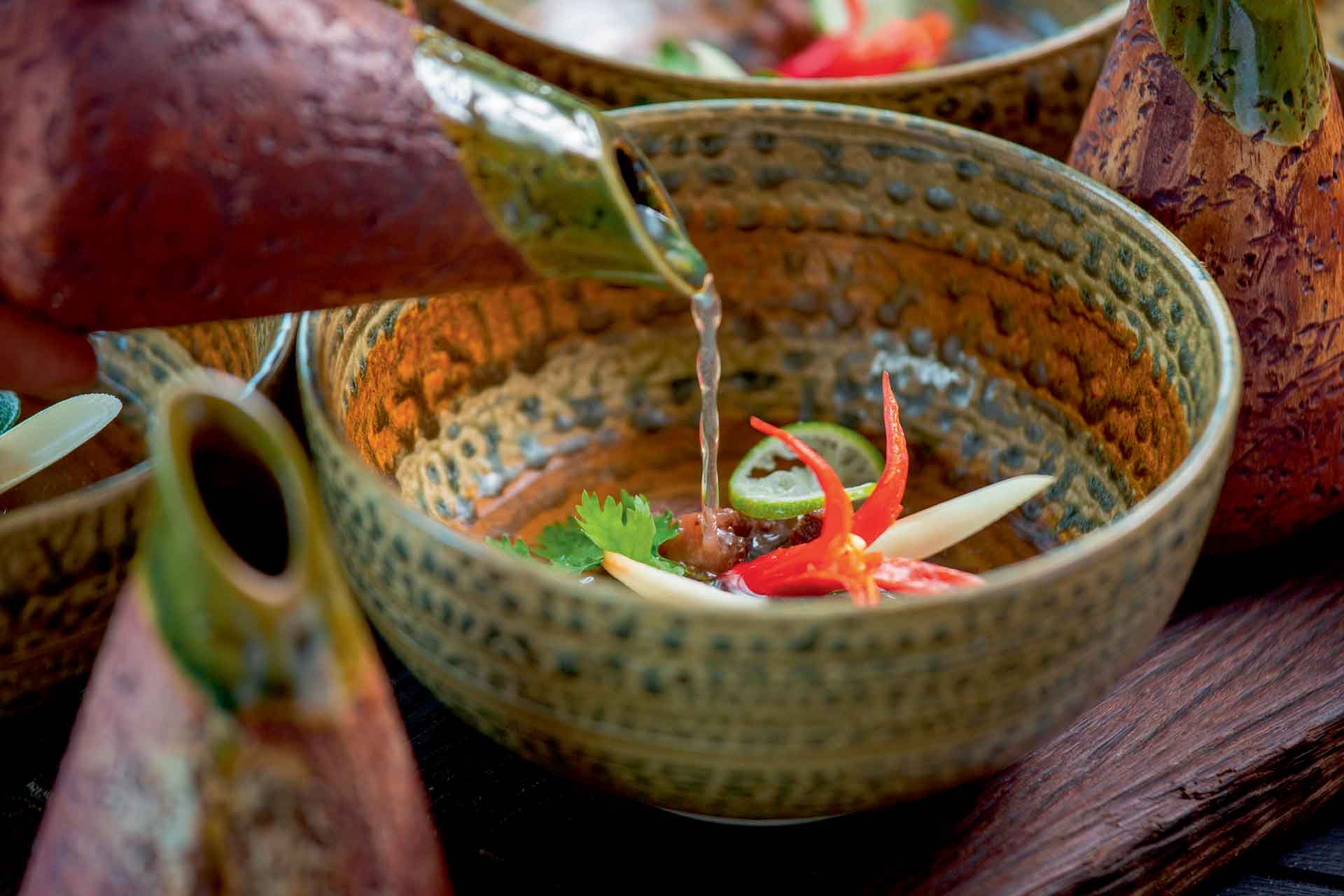 "I came up with this farming model for many reasons," Noble explains. "For one, I think it's interesting to reconnect with where a product comes from, and for another, I know the traditional farming model of selling through a middleman isn't the only way. I believe that if we can grow produce in the same country it's being used, that has to be a better approach. We have a very interesting business model that has made many people ask why it hasn't been done before."
Here, instead of buying an amount of produce, the idea is that you have your own patch of land on the farm. You tell Noble what you need him to grow, and the quantities you desire, and he'll tell you how much space you need to rent to achieve that. "It's a per-square-metre price at which point you then have the full market value of your own farm, the provenance of your product and the traceability of the journey from field to kitchen," he says. "We grow specific items that they need whether they're indigenous or non-indigenous ingredients. If there's a product they're looking for, we'll try to introduce it to Thailand."
Following this model, the farm now grows an impressive range of produce, not least 18 different varieties of tomatoes for two-Michelin-starred restaurants – Sühring, R-Haan and Le Normandie – among other high-profile dining spots in Bangkok. Meanwhile, Noble's wife, May, takes charge of cultivation as ORI9IN's head farmer while he looks after the agrotourism and oversees the restaurant kitchen. ORI9IN's restaurant, Waiting for May, gives visitors to the farm a taste of the produce that has been picked and dug up from the earth that very day.
"The current climate has given people reason to go out and source produce locally. For me and the other people involved, this is a movement."
"The concept for the restaurant is that every day we wait for May to bring ingredients off the farm for our chefs to create daily menus of what's available," he explains. "If May brings ponzu lemons and black radishes in from the farm, that will tell me we need to go in a Japanese direction. If we have winter vegetables like Swiss rainbow chard and curly kale, then we'll go for a more European dish. Tonight, for example, we have a fig, tomato and homemade buffalo mozzarella bruschetta with rocket and cashew nut pesto. It's an interesting concept where chefs have to be on point and get creative using what's available."
Signature plates range from preserved lemon hummus with charred flatbreads and pickled vegetables, to sturgeon beetroot gravlax with malt bread and tom yam freshwater crayfish risotto, and finished off with fig and cheese crumble or mulberry-honey sundae with coffee that has been locally grown, ground and brewed.
Inside the restaurant, tables have been crafted from ORI9IN's own trees and local potters have made the plates by hand, whilst napkins highlight locally handwoven loom silk. By championing this local craftsmanship, Noble is ensuring each diner knows the journey their food and these products have made, as well as who has been a part of that journey.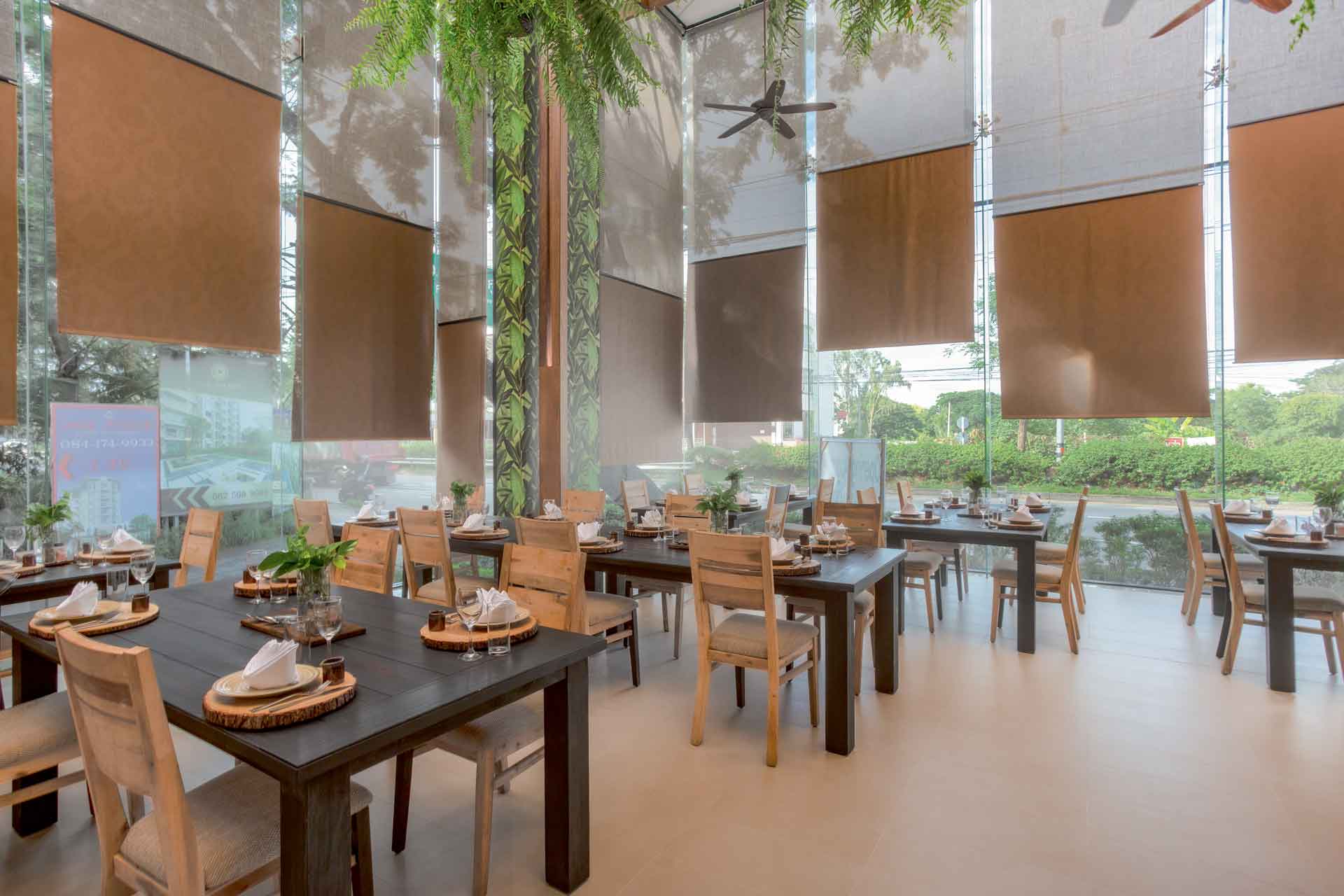 More than anything, Noble wants guests to be able to connect with the products and land. The farm has three sustainable corn mazes, electric bikes, cycling tracks and orchards of Asian fruits. "People often don't really know where food comes from, so we show them," says Noble. "You can spend all day on the farm, having a look at what's being grown, cycling along tracks and finding your way around the corn mazes."
The farm also has a kilometre-long mud-run for children. "I think everyone needs that accessibility to the earth – I grew up covered in mud," he says laughing. Noble believes now more than ever that this is the type of escapism we all need. "People want to know where things are coming from. They want to breathe. They want to be able to get out. And if the global health crisis has shown us anything, it's how to enjoy the very simple things in life – a walk along the canal or a stroll along a beach. Now, we're seeing things for their true value."
This renewed appreciation for nature, as Banyan Tree would agree, undoubtedly extends to what we eat. "The current climate has given people reason to go out and source produce locally," Noble enthuses. "For me and the other people involved, this is a movement."
When asked where he wants this project to go, he jokes that his ambition is to get to the end of the week. "I consider this whole endeavor to be organic," he concludes. "This journey with Banyan Tree has just started, so we can only wait to see where it goes. Perhaps it will move in ways we haven't yet thought of." In the meantime, Noble continues with his hands-in-the-earth personal mission to show the hospitality world how he believes culinary sustainability can be achieved.
CREDITS
Words: Lauren Hill
Photography: © Ian Taylor
Magazine: Issue 22