Ahead of introducing his cuisine to the Thai capital, Michelin star Mauro Colagreco talks to Neena Dhillon about the irresistible success of Mirazur, sustainability, global expansion and the universal language of food.
To call his rise meteoric would be something of an understatement. Within a year of founding Mirazur in the French medieval town of Menton back in 2006, Argentine-born Mauro Colagreco had collected his first Michelin star. Maintaining this culinary momentum, he worked toward the double in 2012 before hitting gold early last year when he became France's only non-French chef to be awarded three stars, ruffling a few feathers in the process. The accolades kept flooding in, with Mirazur taking top spot on The World's 50 Best Restaurants list in 2019 and Colagreco then named the World's Most Influential Chef by a prestigious panel of his peers. In between tending to Mirazur, he'd also been steadily building a presence in hospitality kitchens, partnering with five-star hotel operators in Beijing, Cotai, Dubai and Florida's Palm Beach. This autumn – pandemic permitting – the highly anticipated Capella Bangkok opens its doors, showcasing his gastronomy in Thailand for the first time.
"This will be a beautiful project," says the chef, describing the first Thai outpost from Capella Hotels & Resorts. As part of Country Group Development's landmark US$1 billion Chao Phraya Estate, the urban resort benefits from an enviable waterfront setting in the historic Charoenkrung neighbourhood on the doorstep of Bangkok's first official Creative District. Alongside the 101 guestrooms, suites and villas, the food and beverage offer will comprise a contemporary restaurant serving authentic Thai cuisine, an ethereal venue for bespoke patisserie and handcrafted cocktails, an elegant tea lounge and, as the signature, Côte by Mauro Colagreco – a culinary journey into the Mediterranean. "The ethos of Capella is very much in line with my philosophy," he says about the venture. "To respect nature and to use fresh and high-quality produce that is as local and organic as possible."
To really understand the 43-year-old chef's philosophy requires a glance into his past, to his childhood in Argentina as part of a close family of Italian descent. He was a relative late starter, toying first with the idea of following his father into accountancy and then diverting his ambitions temporarily to a literary career. Frustrated by a lack of clear direction, he was rescued by the seed of an idea planted by his sister, who reminded him of just how happy he had been when cooking with his grandmother. Staying with his paternal grandparents during the school holidays, he would watch as his Basque grandmother cooked fresh pasta to keep her husband happy. The memory jolted something, unearthing within him a hidden passion.
Having realised where his true calling lay, Colagreco attended the Gato Dumas Institute in Buenos Aires before heading to France in his early 20s to study what he considers to be "the base of Western cuisine". During his first year of attending the Lycée Hôtelier de La Rochelle, he secured an internship with Bernard Loiseau at La Côte d'Or in Saulieu. It was only supposed to last a matter of months but Loiseau asked him to stay and he jumped at the chance, moving up the kitchen ranks to become a demi-chef de partie. Sadly, Loiseau committed suicide in 2003, prompting Colagreco to move on to Paris, first to Arpège under Alain Passard followed by Hotel Plaza Athénée under Alain Ducasse. "Each teacher left me with something," recalls Colagreco. "From Loiseau, I learnt to prepare sauces; from Passard, I absorbed his incredible passion for vegetables; and with Ducasse, it was the sense of excellence and perfection in each ingredient." Indeed, so high is his regard for Plaza Athénée that this is where the Mirazur team celebrated their most recent Michelin win.
Back to his hotel days in Paris and the 15-hour-plus shifts had started to take their toll. So Colagreco started mulling over the idea of setting up his own place. The trouble was he had no money and no financial backing. Fortuitously a friend told him about a neglected restaurant in a then-little-known coastal town on the edge of the Côte d'Azur, metres from the border between France and Italy. Despite knowing nothing of the terrain or culture of Menton, this crossroads at the passage between two countries, between sea and mountains, between national identities, spoke to him. He persuaded the owner of the eccentric 1930s rotunda-shaped building, with the sweeping views of the bay, to give him a chance.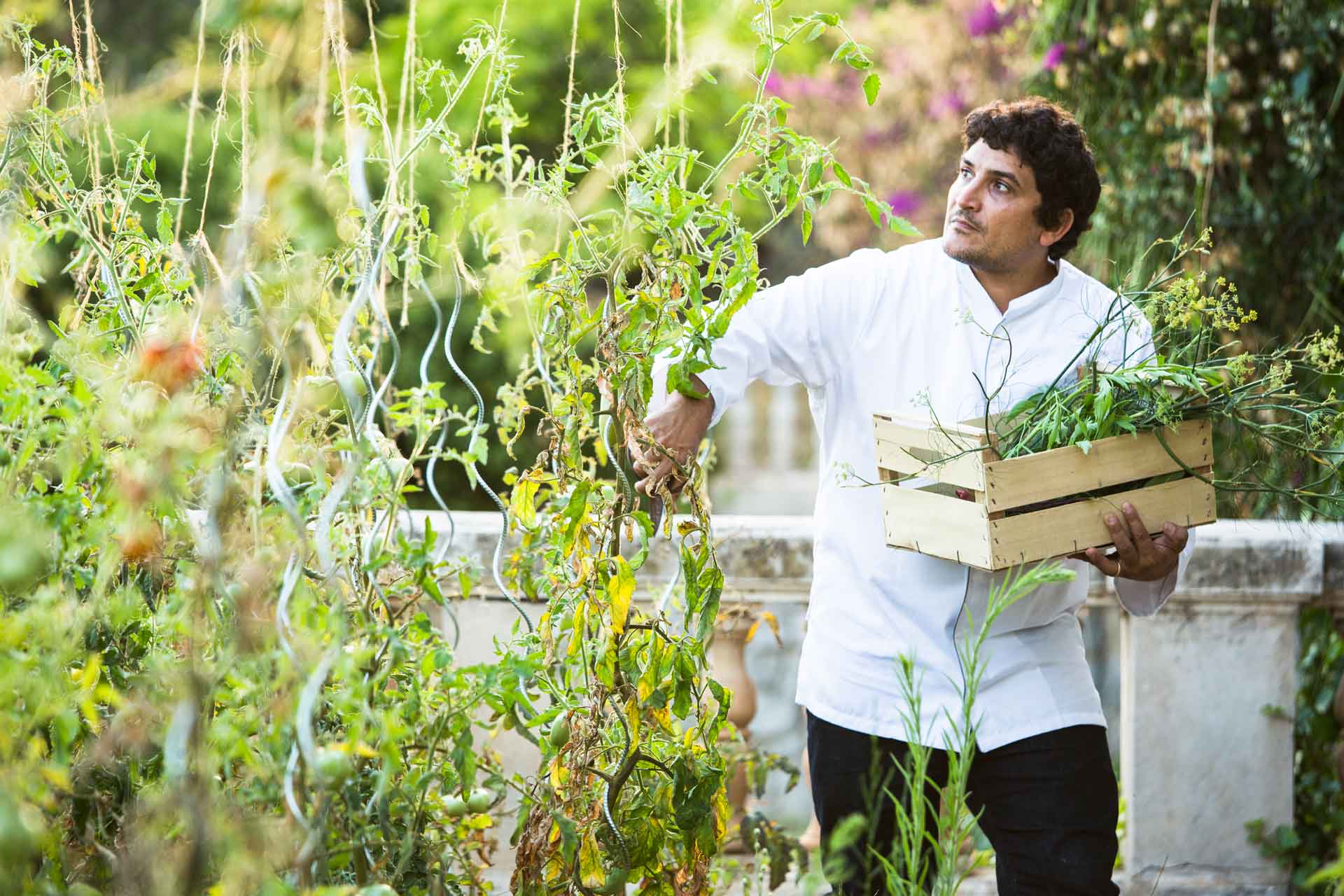 At the heart of Mirazur is the multi-tiered garden. Cascading down rocky terraces that sit within their own microclimate, it has been lovingly developed to supply 40% of the kitchen's needs today. There's an abundant 150-plus varieties of herbs, fruits, vegetables, edible flowers and the region's famed citrus and avocado trees. Hens are kept and beehives for efficient pollination of crops. "Our garden is an expression of nature," the chef elaborates. "We use permaculture techniques and, of course, everything is organic. The garden is not only a source of produce but also of inspiration and life. We don't believe in using 100% of ingredients from our own garden, however, because cooking is about reflecting the people of the region. So we shop at organic markets and have close relationships with local producers and fishermen too. It's important to support local life and biodiversity." From Italian markets and fishermen can come asparagus, cherries and prawns, from French producers, lemons, goat's cheese and fresh fish – depending naturally on the day and season.
This hyper-local commitment to sourcing forms the bedrock of Colagreco's sustainable approach. "Chefs with fine dining establishments have a responsibility," he points out. "We are in direct contact with producers and benefit from a visibility that allows us to have a direct impact on the social fabric. So we should dictate trends, educate our teams and share our values with a wider audience." In practical terms, along with seasonality and a devotion to local produce, he has implemented a zero-waste policy at Mirazur so no part of any ingredient is overlooked but utilised instead to make everything from sauces to broths or to serve as compost for the gardens. Being positioned directly by the sea also means the team are acutely aware of the waste that ends up in the water and so they have eliminated single-use plastics from the kitchen, gaining official certification.
There isn't a formal menu as priority is given to product quality. When we speak of seasons, chef says there are 365 rather than just four at Mirazur and this informs what is served daily – it's fresh and very immediate, unleashing the power of sun-drenched Mediterranean ingredients. Perhaps this is why he doesn't like to select his favourite plates – it's an impossible, ever-evolving choice. But they do all share a common culinary language, vibrant and pictorial, they play with texture and contrast. Take the combination of salt-crusted beetroot with caviar cream or a dish known simply as 'Green' in which peas and kiwi have the starring roles. Bordighera squid is transformed through a textural twist accompanied by garlic and anchovy-infused bagna cauda sauce while pigeon interacts artistically with wild strawberries, spelt and yarrow.
"Each teacher left me with something; from Loiseau, I learnt to prepare sauces; from Passard, I absorbed his incredible passion for vegetables; and with Ducasse, it was the sense of excellence and perfection in each ingredient."
Of course, ownership of a restaurant affords a chef ultimate freedom but how practical is this approach in Bangkok, for instance? Can he maintain his standards of sustainability? While he acknowledges the city has a very different landscape to the South of France, he explains how "as much as possible, we want to work in the same way, so we are meeting and forming relationships with local suppliers – a short circuit, as I say – and exploring in-season produce to see how we can incorporate it into the menu. Of course, it's challenging but it's really important we find solutions."
In Bangkok, Colagreco's Côte will focus on the culinary heritage of both the French and Italian Rivieras. "Up until 1860, Nice was part of Italy so there's always been a connection between the French Riviera and Liguria," he notes. "There is a rich culinary tradition from Nice along to Genoa, from which we will take produce and flavour inspiration, creating dishes." The menu will be specially designed for Côte, with just techniques and philosophy flown in from Mirazur. "I can tell you about one plate, which marries the sea and land," Colagreco reveals. "Traditionally you will see chicken in this dish but we wanted an alternative ingredient. We soon discovered that monkfish is the perfect substitute because it has a low-fat content and the flesh adapts. So our Monkfish 'a la Cacciatora' involves the fish being grilled and served with a mushroom broth and fresh herbs. On the side, we'll place a second serving of monkfish liver 'torchon' for which we use the classic Japanese 'Ankimo' technique." This preview dish hints at Asian cooking techniques but will Thai culinary heritage also be recognised at Côte? "We will incorporate Thai ingredients such as ginger, lemongrass, kaffir lime and pomelo," he confirms. "Thai cuisine includes a lot of sauces made using a pestle and mortar, similar to the French Riviera and Italian Liguria where sauces and condiments are often created in the same way."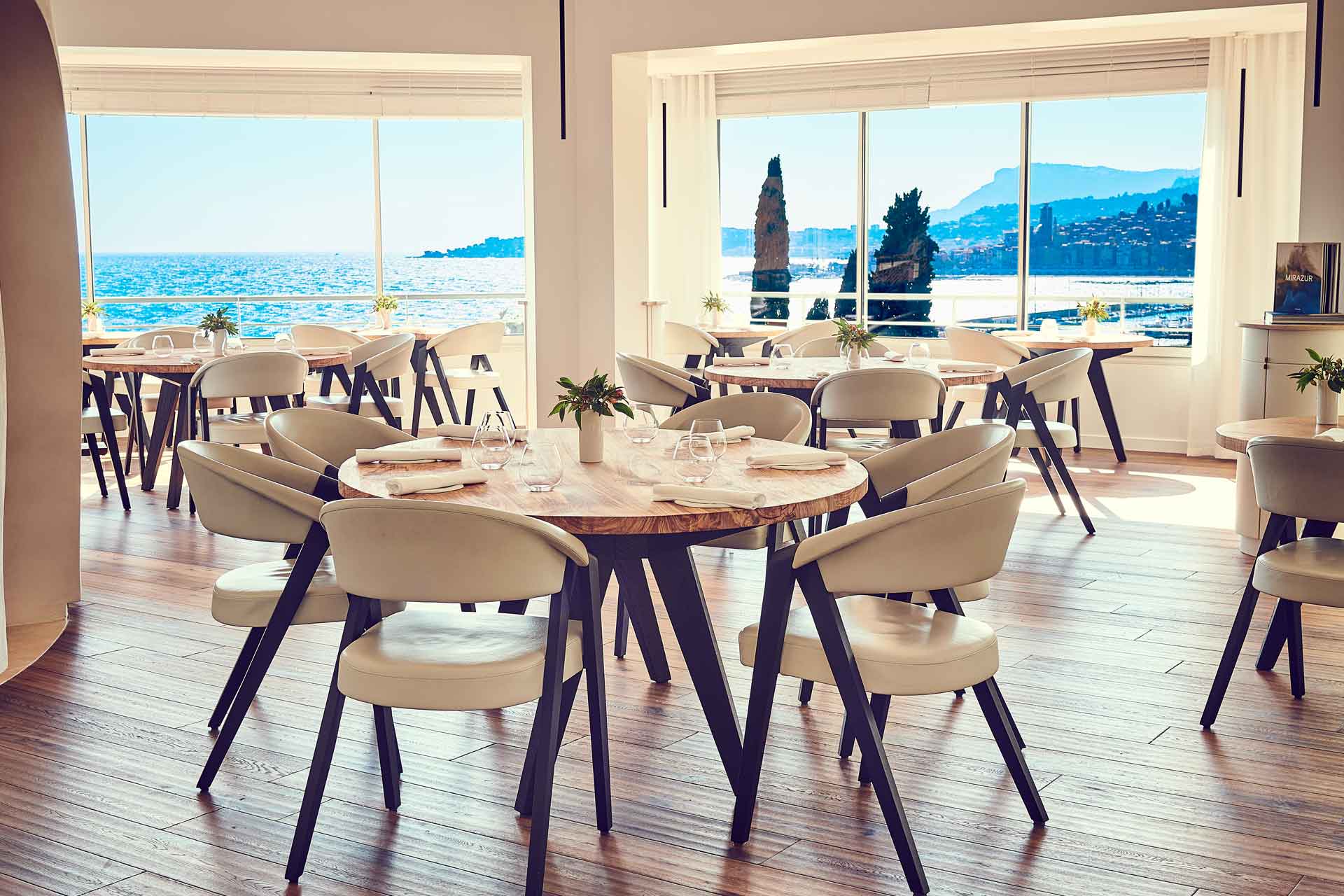 Alongside a conventional menu, guests at Côte will have the option of the 'blind' nine-course tasting experience for dinner, which draws on seasonality and the best ingredients available day-to-day. Starting with small dishes in the show kitchen before the main event, there will also be an opportunity post-meal to tour the hotel's organic garden and hydroponic wall, known as 'Green House', currently being cultivated to nurture a combination of Western and Thai shrubs, vines and trees. Green House will accommodate chef's table dinners and cooking classes, representing a shared resource for all the F&B venues at Capella Bangkok.
Colagreco has talked in the past about common bridges between South American and Asian cuisine. When he picked up one of his awards last year, he rushed onto the stage with four flags, representing his native Argentina, the dual French and Italian nationalities of his global Mirazur team, and finally the country of his Brazilian wife, who oversees front-of-house in Menton. These are clues to how Colagreco regards food. For him, it is the universal language, transcending borders. "I prepare ingredients in a way that I believe best displays their unique characteristics, from the techniques I have learnt on my travels," he observes. "I allow myself total creative freedom to use influences from across the world."
With restaurants on different continents, he is fully aware of the challenges that will be thrown up in maintaining quality and is cognisant of the need to stay closely connected: "Each restaurant takes a lot of planning; we train the staff ahead of opening for many months and fly some of them to Mirazur so they can understand our entire philosophy. My trusted team travels a lot and visits all our restaurants twice a month." Indeed, Davide Garavaglia, former Chef de Cuisine at Mirazur, is now resident in Bangkok for Côte's forthcoming opening.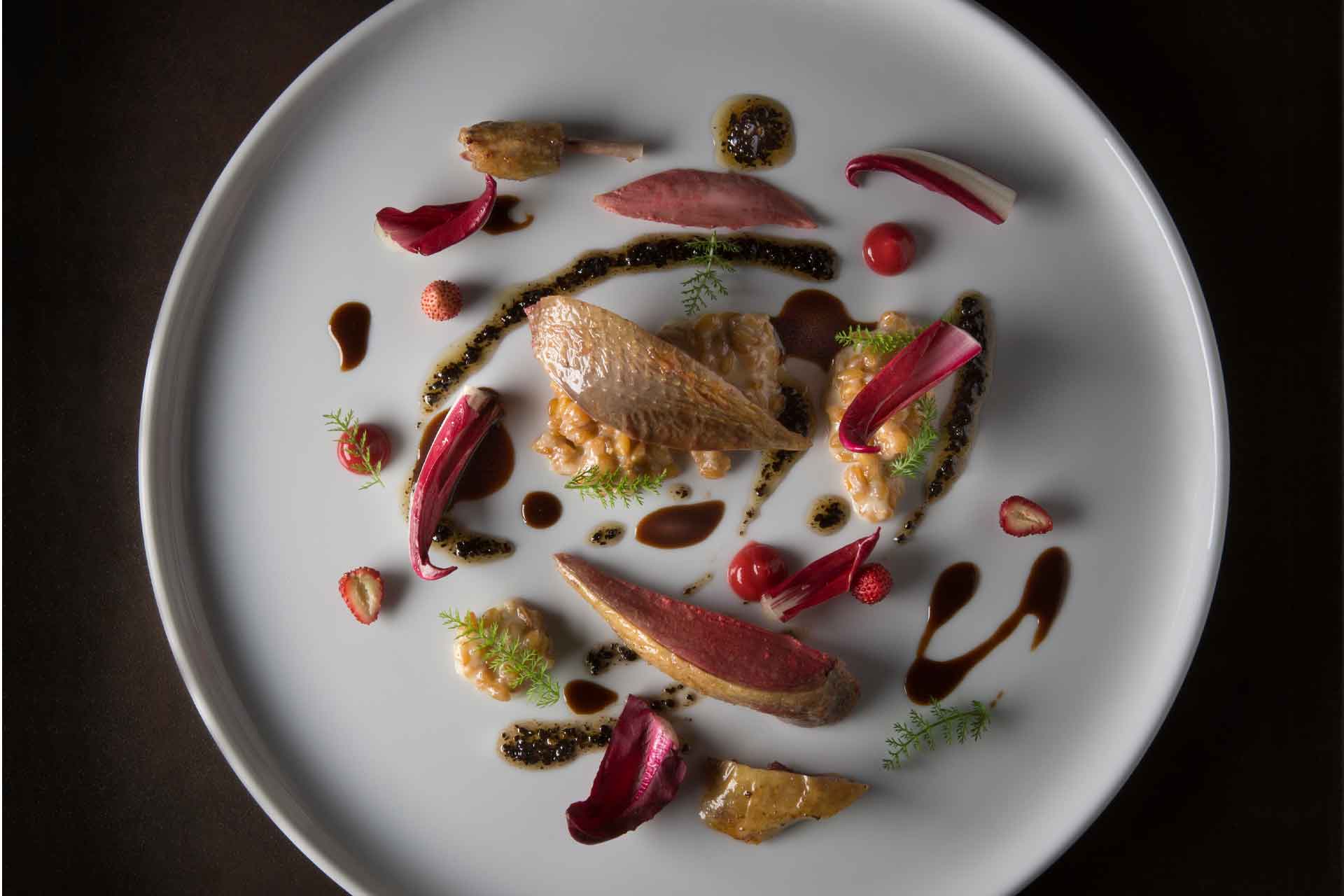 In addition to Colagreco's fine dining establishments, his outlets include an organic fast-food concept known as Carne in Argentina as well as a pizza restaurant called Pecora Negra, located in the port of Menton. He is currently working on the opening of Mitron Bakery in the centre of the old town, which specialises in organic bread produced by cultivating a variety of ancient grains. "Menton is my playground and, when I have new ideas, it's always the place I try them out," he says.
As for the motivation behind what he does, whether in France, Argentina or Thailand, he is fuelled by a simple desire. And that is to evoke lasting memories, as he concludes: "Each guest is different and we try to understand who they are, allowing them to feel and create emotions. This could be achieved by having them retry with us an ingredient they usually dislike, or having them discover a product for the first time, or a flavour that reminds them of childhood; the possibilities are infinite."
CREDITS
Words: Neena Dhillon
Headline Image: © Matteo Carassale
Magazine: Supper 20