Having moved his much-loved restaurant The Dairy to Bermonds Locke, Robin Gill discusses his passion for farm-to-fork dining, new beginnings and the importance of community.
Ask any chef or restaurateur to describe the rollercoaster of emotions they experience on opening night, and chances are you will be met with sentiments of both nervous excitement and palpable adrenaline. A scene often characterised by last-minute menu tweaks, frantic dashes across the floor setting tables twice for good measure and a nervous brigade eagerly awaiting their first check.
At least, this is what you would expect. Yet sitting across from Irish chef Robin Gill in the courtyard of the recently launched Bermonds Locke, the third London outpost for the design-led aparthotels brand and new home of The Dairy – Gill's flagship neighbourhood restaurant – it is hard to believe that he is just hours away from relaunching a concept that has played a pivotal role in redefining South London's dining scene.
Composed and relaxed, with an energy that reflects his surroundings within the laidback lifestyle space designed by Holloway Li, Gill appears totally at home. Just a few weeks earlier, Gill and his wife Sarah announced that The Dairy in Clapham was to close due to the impact of Covid-19, a post that attracted thousands of comments and condolences from across the hospitality industry.
"For us it was like a death in the family, especially given the outpouring of messages that we received, we were really overwhelmed; it was both heartwarming and heartbreaking," says Gill. Fortunately, having worked behind the scenes with Locke on projects in the past, he was quickly approached by the group to take over the new hotel's vacant restaurant space and within a matter of weeks The Dairy had relocated just a few stops along the Northern Line.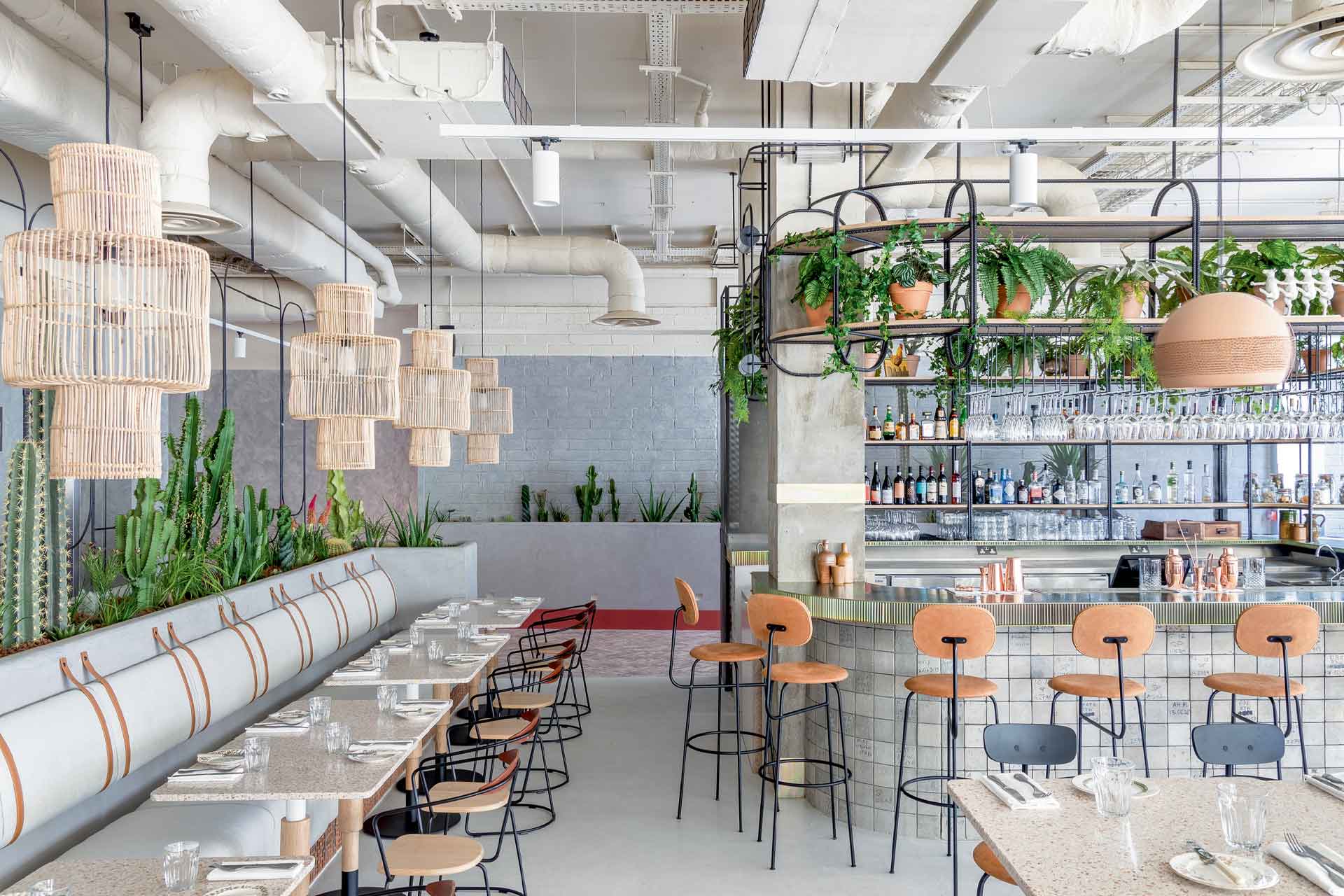 "It's been a massive relief, there's been a lot of excitement but also sadness because we're saying goodbye to our old place," reflects Gill. "But for us to move to new premises, it's giving us a new lease of life. It's a part of London I've always liked; I used to work in the city for D&D and would often come by Borough Market, so it's like a homecoming in some ways."
A new menu for a new era, Gill describes the fortuitous turn of events as something similar to "pressing a reset button" – one that has given him time to focus on what The Dairy stands for."It gave us an opportunity to take a step back, rather than just carbon copy of what we've done before, it's an evolution and seems more refined if anything."
Guided by the same produce-led focus as its predecessor, Gill and his team will continue to work with their close network of suppliers to offer dishes that showcase local and seasonal ingredients. The 58-cover bar and restaurant, designed to the same Californian-inspired aesthetic seen across the rest of the hotel, encompasses warm, sandy tones and terracotta, punctuated by an abundance of desert plants and cacti.
Offering a variety of dishes from loaves of sourdough served warm with whipped herb noisette and smoked cod's roe tartlet encased in a thin, flaky pastry topped with sweet Cuore del Vesuvio tomatoes, as well as wood-roasted lamb with The Dairy's own 'hayonniase', charred lettuce and mint oil, washed down with a curated selection of classic cocktails and natural wines, the chef's farm-to-fork ethos reigns supreme.
Born and bred in Ireland, it was time spent on his aunt's farm in Cork that set in motion an early passion for seasonality, while his father, a jazz musician, gave him a taste of the grandiose restaurants and boisterous bars of New York, where the atmosphere and sense of occasion was as important as the food and drink. It was also his father who steered him towards a career in hospitality, which was kickstarted in some of Europe's best restaurants, from Marco Pierre White's three Michelin-starred Oak Room in London, to the two Michelin-starred Don Alfonso 1980 on Italy's Amalfi Coast.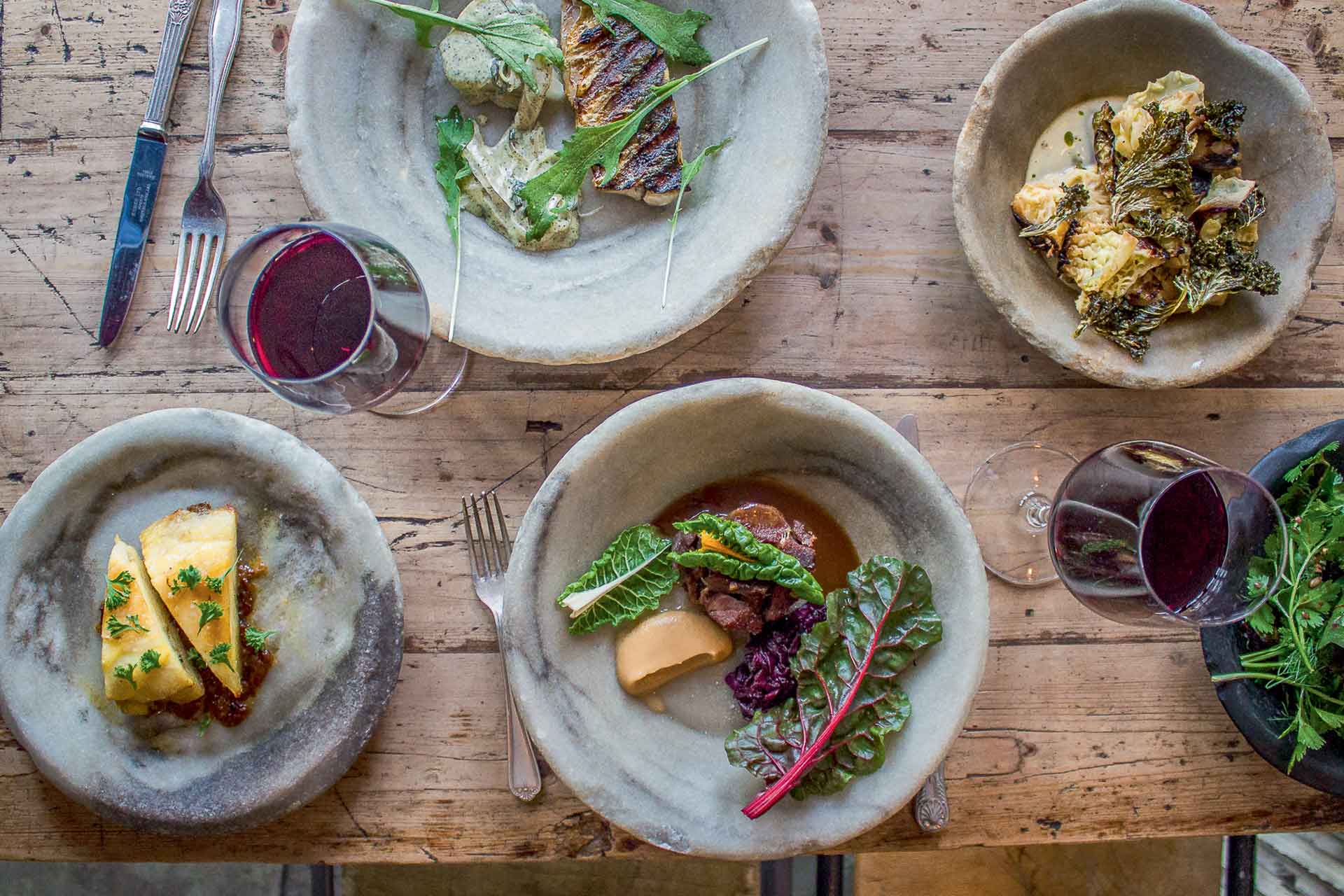 "Don Alfonso had a big impact on my approach to cooking because they had their own farm and it was a restaurant steeped in history, but it was an interesting one because I went there from a three-star in London and the cooking couldn't have been more different," says Gill. "There was classic French cooking at Marco Pierre White's with lots of different types of ingredients and techniques, whereas in Italy it was all about the products. I learnt a lot about preservation there – it's something that has paved the way for my own career and style."
Back in the UK, Gill spent four years under the tutelage of Raymond Blanc at Le Manoir aux Quat' Saisons before taking placements at Noma in Copenhagen and Frantzén in Stockholm. After a short sabbatical, the chef set about launching his own restaurant, The Dairy at Clapham, which opened on St Patrick's Day 2013 and was quickly welcomed into the community as a refreshing alternative to London's dining scene.
"We were just coming out of that phase where people were putting foams and gels on plates and messing with food a bit too much," laments Gill. "I never got into that whole molecular scene at all. I really disliked it and I guess that goes back to my time working at Le Manoir and Don Alfonso's where it was all about the product. It was underpinned by this incredible atmosphere; it was fresh and different."
With the rooftop serving as a space for growing vegetables and keeping bees, The Dairy quickly captured the attention of discerning diners and support of like-minded restaurateurs. "Gordon Ramsay and Claude Bosi were regulars, Raymond Blanc came in many times and René Redzepi came by when he was in London," recalls Gill. "It was a really incredible place where chefs came to eat and that put us on a pedestal."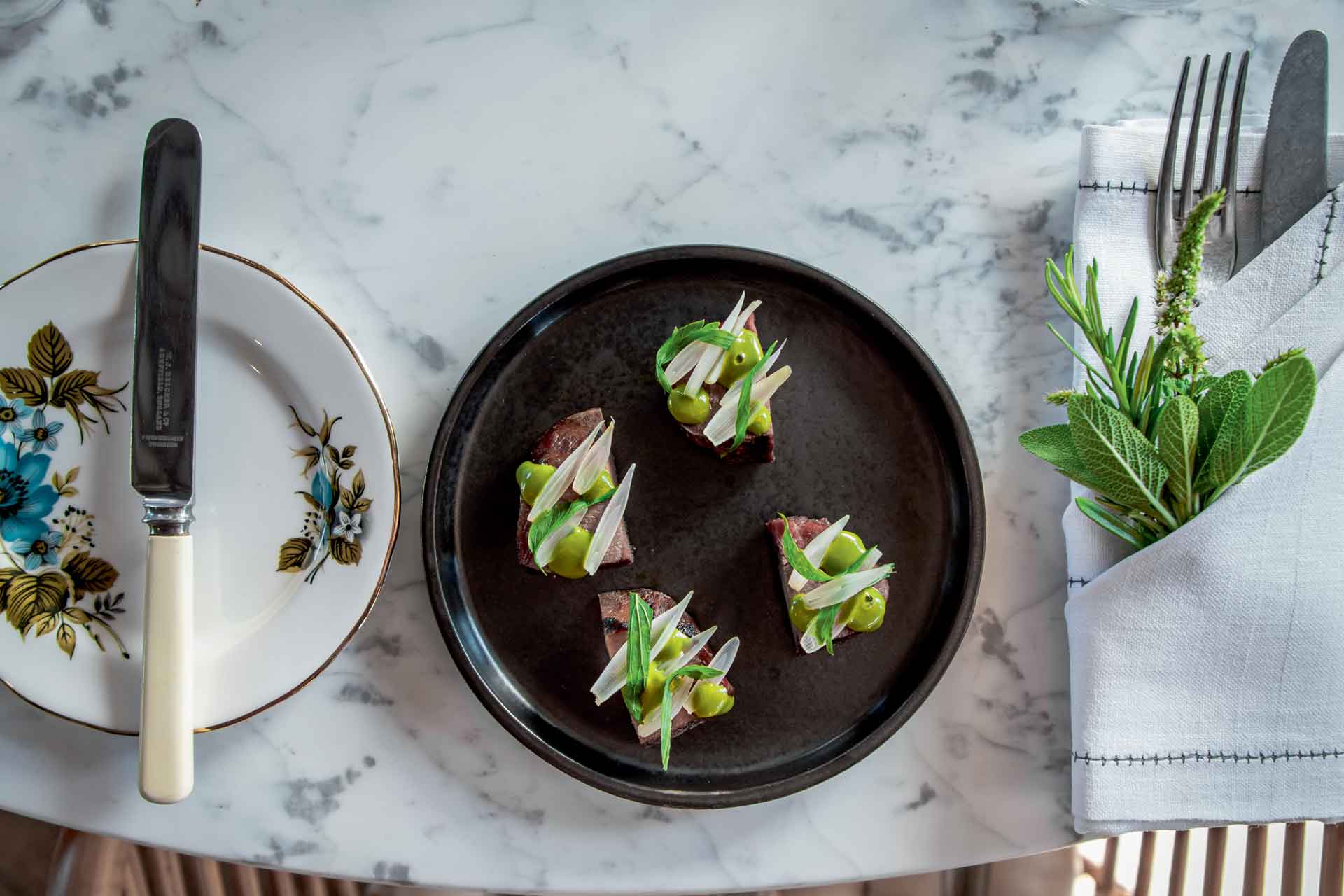 Fast forward to present day and the chef's portfolio of neighbourhood bistros, small plate venues and rambunctious bars, which includes Italian restaurant Sorella inspired by the Amalfi Coast and Darby's, an oyster bar, bakery and grill at Embassy Gardens in Nine Elms, has won him great admiration.
After a few shortlived ventures, including Counter Culture, a 14-seat San Sebastian-style pintxos bar and Paradise Garage in Bethnal Green, the latter of which was particularly popular with both the general public and food critics – "I call it my successful failure, we were wise to close shop and walk away relatively unscathed" – these experiences have paved the way for Darby's, an eatery inspired by the hospitality of both Ireland and America. Launched in 2019 and named after his late father, the restaurant has benefitted from Gill's determination to create establishments that bring people together.
"My dad passed away around six years ago and as I was coming up to the launch of the project I kept thinking that this is the kind of place that he would love, it reminded me of the time we spent together in New York," explains Gill. "It was modelled on that inspiration, which is an amalgamation of cultures. It is part of my heritage, that Irish-American bar element that was an integral part of my culture growing up, but there's also an Italian feel because I spent time working on the Amalfi coast."
Featuring freshly-baked artisan bread, an impressive charcuterie programme and a selection of grilled plates including smoked violette aubergine ratatouille and glazed beef short-rib sitting alongside satisfying plates of Cornish crab linguine and grezzina courgette, basil and parmesan tagliatelle, Darby's is an well-executed evolution rather than a departure from Gill's tried-and-tested approach to dining.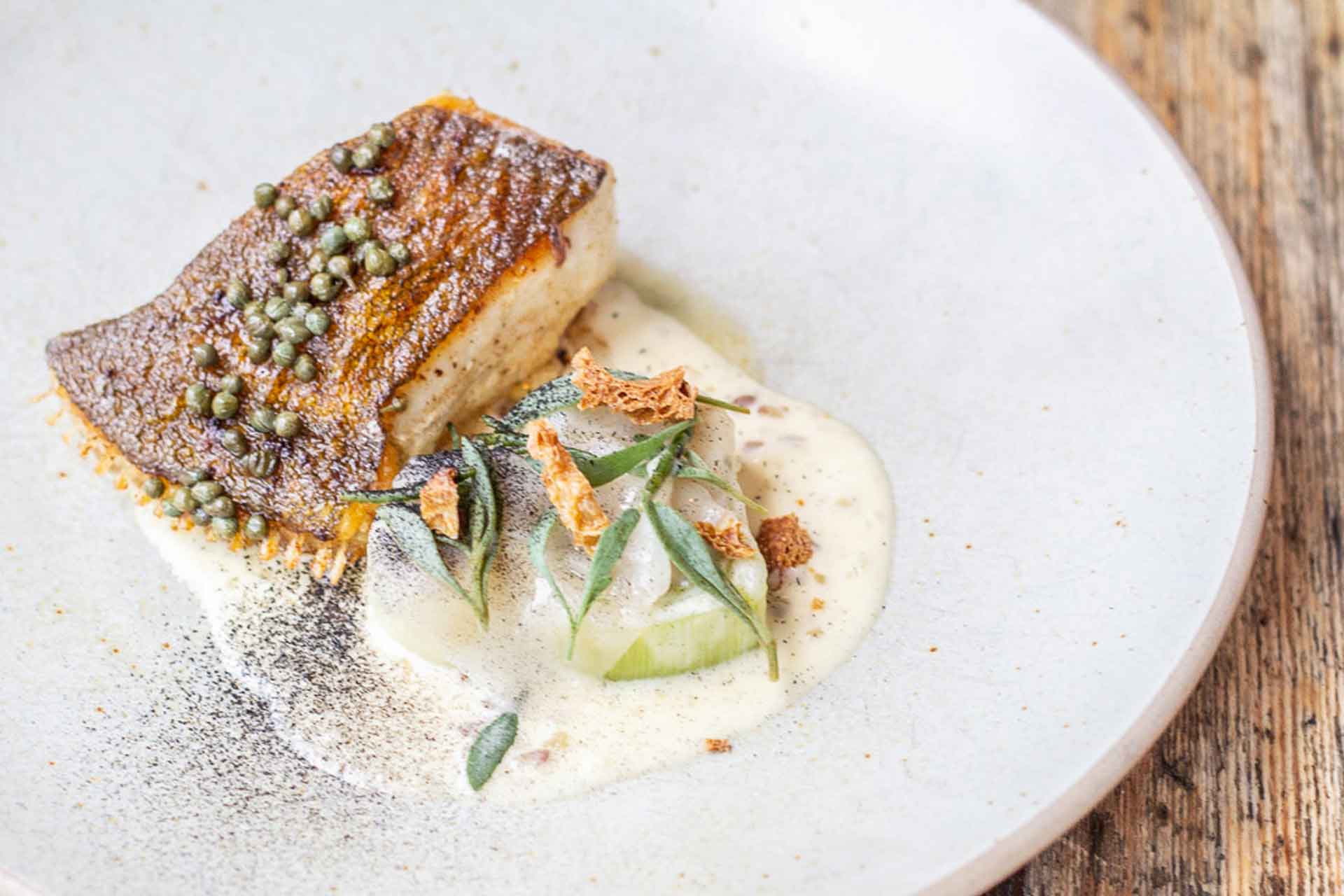 "I don't feel the need to be unique with dishes all of the time, I want to create places I would like to eat too," says Gill. "The food is different but follows the same approach, suppliers, craft and sense of occasion. It suits all ages, people come to celebrate with their parents, for breakfast, to party, or they bring their kids on Sunday – it's grown-up but still seems to hit all the marks."
Darby's isn't the only project Gill has been working on this past year. In January he opened modern British restaurant The Yard at Great Scotland Yard Hotel in Westminster – a slice of countryside in the city – and also oversees the food offering across the hotel's other F&B outlets, which includes The 40 Elephants, Sibin bar and The Parlour tea room.
More recently, he has lent his name and expertise to Birch, a Georgian mansion turned lifestyle hotel in rural Hertfordshire. Set on a 55-acre estate in the town of Cheshunt, the 140-key hotel is the creation of entrepreneur Chris King and former Managing Director of London's Ace Hotel, Chris Penn, and features an interactive bakery, co-working space, open-air swimming pool and two restaurants run by Gill: all-day eatery Valeries and The Zebra Riding Club – a place for fine dining without the fuss.
Named after the animals that drew the carriage of Lady Valerie Meux, the last lady of the house, The Zebra Riding Club is the epitome of Birch's ethos. Working with Ben Rand of The Dairy and farmer Tom Morphew, Gill uses ingredients from the estate's farm, orchard and herb garden to create dishes that draw on his diverse range of culinary experiences such as snow peas with garden mint and Amalfi lemon and grilled ox tongue, pickled onion and lovage.
"It was my dream at The Dairy to be a farm-to-table concept in the city, so to be able to do something like that only 30-minutes from Liverpool Street Station is phenomenal," says Gill excitably. "I've alway admired the great chefs who have their own little place in the countryside where they can do something different and they've got all this produce on their doorstep."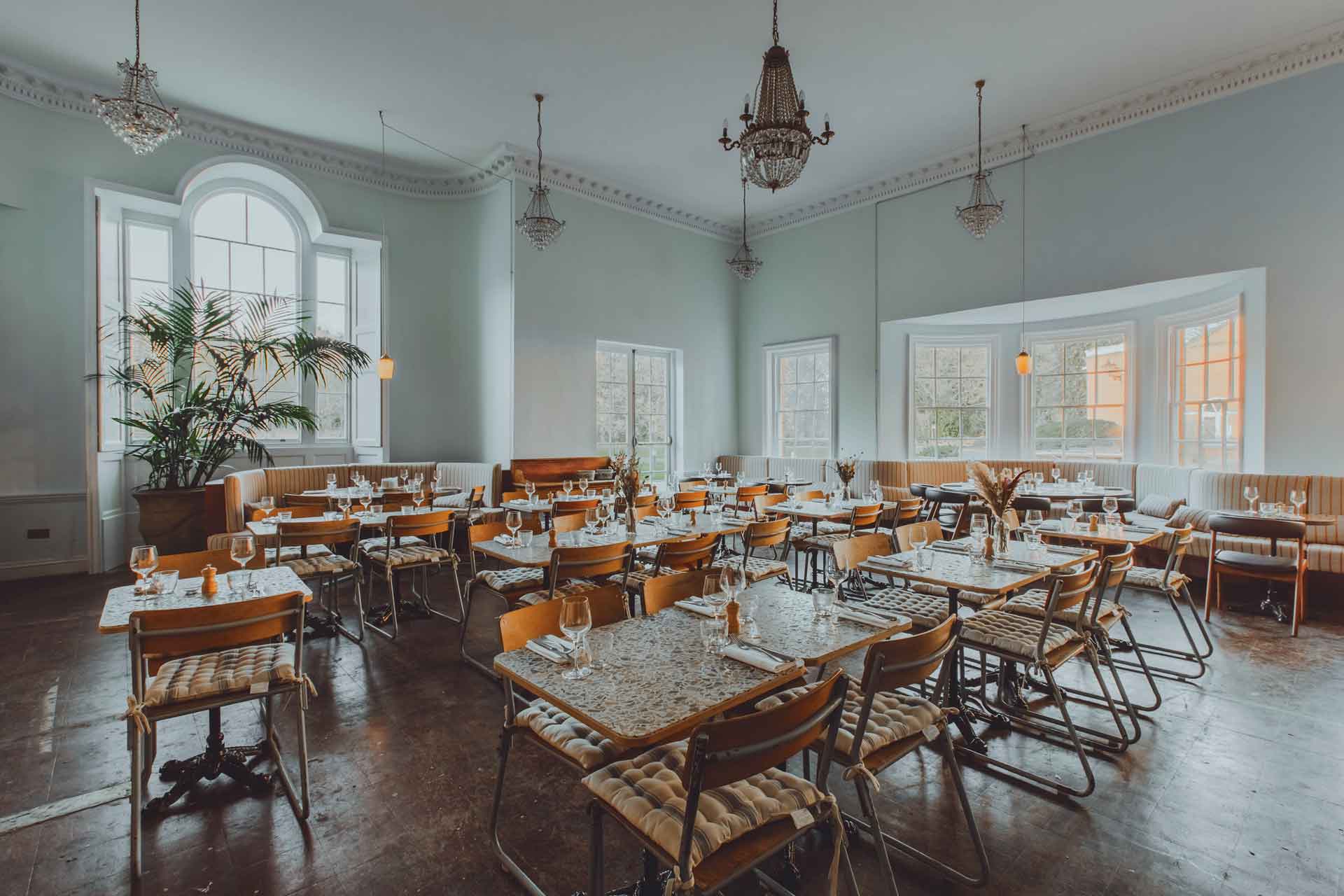 Meanwhile, Valeries is a light and laid-back restaurant, putting on dishes such as cheese and marmite scrolls for breakfast, and at lunch, small plates of courgette, basil and honey flatbread and wood-fired friggitelli peppers, as well as hearty servings of venison bolognese and Dexter chop, before ending on sweet notes of peach and almond tart and chocolate mousse with olive oil and toasted bread.
With Gill's attention now turning to the clock, the conversation veers toward the topic of legacy. In the immediate future, Gill says he is focused on ingratiating himself into Bermondsey's community: "We're coming into a new neighbourhood and we almost need to be accepted into it. If we can replicate the same warm welcome that we had in Clapham, if we can have that in some kind of way; that's the most important thing to me."
But for someone who counts chefs such as Raymond Blanc and Jason Atherton, as well as restaurateurs like Corbin & King as sources of inspiration, he is also in no doubt of the potentially promising path that lies ahead. "I wouldn't want to be a flash-in-the-pan where I'm opening restaurants left, right and centre and then closing them," he offers. "I do hope the things we start outlive us, that's definitely the goal for any restaurateur, but I also want to build a culture."
With less than an hour until service begins, Gill, now exuding an energy of excitement and anticipation, heads confidently across the courtyard and into The Dairy's new home. Heralding a new era – one that is built upon the same farm-to-fork principles and community-minded ethos that has served him so well before – one thing is certain, he is a chef who is able to captivate diners and create a sense of occasion no matter where he goes.
CREDITS
Words: Jenna Campbell
Food Photography: © Courtesy of The Dairy and Birch
Magazine: Supper 21