Jean Imbert announced as new chef for The Venice Simplon-Orient-Express
Belmond has appointed Jean Imbert as Chef of the legendary Venice Simplon-Orient-Express.
Blending the train's gastronomic heritage with Imbert's passion for fresh seasonal produce, prepared classically and with precision, the new concept spans all of the culinary menus and experiences, from breakfast served in the cabins to lunch, afternoon tea and canapés during aperitivo hour in 3674 Bar Car – the social heart of the train – and an exquisite dinner. In addition, indulgent Cabin Service delicacies are to be served around the clock.
Imbert has also redesigned the atmosphere and visual identity of the three 1920s restaurant cars – L'Oriental, Etoile Du Nord and Côte d'Azur – to reflect his vision whilst maintaining the golden era of travel's look and feel. As such, new mood lighting casts a warm, candle-lit glow across tables laid with crisp white tablecloths and sparkling silver cutlery, while art-adorned French porcelain dinnerware and unique menu designs reflect the distinct colour palette and history of each carriage.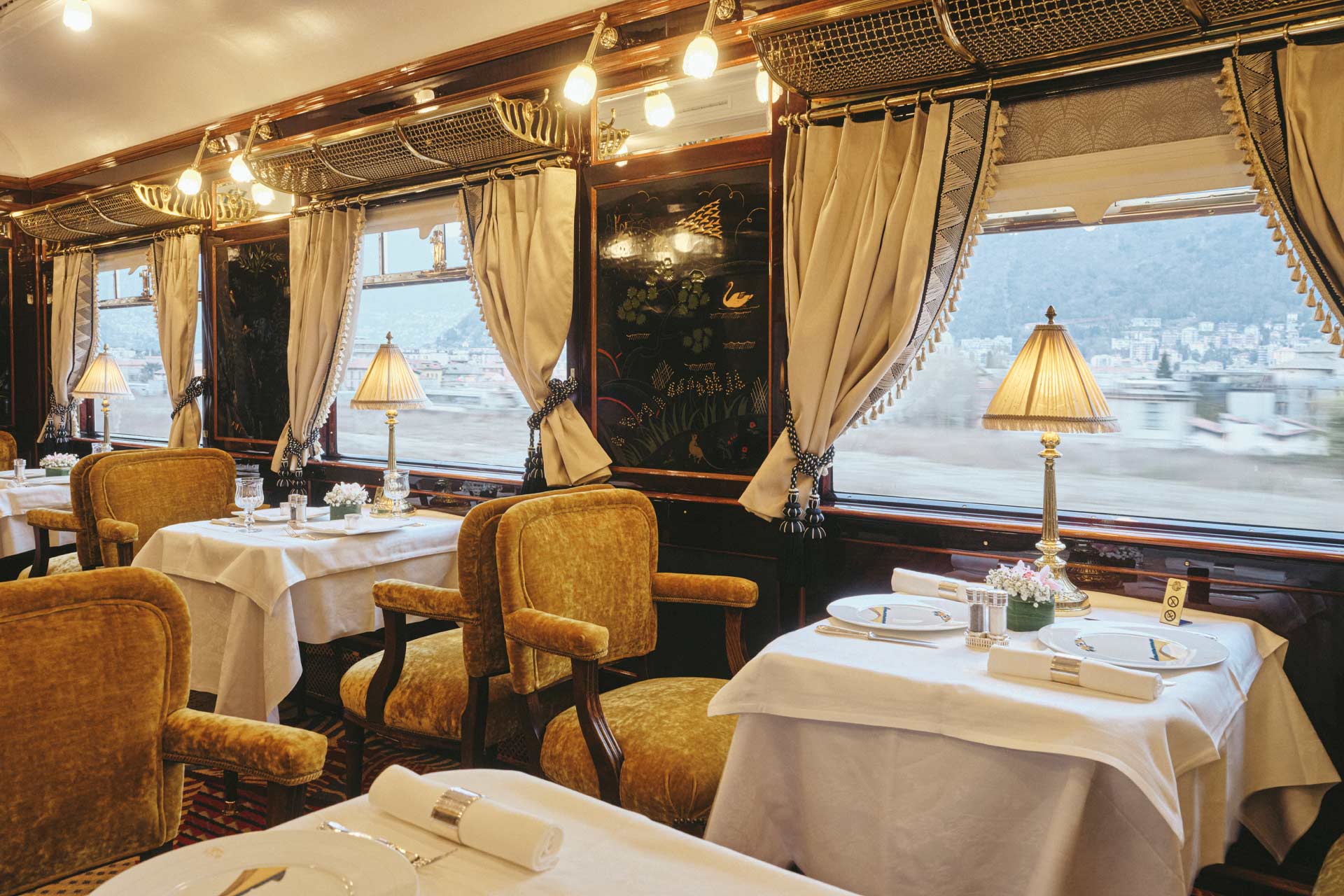 Cementing existing relationships with local farmers and producers, while forging new connections with specialist artisans along the route, Imbert will transform the finest ingredients into original menus over the course of the train's calendar as the seasons change.
"To be written into the story of the legendary Venice Simplon-Orient-Express is a childhood dream come true," says Jean Imbert. "I genuinely feel as though the stars have aligned for me to have this once in a lifetime opportunity, and I am looking forward to sharing my deep passion for the train, through food, with our guests in this season and for years to come."
Pascal Deyrolle, General Manager of Venice Simplon-Orient-Express, comments: "We are so excited to be inviting Jean Imbert to cast his creative magic on the entire culinary offering on board the Venice Simplon-Orient-Express. Sophisticated dining is a key pillar of the journey and our guests build special memories around the food they eat, from breakfast in their cabins, to the formal dinner on board. Jean is bringing a new level of culinary excellence – keeping the legend and mystery of the world's most famous train alive."
Imbert also recently took over from Alain Ducasse at Hôtel Plaza Athénée in Paris' 8th arrondissement, where the menu pays homage to the local produce and recipes that have made French cuisine famous.
CREDITS
Headline Image: © Boby Allin