Legendary Mayfair hotel Claridge's has opened the doors to ArtSpace Café, with its own dedicated entrance on Brook's Mews bedecked with awning and flag.
Designed by British architect John Pawson, the café features a patisserie counter, marble communal table as a central spot, and entry down to Claridge's ArtSpace – a vast gallery which rotates exhibitions, free for all to view. The interiors boast Pawson's signature minimalist aesthetic – an expanse of contemporary white walls and a pale grey terrazzo floor. Custom furniture in ash wood, white Carrara marble, soft leather banquettes, brass hardware and black and white photographs taken by Pawson himself accent the space. Cutlery is found in hidden draws within the tables and a central communal table sits ten, a spot for creative Mayfair gatherings.
Open daily with a focus on breakfast and lunch, the Café offers a vibrant menu with crêpes as a signature, alongside tortillas, toasties, croque monsieurs and madames, mega madeleines and Claridge's cakes galore. All food and drink has been designed for takeaway, allowing Claridge's to be eaten alfresco for the first time.
Freshly made in front of guests all day, and in a variety of sweet and savoury guises, crêpes are a menu staple. These range from lemon and sugar for purists, to the ultimate indulgence as Claridge's presents its long-time iconic Seafood Cocktail in crêpe form. The hero dish features native lobster, white crab meat, lettuce and quail's egg, laced with Marie-Rose sauce and topped with lashings of caviar, all enveloped in a crêpe.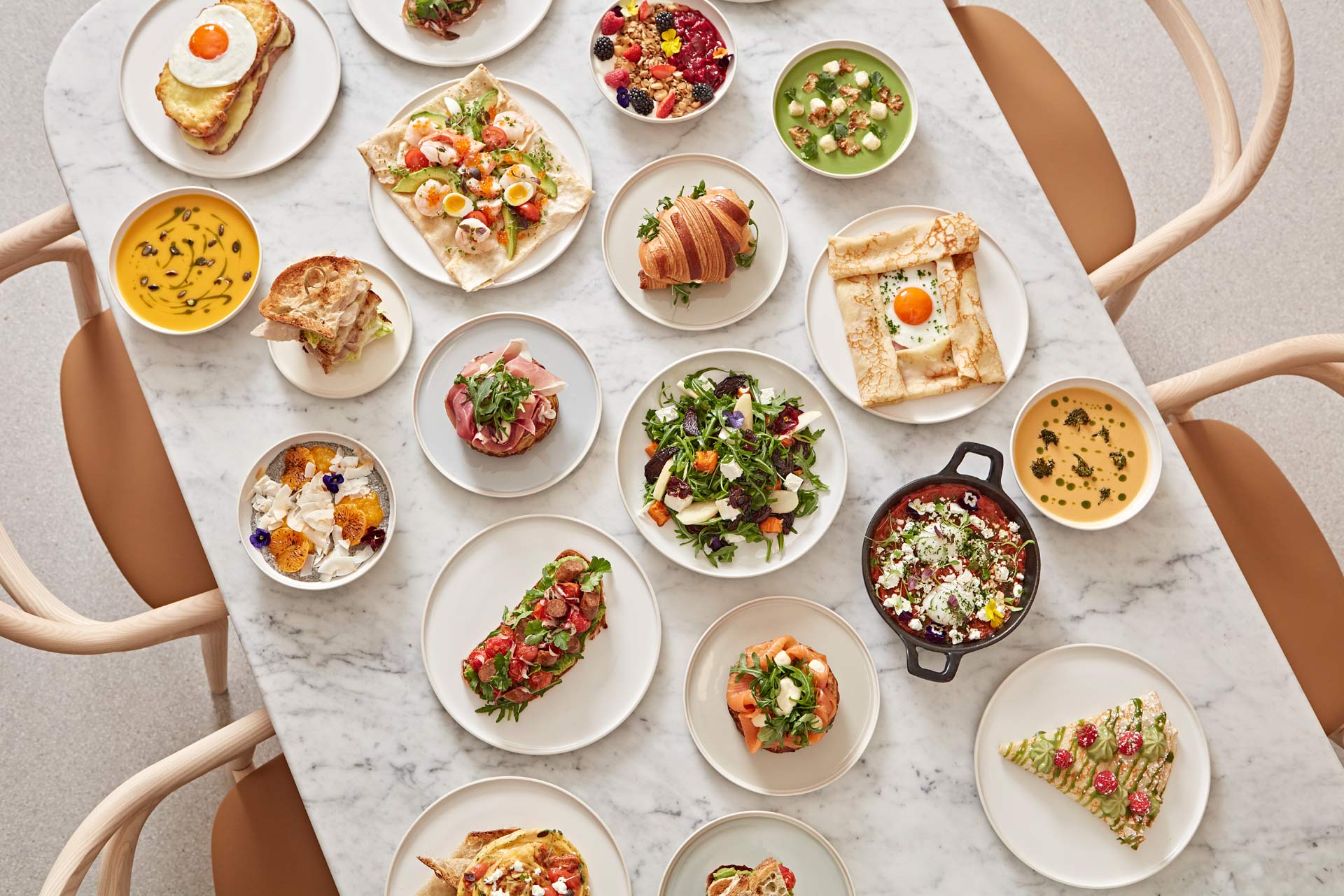 Daily Café life starts with pastries galore, fresh from the Claridge's bakery, alongside coconut chia pudding, homemade granola and hot dishes including baked eggs with ratatouille. Lunch options include roasted brie and wild mushroom on toast, croissant sandwiches and the Claridge's croque madame. The latter is a perfectly pitched combination of homemade sourdough, oozing mozzarella, Dorrington ham, mustard and a three-cheese béchamel with mozzarella, cheddar and mascarpone, all topped with a Clarence Court fried egg. Equally, the Café's chef team have pored over the perfect veggie Reuban – a sandwich which takes two days to make. Aubergine is brined, marinated for 12 hours in soy, deep fried and then dehydrated for extra chew. This star ingredient is topped with sauerkraut, cocktail sauce and grated horseradish, sandwiched between rye.
Artisan coffee is by independent Cornwall-born Origin Coffee, chai lattes are spiked with turmeric for a kick start to the day, and blocks of chocolate emblazoned with the Claridge's crest, dunked into hot milk, make the Café's signature hot chocolate. With juices, smoothies and kombuchas aplenty, champagne – a tipple poured from dawn until dusk at Claridge's – is also on the menu, served in takeaway coffee cups, café style.
A central glass counter showcases rows of Executive Pastry Chef Thibault Hauchard's patisserie from caramel Saint Honoré to pistachio Paris-Brest. The crown jewel is the Claridge's Crest Cake, a chocolatey replica of the hotel's historical coat of arms.
Claridge's ArtSpace Café is the first opening under the hotel's new Culinary Director Dmitri Magi.
"This is a new kind of dining for Claridge's – an informal style which will focus on building community, both locally and in the art world," says Dmitri Magi. "Claridge's ArtSpace Café is our contribution – with more to come – to making Brook's Mews a London destination of the future."