Acclaimed Japanese restaurant Waku Ghin has re-opened at Marina Bay Sands in Singapore after extensive renovations.
Renowned chef Tetsuya Wakuda remains at the helm, while the restaurant itself has been transformed, drawing inspiration from the chef's Japanese roots.
The venue has been designed by award-winning designer Yohei Akao and features a minimalist design that integrates natural materials and intricate details that pay homage to nature and heritage.
At the restaurant's new entrance, diners are greeted by a two-tonne stone sculpture from Shikoku, Japan, towering over the reception before they are ushered into The Bar at Waku Ghin.
It is here that guests are welcomed into a world of Japanese cocktails, where technique and innovation drive some of the best libations in the city.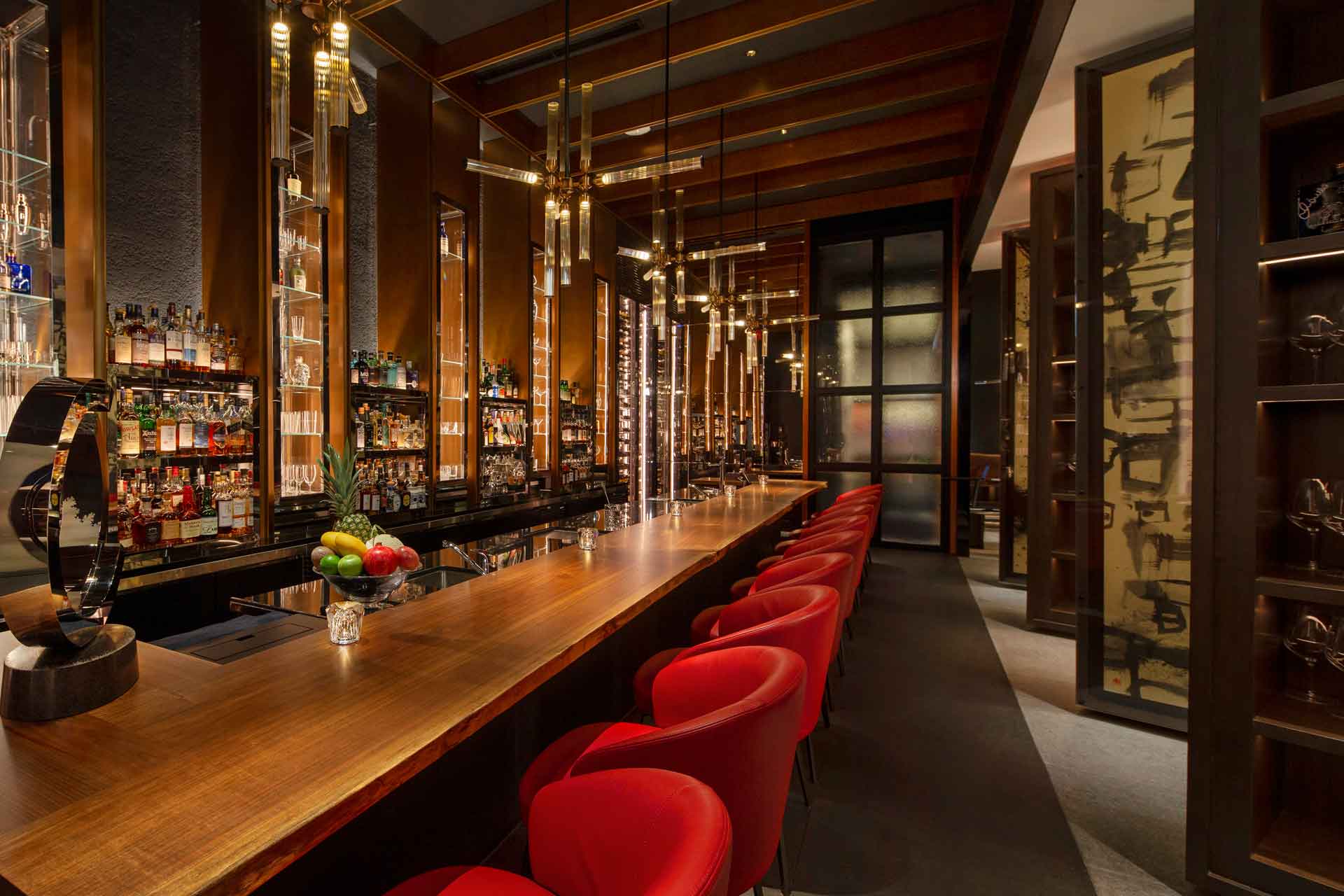 An extended bar dining area – featuring Wakuda's cuisine, along with pastas, donburis, and indulgent bar bites – is flanked by swivel wooden shelves with calligraphy paintings by Japanese artist Shiro Tsujimura. The wooden shelves create a dynamic partition between both areas of the bar, while providing a prelude to a cove of intimate dining rooms nestled at the back of the restaurant.
In the kitchens, dishes are inspired by the very best produce from across different seasons and regions such as Hokkaido, Okinawa, Miyagi and Toyama – from ama ebi (sweet shrimp) and kanburi (winter yellowtail) in winter, to shiro ebi (white shrimp) in springtime, Hokkaido uni and anago (saltwater eel) in summer time, and prized wasabi from Shizuoka.
"The new Waku Ghin is more contemporary and accessible via the expanded offering at The Bar. But guests can also find pockets of exclusivity through our two private dining rooms and Chef's Table," comments Tetsuya Wakuda.
"From culinary origins to design inspiration, I've taken the time to dig deeper into my Japanese roots to present a fresh new interpretation of Waku Ghin – one where diners get to journey and taste the best of Japan across different prefectures and seasons."
The restaurant's signature omakase experience remains the ultimate culinary pilgrimage for gourmands. The dining journey begins at the stylish Japanese cocktail bar helmed by Head Bartender Kazuhiro Chii. After a cocktail or two, diners are then taken to the 10-seater Chef's Table.
Diners are treated to a feast of craftsmanship, as they savour Waku Ghin's seasonal menu, featuring marinated botan shrimp with sea urchin and oscietra caviar, alongside seasonal delicacies such as Western Australian pearl meat.
A selection of fresh grill items is now also available as part of the enhanced omakase menu. Diners can choose from a wider range of premium beef cuts and seafood for the day, ranging from ohmi Wagyu and aburi sukiyaki, to fresh carabinero and scampi.
Time-honoured carpentry by craftsmen from Shikoku, Japan, is imbued in a dining table at the chef's table room, forged using Kaba Zakura (Japanese cherry) with natural wood lines.
Completing the offering, guests can head over to the private dessert room, tucked away at the back of the restaurant overlooking the expansive mall and glistening waterfront.
"It has been a privilege to serve diners at Marina Bay Sands for the past decade, and we look forward to creating more magical culinary moments in the future," adds Wakuda.