With five Michelin stars to her name, acclaimed chef Hélène Darroze pours her creativity into Provençal produce at the new Villa La Coste culinary draw, writes Lauren Jade Hill.
Yellow peach, radish, fennel and courgette flower are just some of the freshly picked ingredients highlighted alongside locally sourced products in the garden-to-plate menu of Hélène Darroze à Villa La Coste, aptly titled 'Walk in the Gardens of Provence'.
July 2021 saw the opening of the globally renowned chef's latest eponymous restaurant at the recently opened grand hotel, Villa La Coste, near Aix-en-Provence, where emotion, sincerity and authenticity are imbued into the Provencal hideaway's culinary offering. "This is fine dining in the middle of Provence, completely surrounded by countryside in this beautiful place; it's just magical," says Darroze. "In Provence the best products are found in the gardens and landscape such as the forest, so my approach is based around these locally grown ingredients. Meat and seafood are used to support the vegetables, contrary to the usual approach."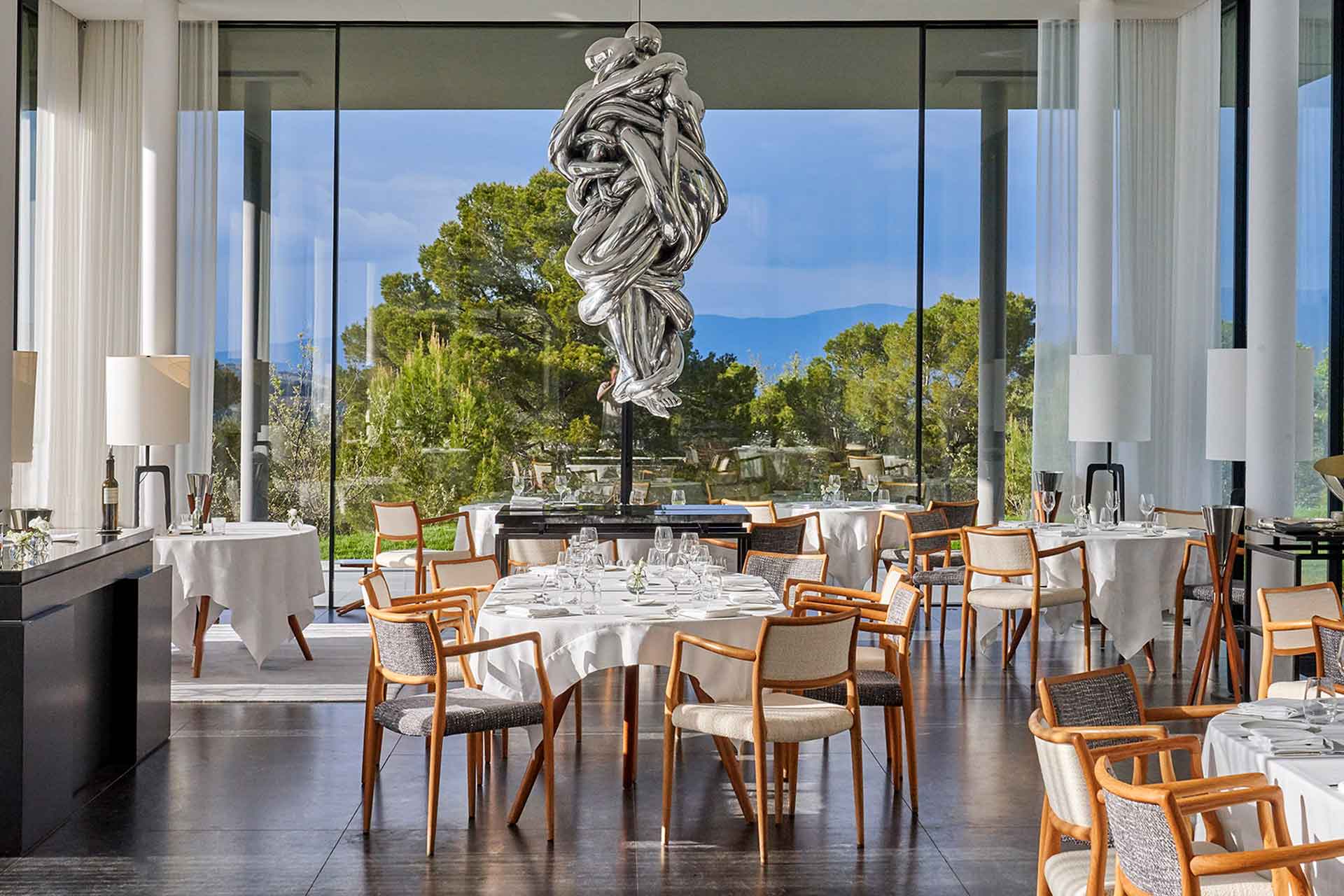 The restaurant's eight-course, garden-inspired menu was developed by Darroze alongside Marco Zampese – her head chef from Hélène Darroze at The Connaught in London – Thomas Pézeril, Executive Chef at Villa La Coste, and Pastry Chef Kirk Whittle. Through the menu, this fine dining restaurant at the heart of the Château La Coste Estate celebrates the opulence and diversity of fruit and vegetables cultivated in the Provençal countryside.
The plate entitled Carrots by Bruno Cayron in Cayre de Valjancelle comes with candied citrus, roasted San Remo prawns in tandoori spices and a Cubeb pepper reduction with brown butter, spring onions and fresh coriander. The Guillaume Galoppini Apricot in Bellegarde dessert then pairs apricot with fermented milk, orange blossom ice cream and an olive oil crumble. "At the moment, there are so many ingredients in the villa's own garden; tomatoes, cucumbers, courgette, aubergine, spring onions, potatoes and fruits like apricots and peaches," explains the chef. "I have also discovered products I hadn't used before, like fresh chickpeas. I used these to cook a Provençal specialty called Panisse, which is made by frying a chickpea dough until it's crispy. You can find salt, olive oil, almost everything in Provence, so that's what we focus on. And with gardens surrounding the restaurant, the landscape is also a part of the design."
The dining room is set within a glass-walled pavilion that appears to be suspended over water, with a walkway leading to an outdoor terrace. Transparent drapes and elegant furnishings in wood and white complement the panoramic views across the estate towards the Luberon Massif. The artwork of acclaimed artist Louise Bourgeois hangs from the ceiling, and the contemporary creations of artisans feature throughout. "Our art de la table is very special. We collaborated with ceramicists to design unique plates in different colours and an artist from Venice to create the glassware, with flowers from the gardens then decorating the tables each day," says Darroze.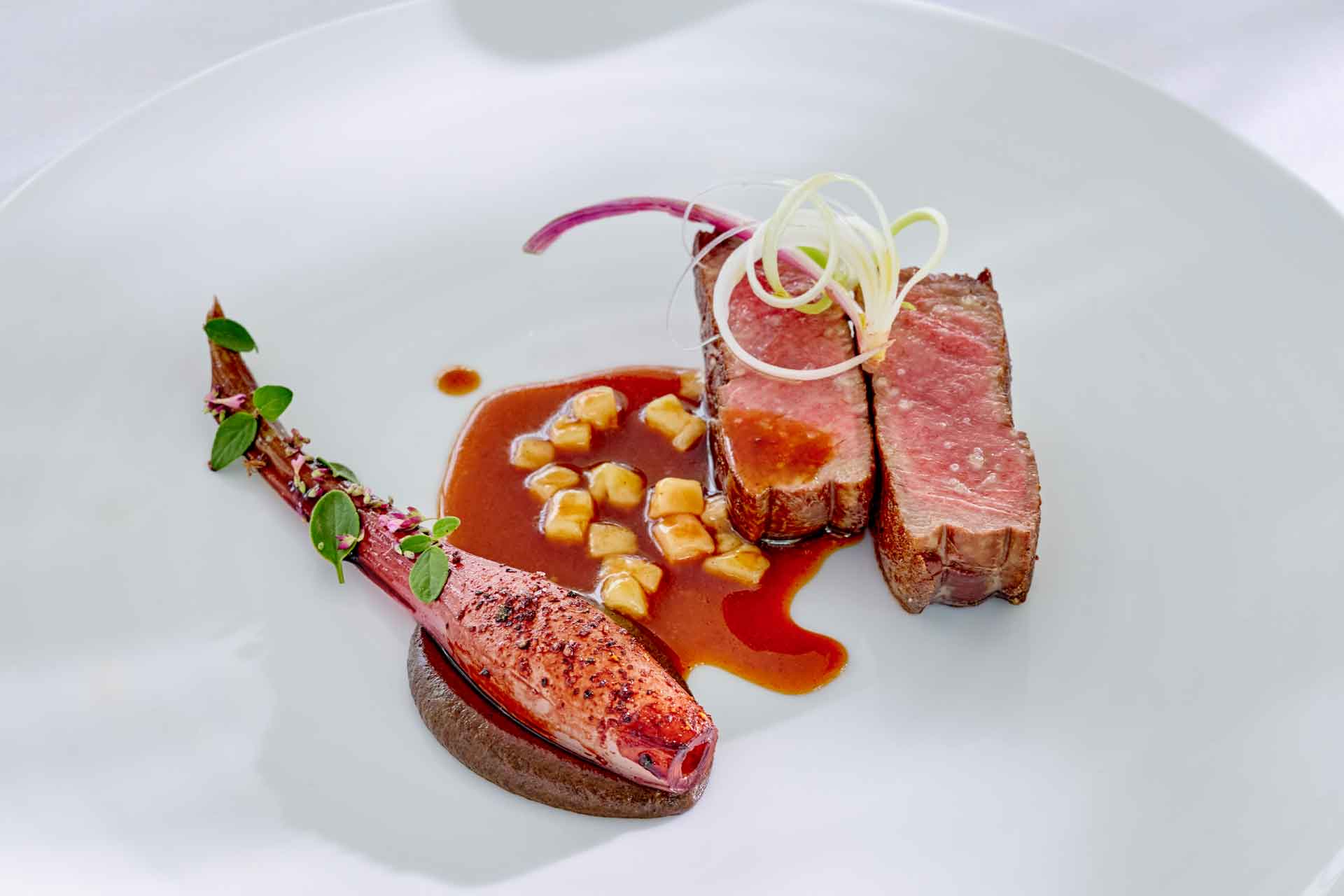 Alongside her London-based restaurant manager Mirko Benzo and head sommelier Bernabé Pérez, Darroze was given carte blanche to curate the wine offering, with the estate's own organic and biodynamic wines featuring prominently. Ultimately, Hélène Darroze à Villa La Coste is the chef's personal vision of a Provençal dining experience.
Darroze's culinary philosophy is informed by her early introduction to gastronomy, growing up in the family restaurant in Villeneuve-de-Marsan and from 1990, upon graduating from university, working for Alain Ducasse at Le Louis XV in Monaco before returning to head up the kitchen of the family's Relais & Châteaux affiliated restaurant in 1995. "I grew up in the kitchen so that is my foundation. Ducasse is also from Southwest France, from a place that's close to the restaurant of my parents," reflects Darroze. "When I arrived in Monaco, I could see those same values straight away. It was not the same adaptation, but the values were the same as those I saw in my family with this link to the product. I learned that from my family but also Ducasse, and what I learned from him complemented the education I had in my childhood."
Since those formative years, the chef's cooking style has retained this philosophy while also drawing on new sources of inspiration, such as her travels. "Every time I travel, I try to understand a little more of the food culture of the country I'm in," she says. "You can see some of those influences in my cooking. Yesterday, one guest told me that he felt like he was travelling the world during dinner. One of my signature dishes, which at this restaurant is made with prawns from San Remo, was first created using tandoori spices after a trip to India. Another dish with lamb, aubergine and spices has the flavours of North Africa, but still only ueses local ingredients."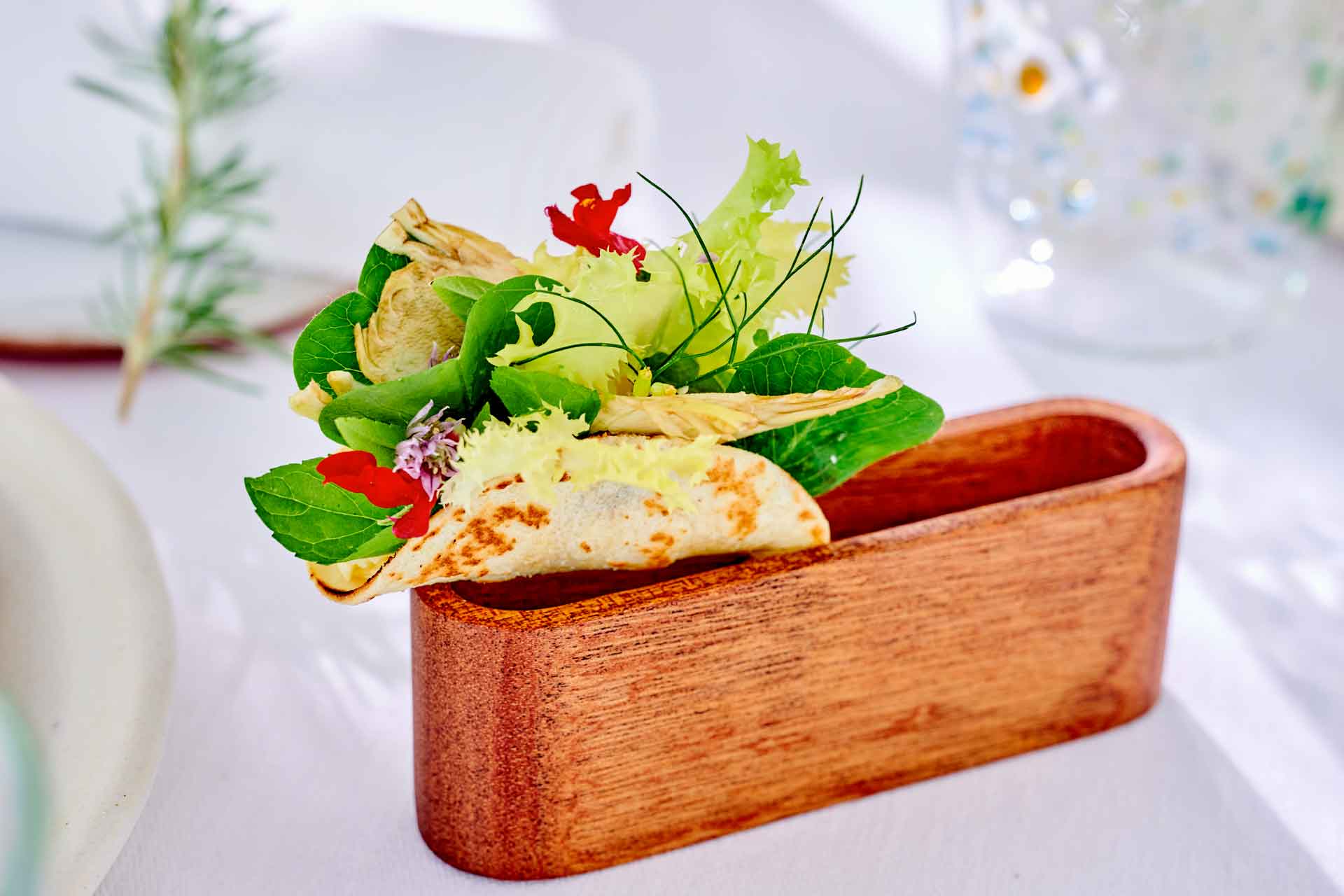 While Darroze's restaurants carry her signature philosophy and style, each of them stands out for its unique characteristics. "Marsan in Paris is really about my roots," Darroze says of the restaurant she opened in the heart of Saint-Germain des Prés after the family restaurant closed in 1999, winning her first Michelin star for the inaugural venture in 2001. "The ingredients come from the Southwest of France and it's an homage to my family and country."
At the chef's London restaurant, Hélène Darroze at The Connaught, which opened in 2008 winning its first Michelin star the following year and second in 2011, fine-dining plates highlight the best products from small British, and sometimes French, producers, with a sophistication that suits the hotel's international following. Expect dishes like lamb from Rhug Estate, an organic farm in the North of Wales, with summer herbs, trompette courgette, haggis and girolles, and XXL scallop from Kyle of Lochalsh in Scotland with tandoori spices, carrot, citrus and coriander.
At the chef's third more casual Parisian restaurant, JÒIA par Hélène Darroze, which opened in 2018, family recipes with international influence – such as whole roasted chipotle rock octopus with pimientos del piquillo, Taggiasche olives and coriander – are served in a laidback neighbourhood setting. Now these three restaurants are joined by Hélène Darroze à Villa La Coste in Provence, bringing the tally to four. "For all of my restaurants, it's about the best of the season and the products that respect sustainability," she explains. "I then put my emotion and a little of my life into these locally sourced products."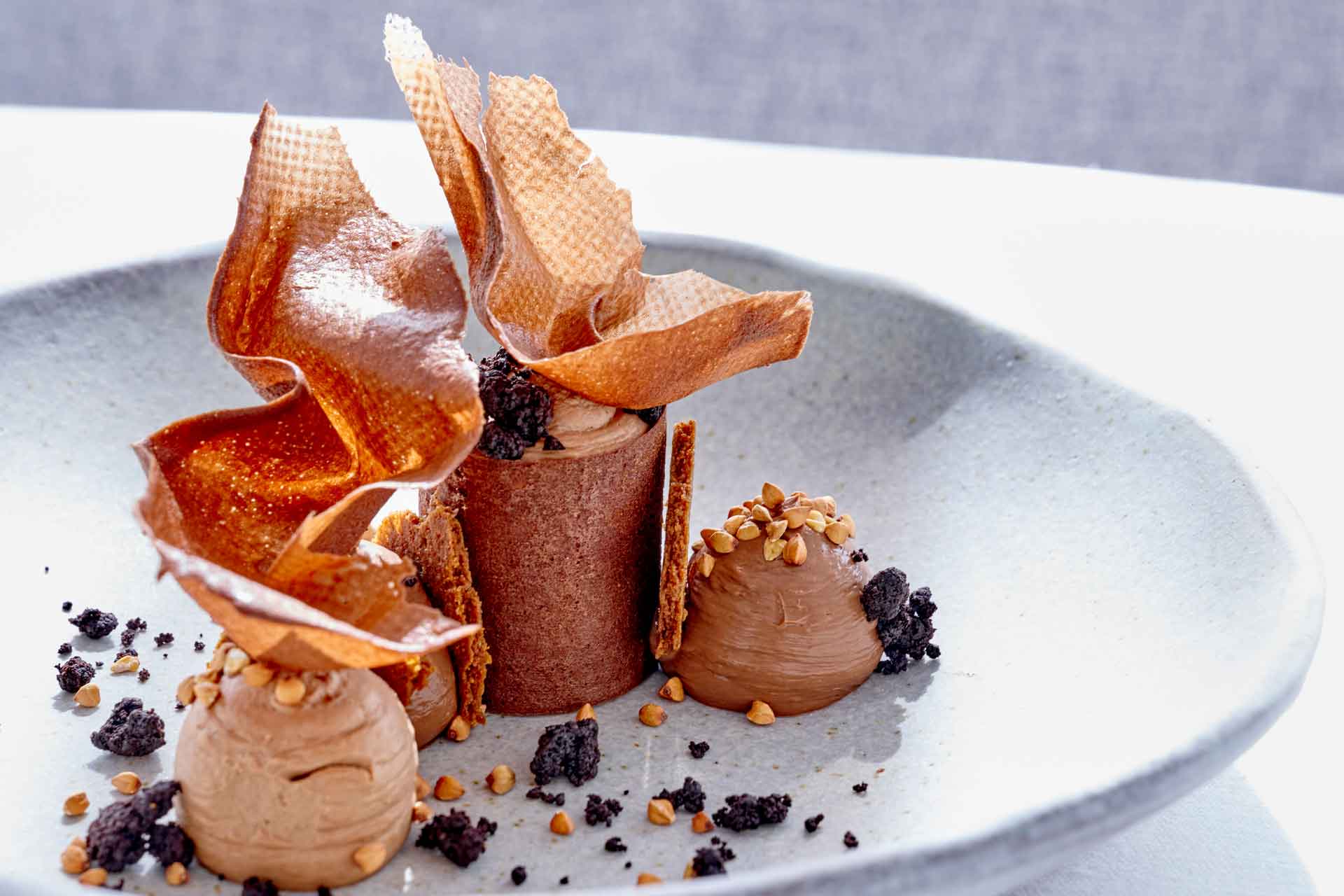 At her new venture, the chef is not only leading the kitchen, but orchestrating the entire food and beverage operation for the hotel, where guests can enjoy all-day dining at different locations around the property. Set amid the estate's vineyards, Villa La Coste is distinguished by its bucolic setting, where modern architectural design hosts guests in 28 villa suites, including 10 with private pools, along with indoor and outdoor dining areas, a bar, library, lobby gallery and spa, as well as vast gardens. And the gastronomic offering is clearly in good hands: from receiving her first Michelin star in 2001, Darroze has garnered a host of awards over the years. These accolades were added to in January 2021, with her London restaurant receiving its third Michelin star, just one week after Marsan in Paris received its second.
"To have been awarded these two accolades, in one week no less, was the greatest emotion in my professional life," reflects Darroze. "For me, Michelin remains the best gastronomic guide, but it was not something I thought about every day. I was just working to give the best and at that time I was more focused on what would happen after the pandemic. It was something I did not expect at all, and I never thought I would be so emotional about receiving them, particularly the third one. The chefs with three Michelin stars are the ones I dreamt about in my childhood."
In addition to Michelin stars, Darroze was named Best Female Chef by The World's 50 Best Restaurants in 2015, was the inspiration behind the warm-hearted chef Colette Tatou in Pixar's 2007 animation, Ratatouille and she is a long-time judge and mentor on France's hit culinary TV show Top Chef. Now making an impression with her new opening, the chef is placing her attention on her four restaurants following the challenges the hospitality industry has faced throughout the pandemic. "I am very optimistic and hopeful that the pandemic is behind us," she says. "I think all our guests will want to enjoy life, go outside, eat and celebrate. That's what we saw as soon as restaurants reopened. My objective now is focusing on the strength of my restaurants."
---
CREDITS
Words: Lauren Jade Hill
Photography: © Bernhard Winkelmann
Issue: 25