Piedmont's sustainable luxury hotel raises the bar for contemporary design and unique culinary experiences in the famed wine region, writes Jenna Campbell.
Located in northern Italy – widely celebrated for its mountain vistas, local cuisine and fine wines – Casa di Langa is a new eco-centric hotel offering a fresh approach to sustainable luxury. The area is home to more than 40 Michelin-starred restaurants and is often heralded as the birthplace of the Slow Food movement, so Casa di Langa's gastronomic experiences, not least truffle hunting, cookery classes and wine tastings, reinforces this rich culinary pedigree.
Overlooking more than 100 acres of working vineyards and rolling hills, the 39-key hotel encompasses a restaurant, bar and spa, all combining traditional Peidmontese design and sustainable practices. With a commitment to use 100% recycled water for irrigation, incorporation of geothermal heating and solar panels and elimination of single-use plastic, the hotel is dedicated to creating a luxurious experience that cares for both guests and environment. This passion for sustainability can be seen in every aspect of the design, construction and operation of the resort, which has been brought to life by two Milan-based design firms – GaS Studio overseeing architecture and Parisotto + Formenton Architetti heading up the interior design.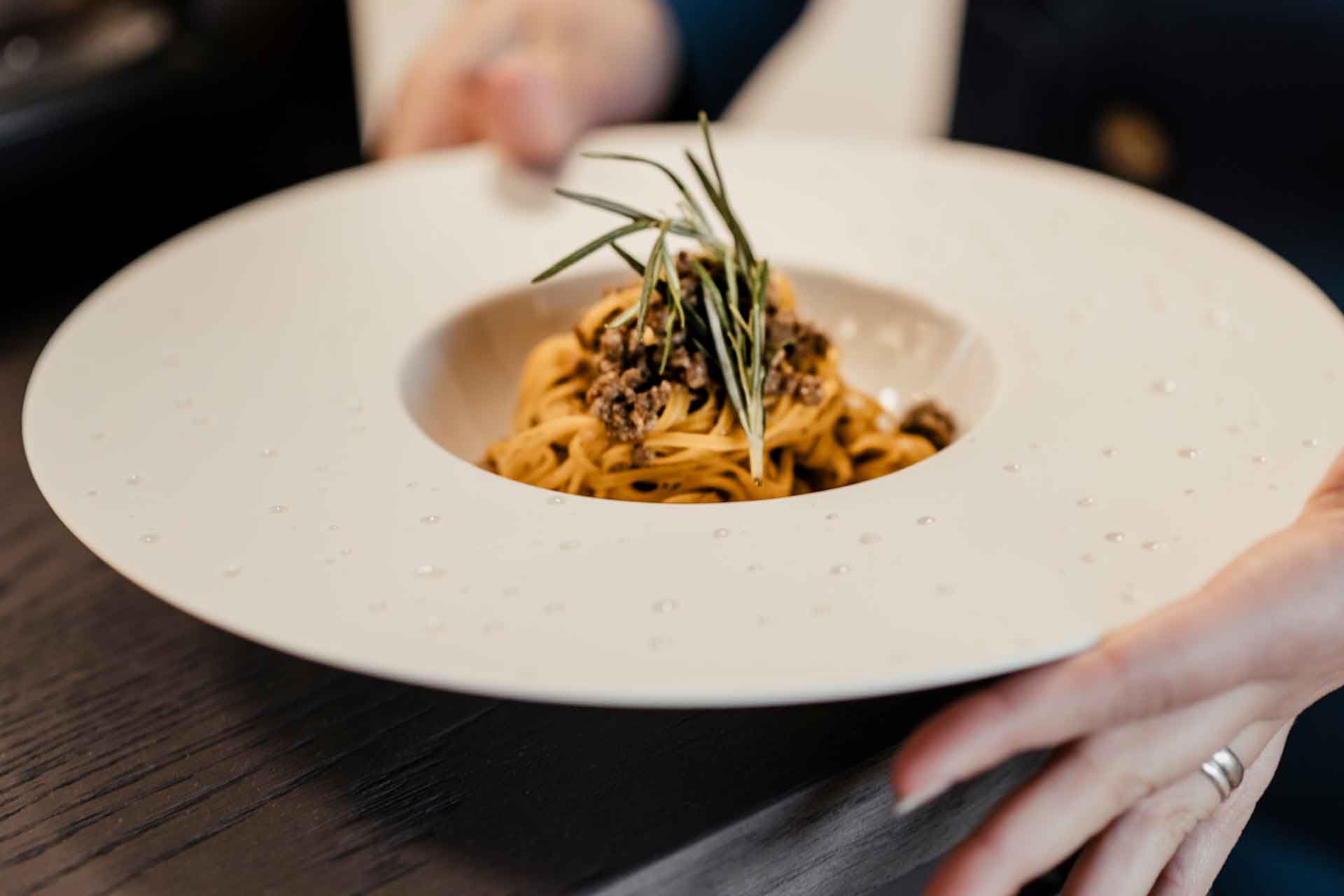 "Our approach to the project is based on sustainability and a deep respect for the natural world," explains Aldo Parisotto, Partner at Parisotto + Formenton Architetti. "Partially built in the early 2000s on an estate of vineyards, orchards and forests, the building was left unfinished, so the redesign centers around how to maximise the reuse and adaptation of existing structures while completely reimagining the guest experience."
The result is a property characterised by Italian simplicity, where the soft muted colours of the surrounding environment are reflected in rich textiles and locally sourced materials. Native Pietra di Luserna stone works together with 100% recyclable terracotta and raw, earth-based plasters from Lombardy-based Matteo Brioni to unify the design experience. Following suit, Fàula Ristorante – the hotel's fine-dining restaurant – and Sori Cocktail Bar, have been designed in a way that links the surrounding territory and culinary experience, resulting in an authentically rustic yet refined finish. "In the same way the food is based on local products where the natural taste is highlighted, and the materials chosen – natural oak, stone, untreated brass, clay-based plasters and paper cord chairs – are natural and left rough and untreated," shares Parisotto.
Meaning 'tale' in local Langhe dialect, Fàula, pays homage to northern Italy's age-old tradition of families and friends coming together, a sentiment reflected in the restaurant's convivial design. "The space of the restaurant is dominated by the wide stone counter and the transparent view towards the kitchen that looks like a theatre stage, where the gestures and movements of the chef and his team are part of the experience that can be enjoyed with the eyes as well as taste," explains Parisotto.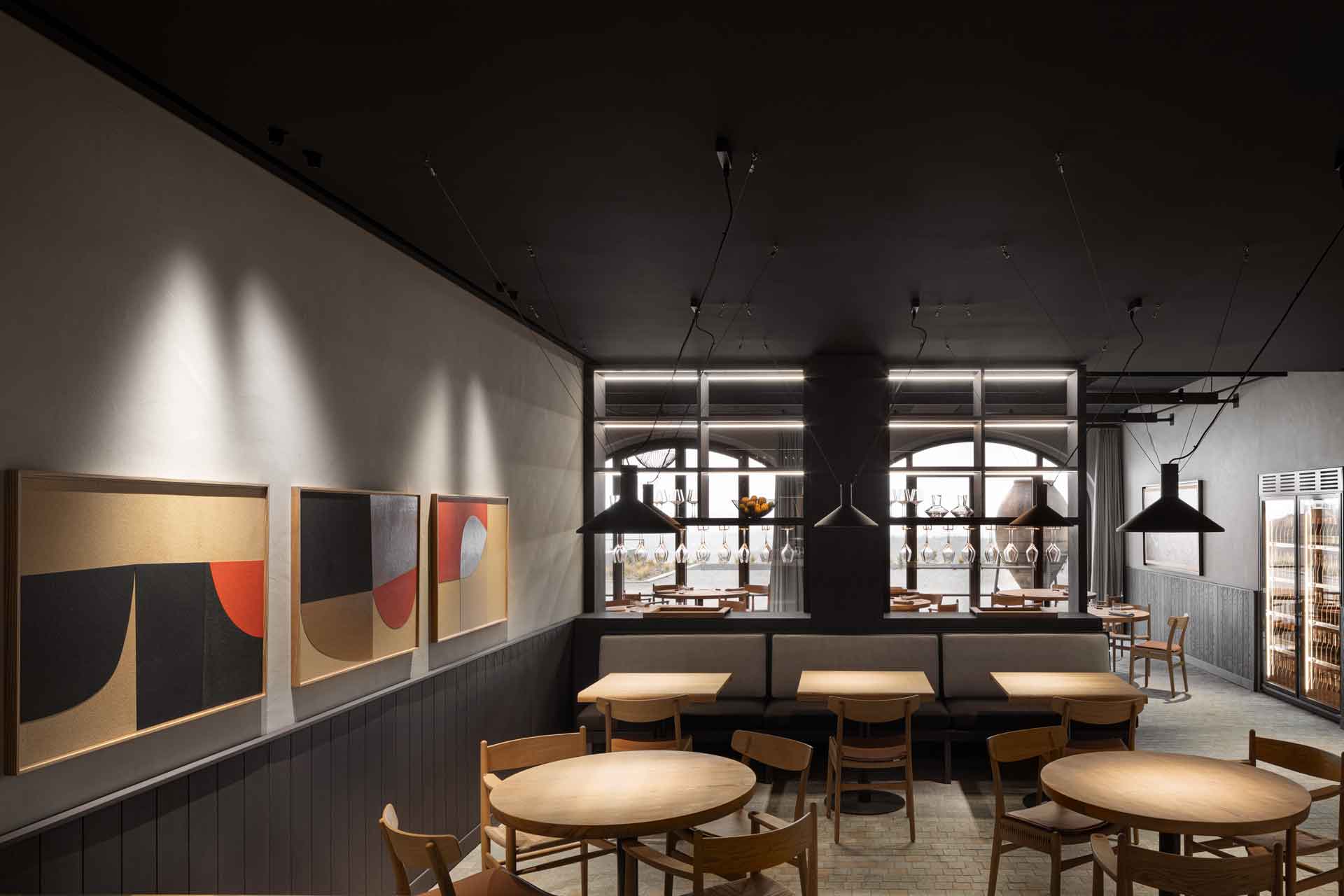 At its helm is Turin-born Manuel Bouchard, a chef committed to the cuisine of the North, who has worked at five Michelin-starred restaurants across Northern Italy all before the age of 25. The chef is also the patron of Michelin plate Antinè in Barbaresco, where he has been recognised by Gambero Rosso, a leading authority on Italian food and wine. "As cooks, we are guests of our land and we have a duty to pay homage to our territory with our cuisine. This is of fundamental importance," says Bouchard. "My roots are Piedmontese and I have a strong bond with this region. For me, it is a pleasure and a gesture of gratitude for what this territory has given me."
Menus are based on local harvests, which the chef and his team use to create dishes incorporating both classical and modern culinary techniques. "A high regard for sustainability plays an ever-greater role in the kitchen at Casa di Langa," notes Bouchard. "Seasonal, local ingredients are used as much as possible, including asparagus, artichokes, hazelnuts, mushrooms and truffles as well as the harvest from our own vegetable gardens, greenhouses and orchards to inspire dishes. Fruits, cheeses and other ingredients are sourced from local purveyors, and we feature fish native to our streams and lakes such as trout and char as well as locally sourced Fassona meat."
Dishes such as tartare, veal with vitello tonnato and classic raviolini del plin sit alongside lesser-known produce like pigeon, while other aspects of the menu take advantage of Piedmont's acclaimed wines. "Being surrounded by one of the UNESCO World Heritage Sites of vine cultivation and wine production, it is natural to include wine in our dishes, whether the cheek of Fassona in Barolo, risotto or in reductions and sauces," enthuses Bouchard. "Of course, in Langhe wine is king, in fact, Barolo has been crowned as the City of Italian Wine for 2021."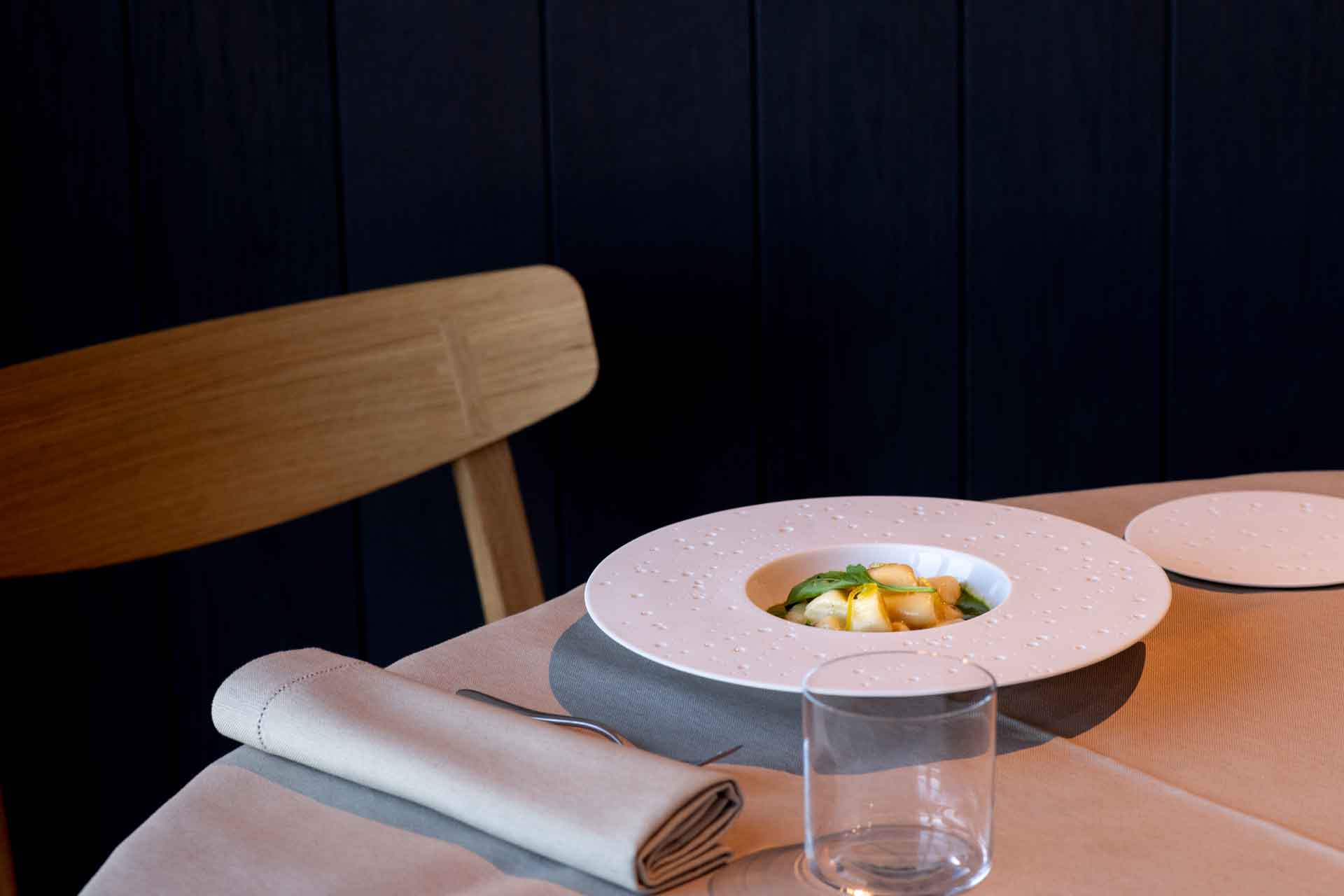 At Sori Cocktail Bar, located in the lobby, warm colours and intimate materials come together to create a relaxed and homely atmosphere where guests can unwind and sample wines from one of the neighbouring vineyards. "Our wine programme focuses on the Langhe and Roero regions, boasting a great variety of Barolo and Barbaresco both from the Nebbiolo grape, along with many other native varieties that make unique white wines such Nascetta and Timorasso and reds like Pelaverga and Barbera," explains Sommelier Pier Francesco Molinari. "We have also put together an array of Italian and international labels that ensure our guests are always able to find the right one to pair with their dinner, or taste as part of one of the custom-made wine-experiences."
A unique cadre of Italian spirits adds to the impressive beverage programme, which is completed by classic spirits including scotch, American whisky and cognac, alongside a curated beer selection. "The drink programme highlights and celebrates the region by including products like Vermouth di Torino, red, white and dry vermouth all from local and historical producers as well as bitter and aperitivo mix that just takes a twist of creativity from our bartender Alexander in order to make the perfect welcome drink," says Molinari.
For wine connoisseurs, the Wine Cellar's intimate space accommodates private and small group tastings surrounded by an international collection of over 4,000 bottles and 700 labels. Tastings can also be enjoyed with a midday lunch paired by Molinari and Bouchard. Larger group tastings and private events meanwhile, take place at Villa Agreste, a specially designed private space on the hotel's estate for gatherings and celebrations.
A stay at the resort is not complete without partaking in one of the hotel's extracurricular experiences, which include tours of the historic vineyards on a vespa, local cooking classes and hunting with experts to discover the region's famed Alba truffles. The hotel is also the only five-star hotel in Italy to offer a certified course with Wine & Spirits Education Trust. As a portal to the Langhe region of Piedmont, Casa di Langa's commitment to honouring the area's rich history of winemaking and traditional cuisine underpins a wider mission statement: to deliver luxury through sustainability at every possible turn.
IN A BITE
Owner: Krause Group
Operator: Gentile Ospitalità
Architecture: GaS Studio
Interior Design: Parisotto + Formenton Architetti
Head Chef: Manuel Bouchard
F&B Manager:

Danilo Bernardi

 
Head Bartender: Alexander Cimmino
Head Sommelier: Pier Francesco Molinari
Head Waiter: Andrea Cuccureddu
www.casadilanga.com
CREDITS:
Words: Jenna Campbell
Photography: Courtesy of Casa di Langa
Issue: Supper 24